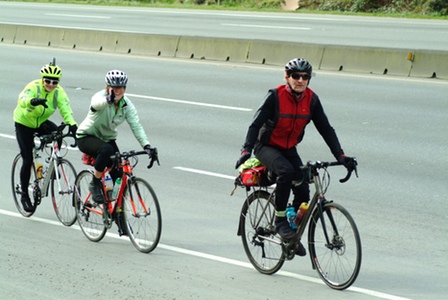 Michael and Friends on the Chili 200
Photo: Rob Scimgeour
Cook'n on the Chili
Chili 200, March 1, 2015
by Michael Tilitzky

After the usual "ride safe" comments by Mike Croy, 24 riders headed out on the Chili 200 on a chilly Sunday morning. I jumped out front with the lead group, including John and Malou who were on their tandem. John and Malou set a record for the number of flats on last years Chili 200 so I jokingly commented, "hey, it looks like you have a low tire". We shared a few comments until John exclaimed, "shit, we do have a low tire" and they pulled over to the curb. Another challenging ride for team John and Malou?
I hung in with the lead group for a bit longer, the pace wasn't that fast, but several km in I knew I wasn't ready for this and got spit out the back on a short steep hill. Legs felt heavy, couldn't catch my breath, and I was already hungry. Hmmm.
I slowed down, tried to find my pace, eat some food and waited for a group I could ride with. I crested a small hill on Interurban and as I rolled down the far side, the other tandem ridden by Rosie and Sandy went flying by with a few riders tucked in their draft. I caught and passed the tandem on the next hill and connected with Kristy, Ron and Roxanne. The four of us turned onto W Saanich Rd and set a good pace towards Lands End. The sun was up, mist laying in the fields along W Saanich, little traffic. It's these moments, before the fatigue sets in, that you think, this is why I ride, for moments like this. The other moments that would come later, the ones full of fatigue, well they were fun too, but in a different more masochistic way.
We turned on to Birch and were surprised by the secret control. We pulled out our control cards to get them stamped and by the time we left were joined by other riders. I had the sense that everyone was pushing a bit harder today, everyone was pushing to get out front. Of course the big dogs were long gone, the rest of us left behind to gather more time.
Our group of four rode on, Kristy and I chatting about her training regime for the Whistler Ironman. I have a lot of respect for someone who trains for three disiplines, when I have trouble training for one. We swung around Lands End and headed back towards Victoria on Hwy 17. Ron jumped out front and set a great pace and in short order we were pulling off onto Quadra. Sandy and Rosie passed us just before the control on Quadra, and Graham, Melissa and Steve weren't far behind. There was no hanging around at the control, no idle chit chat. It seemed everyone was focused, grabbing drinks, food and getting back on their bikes. Graham, Sandy and Rosie rode off, our group of 4 not far behind.
We headed back down the Hwy towards Sidney and the Newton Cross Rd control, then back towards Victoria and Oak Bay. At this point Graham joined our small group and the 5 of us set a good pace towards Oak Bay, everyone taking turns pulling at the front. As we made our way along Beach Dr the fatigue started to set in, my legs started to cramp.
It was a hard ride from Oak Bay back towards Sidney as I tried to deal with leg cramps and general fatigue, drinking and eating as much as I could, dropping back in the group. Just before pulling into Sidney we were passed by John and Malou. They had obviously solved the flat issue and were making time.
We stopped at the Sidney 7-11 to get our cards signed and some much needed food. Another quick stop, but we lingered just a bit longer: 155 km in, 45 to go.
From Sidney, its back and down and around lands end, then back on W Saanich towards Victoria. Graham seemed to have the most energy, pulling the rest of us along, the rest of us reluctant to take the lead. It's always interesting how the general energy level of a group declines the longer you ride. Less chit chat, more sighs, your thoughts wander to the end of the ride. Somewhere along Wallace, or W Saanich, Ron dropped back, then he missed a light. We slowed our pace and waited for him to catch up. I've been dropped, and have been part of a group that has dropped a rider in the last 20 km. It never feels right. If you've ridden as a group for almost 200 km, your times should all be the same. As Ron pulled up to rejoin us a few km from the finish I congratulated him on closing the gap. If it had been me, I might have stopped to curl up at the side of the road for a while and whimper like a little girl.
We pulled into the Croy Control at 3:51 pm. Exhausted but happy, we all tucked in to some incredible home made chili chased with a chilled beer. This has become one of my favorite rides, due to the hospitality of Brynne, Mike and Steven. Thanks for hosting an excellent first brevet of the year!!


---
Go to: Results
Go to: Photos
March 12, 2015