"Steel Division Monument"
Israel 300 km
by Gary Sparks

I completed my second Israeli brevet on February 5. We started at 10 pm on Thursday and finished around 4 pm on Friday. It was a relaxed 300, but we rode as a group of five for the whole way, stopping for some long breaks and sight seeing. I like their style!
We traveled south from Nachshon Junction (a very popular riding area west of Jerusalem) and turned around at the Steel Division Monument. We returned on the same road, so I saw the whole route in daylight. There were some very pretty sections. The north is hilly but the south is flat.
The route to the Monument included a long stretch on a road parallel to Gaza. We stopped for a minute at a bus stop and the team pointed out a nearby concrete structure. It looked like a perfect Randonneur shelter, like a warm 24 hr laundromat, but it was really a bomb shelter. There are many in that part of the country. I was told you have about 30 seconds to take shelter when the siren goes...anyway as you can see, at least there was a beautiful full moon.
The Monument is quite striking, commemorating the 180 soldiers in the "Steel Division" who were killed in the Sinai Peninsula during the 1967 war. The Monument was originally in a village in the Sinai but was rebuilt in its present location, after Israel returned Sinai to Egypt. I climbed the tower for a view of Egypt and Gaza, both a few kilometers away. We were there just after sunrise, so we had the Monument to ourselves. The weather was great, a little cool through the night, but in the low 20s through the next day. I am not missing the cold rain.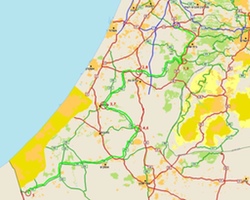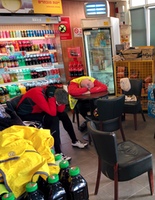 I have attached the route sheet, map, and a few photos of the Monument and shelter. There is also a photo from around 8 am in a gas station, proving again that Randonneurs are the same around the world, sleeping whenever and wherever they can.
The next ride is on a more traveled route, with a 400 km, one way trip from Eilat in the extreme south, north to Tel Aviv. We start at a very sensible 9 am. I'll let you know how it goes!
---
Go to: Route Sheet

February 16, 2015