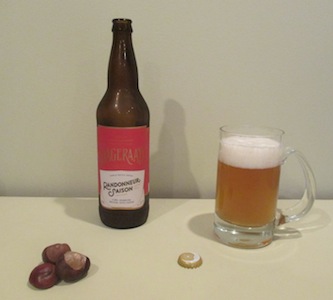 Randonneur Saison
Brewed in BC by Dageraad
by EF using an e mail message from Ben Coli
Have you been wondering why we haven't seen Ben Coli on brevets recently? As Ben puts it "I've been too busy starting up a brewery to get my base miles in."
He hasn't forgotten us however. His new Burnaby based brewery has produced a single batch beer called "Randonneur Saison". Here's what Ben had to say about the beer, and the brewery:
"This Randonneur Saison is named after a homebrew batch I made a few years ago, back when I was riding brevets a little more regularly. The beer contains a small (but perceptible) amount of naturally-produced lactic acid, which made me think of my own legs on the Hatzic Hills300, on some of those stand-up climbs out by Stave Lake.
I'm hoping randonneurs will have a nice ride under changing leaves in the crisp, fall air and come home to bottle of my saison. This beer is a limited release and we only have about 175 dozen bottles, which is more than I can drink on my own, but really doesn't amount to much beer in a city the size of Vancouver, not to mention that we'll be sending 30 or 40 dozen to Victoria. If you think the club might want some for an event or a board meeting, let me know and I can set aside a case or two. Otherwise, Randonneur will be back again next year.
If everything goes well, we'll be delivering Randonneur to private liquor stores on Wednesday [October]15th. The beer is naturally carbonated by being re-fermented in the bottle (meaning that we add yeast and sugar at the time of bottling, and a second fermentation occurs in the bottle, creating the CO2 to carbonate the beer), so we can't be totally sure when that process will be finished, but right now it looks like the 15th is a good guess.
I'd also like club members to know that we'll be opening our brewery tasting room in a couple of weeks (inspections permitting). The brewery is close to Lougheed Highway and not too far from the Central Valley Greenway, so it's in a reasonably bike-friendly location. It might not be an ideal control for a brevet, but it'd be a nice stop on a Sunday coffee-and-beer ride."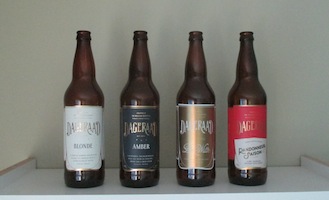 ---
November 19, 2014