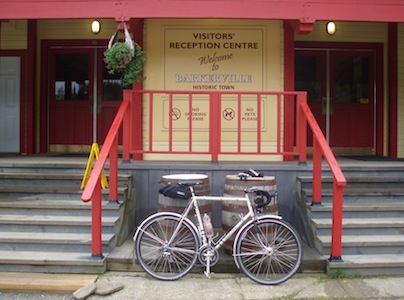 Barkerville 1000
by Bob Goodison

2013
Although I've told the story multiple times, I've never written the story of my failed attempt at this ride in 2013, and my getting rescued twice on the same ride. It was all my fault. Mostly. It was the first hot weekend of the year. I started the ride overconfident and under rested, due to having gone back to shift work. I did not book an extra day off, meaning that by the time the last control closed, I would already have been back at work for a couple of hours. Add to that allowing myself to get dehydrated and the unfortunate bad choice of a Big Mac in Williams Lake and you have the recipe for disaster. The Big Mac wound up in the ditch near Mcleese Lake. Later on, a hill, that this year I learned was only 1.2 km long at 6%, decided me that it was time to pull the plugabout 40 km before Quesnel. I had planned to go to Christine's house for breakfast the next day, so I called her to say I was bailing, but I would still come for breakfast, but not at 5:00 as was the original plan. When she offered to pick me up and drop me at my motel in Quesnel I did not decline. I then called Susan, and told her my new plan - skip the out and back Barkerville leg and ride at a leisurely pace to Lac La Hache, where I had booked my second overnight. I would then ride to 100 Mile house the following morning where she would pick me up. Total ride for three days was about 600 km.
2014
Despite my failure in 2013 I still felt it was a viable route, and there were other people who were interested in doing it. I scheduled it later, to reduce traffic and heat. I also made a couple of minor changes to the route, moving the Williams Lake bypass to the north leg instead of the south leg to improve options for overnights, and eliminating the Quesnel controls, reducing time constraints for those who wanted to overnight earlier than Quesnel. I put in Quesnel as a designated support point in case anyone wanted to arrange support. Christine once again offered to help out in any way she could.
As often happens, most of the riders who had initially wanted to join me pulled out, so at 5:00 am on Sept. 6, it was just Nigel and me pedaling away from the (closed) Denny's on Kokanee Way. When did it stop being 24 hour? He had less stuff packed on his bike than I would normally take on a 200 km. I thought (but did not say). You do know where we're going, don't you? His ride plan was no plan at all - to ride until he felt like stopping. I stayed with him (or he with me) to the Kamloops exit, catching glimpses of him until Notre Dame. The temperature dropped to 5 degrees at Cherry Creek, but the day was beautiful, there was no headwind, and traffic was light. It eventually warmed up to high twenties, and with lots of climbing I sweated buckets. Remembering last year though, I remained hydrated. The day went as perfectly as a brevet can, and I rolled into my overnight at the Alamo Motel in Kersely just before 10:30 pm under a nearly full moon. Already doing better than last year. When I called Susan I learned the Nigel had gotten a motel in Quesnel because he was getting too cold.
I woke up just before my alarm and was on the road again at 4:40. You're not a real Randonneur until you've made instant mashed potatoes for breakfast in a motel coffee pot! A quick stop at Timmys an hour late for a couple of breakfast bagels to take with me and it was up the first bit of climbing to Barkerville. This road is unbelievable. It features the rollers by which all other rollers must be judged. Slowly creeping up one side (most registered 8-9 %, one hit 10% briefly), then rocketing down the other side like a roller coaster to repeat the process. Except for a section of newish chip seal near Cottonwood House, the pavement is great. Lots of wildlife in this section. I saw deer, a bear (most reluctant to get off the road, no matter how much I rang my bike bell), a coyote, and a rabbit. I was getting a little concerned that Nigel had bailed, as I figured he would be at least four hours ahead by now and I would meet him halfway to Barkerville. I finally met him just before Wells. He was having a good ride and, and told me the pancakes at the restaurant were good. I stopped there after my control in Barkerville, but chose french toast instead. I can't recommend their coffee. It rained on me from Barkerville back to Jack of Clubs Lake, then quit until just before Quesnel. Decision time as I approached Quesnel - Tim Horton's, or Christine's for home made soup, tea apple crisp and a nice visit? DUH!! Back on the road I got diesel smoked twice by the same lifted 4x4. Maybe it was deliberate? I then flatted my front tire. If it had been a few feet later I would have been on the bridge, so I guess it was good that it happened when it did. Other than a minor bonk just before Williams Lake I had an uneventful ride to my second overnight, arriving before 9:00pm.
I left Williams Lake with a tailwindat about 4:30, and got to 150 Mile House before the rain started. The rain was to stay with me until Horse Lake Road met Hwy 24. At 100 Mile House I wondered what the wind would do when I turned east onto Horse Lake Road. Surprise - I still had a tailwind, but stronger now. But wait, it gets better. The rain stopped, and by the Mcdonald Summit the sun was out. After the descent to Little Fort I turned south on Hwy 5. The tailwind was stronger yet, temperature at about 23 degrees. Does it get better than this? I averaged over 30 kmh from Barriere Back to Kamloops, sometimes hitting 45 to 50 kmh on the flats. I finished about 4 1/2 hours after Nigel, who had spent the night in 100 Mile House. Apparently he had stayed ahead of the rain.
This route is definitely a keeper. That said, it is not a route for anyone who does not like climbing. My altimeter (questionable accuracy, as I only calibrated it at the start, and it gained at least 100 meters due to air pressure change) registered 9327 meters of climbing. Road conditions and traffic are good, except for some sections near 100 Mile House where the shoulders are atrocious. As traffic was light, it was easy to take the lane when necessary. My sleep stops at Kersely and Williams Lake worked perfectly for me, and I would recommend them for anyone who isn't Nigel (so few of us are). Maybe next time, a few more riders?

---
Go to: Ultra Results
Go to: Photos
September 10, 2014