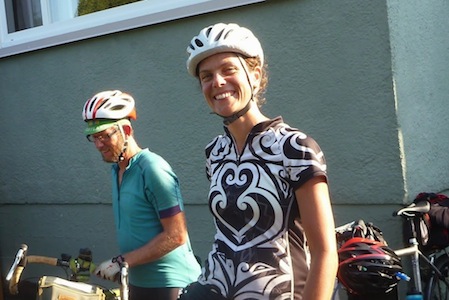 Holland at the finish, with fellow finisher Dave Campbell
Photo: Jim Runkel
My First 600
(because I can only use that title once)
Ride Dates: August 16 & 17, 2014
by Holland Gidney

I first attempted to ride a 600km brevet with Dave Campbell as part of the Seattle International Randonneurs' NW Crank Week, aka the American version of Hell Week. Alas, it was not to be due to a missed turn (for which Dave and I share the blame equally) and the accidental climbing of a mountain pass on our way to Omak. When we made the decision to abandon after being "caught out" by some other riders, Dave and I still had 150 km to ride back to Wenatchee (which we ultimately didn't reach until 24 hours after we'd left).
Even though we did not complete 600km, that epic ride was memorable not just for a rookie route-finding mistake (and the most painful chafing ever) but also because it marked the first time I rode farther than 200 km (and farther than 300km). Later in the week, I successfully completed my first 300km and my first 400 km brevets, which were way less eventful compared to the 600km.
With my plan to complete a series back in April foiled, I looked at upcoming BC brevets and decided the Lower Mainland Spring 600 on May 31 was the best choice but plans changed when my riding partner (Dave) realized he needed to complete a 600 earlier in order to qualify for the Colorado High Country 1200. (Given what happened on the Lower Mainland 600, I'm glad I wasn't on that ride.)
This left the Ripple Rock Ramble as the obvious choice for My First 600. And it was a good one, though I initially had some trepidation about my lack of mileage leading up to the ride. Despite a week of touring in Colorado, I hadn't ridden anything longer than a 200 since NW Crank Week. But I had put over 3000 km on my new bike, which meant that I had a lot more mileage to my credit than when I had attempted the 600 in Wenatchee. So I figured I'd be okay. At worst, it would take a very long time.
Fast-forward to the morning of August 16th. The Ripple Rock Ramble began at 5AM organizer Jim Runkel's house. His email to participating riders had promised coffee and if necessary a bowl of cereal. But when we arrived, there was not only coffee and cereal but also a full breakfast buffet comprising fruit, muffins, a chocolate fountain, an omelette station… okay, maybe I invented the last two but there was more than enough food to make you forget about how little sleep you'd had. In any case, all this food foreshadowed my nutrition approach for the ride.
By way of background, since April, Dave and I have been using what can only be called a "fuelling strategy" that involves ingesting 200 calories per hour that we are riding. After some trial and error, we've determined that the best "snacks" include easily digestible, high-calorie, low-fibre items. Some are also high sugar, high fat, and/or high sodium. While I initially resisted this so-called junk food diet, I decided to embrace it for this ride because we had planned to carry about 35 hours of food with us and, hey, to your body, a calorie is a calorie especially when you expect it to do 600 km on a bicycle.
As a result, my front handlebar bag contained an excessive number of ziploc bags containing: ripple potato chips, black liquorice, quesadillas, pre-cooked Tofurky vegan sausages, pistachio halva, peanut butter M&Ms, chocolate-covered digestive cookies, vegetarian sausage rolls, SunRype Fruitbars, chocolate-covered granola bars, and some homemade carob spirulina chews. Dave had a similar selection but with pizza instead of quesadillas and beef strudel instead of vegetarian sausage rolls and absolutely no black liquorice. Of course, along the way we also purchased and ate (or drank) ice cream, donuts, coffee, bottled Starbucks frappuccinos, Wendy's fries, burger (Dave), chicken nuggets (Dave) baked potato with broccoli and cheese sauce (Holland), a salad (Holland), and Tim Hortons breakfast biscuit sandwiches. (This strategy worked beautifully - no digestive issues or bloating and lots of energy from beginning to end.)
In terms of the actual ride, it was relatively straightforward. We rode to the summit of the Malahat with Gary Baker. Richard's Trail was as lovely as the last time we rode it en route to Ladysmith for the Coastal Inspiration 200. Chemainus marked the 100-kilometre mark and our first coffee break after we resisted the urge to stop at True Grain Bakery in Cowichan Bay. Yellow Point was a nice diversion off the highway and Quennell Road was new to me, even if taking it meant we avoided cycling past the Crow & Gate English Pub. Getting through Nanaimo always feels like a slog and the highway/headwind combo was not awesome but the warm welcome of Stephen and Carol Hinde and the gang of 6 riders that awaited us on Pinewood Lane was worth the effort and we took a well-deserved break at what was the only staffed control. From Nanaimo, we continued heading north -- trading the highway for Brynne Croy's favourite NW Bay Road as we passed through Nanoose. As we passed through Parksville, I tried to forget that my new boss was vacationing at Tigh-Na-Mara (and possibly even relaxing in the spa as we rode by!). No matter, it wasn't *that* hot out and we treated ourselves to Stabucks bottled Frappuccinos in Bowser. (A rando-style spa break!) With the ocean on our right, we continued along HWY 19A, passing through Qualicum, Buckley, Union, and Fanny bays until rather suddenly we arrived in Courtenay (at about 5 PM, if I remember correctly), where we would "overnight" a few hours later.
Like almost everyone else, we had booked a room at the River Heights Motel, which we easily found since it was right on the route and across from McDonalds. But we didn't have time for fries: we had to do a dipsy-doodle through Comox, collecting a signature from a young gas station employee and checking out some military jets. Only after that were we allowed to get back on the highway towards our turnaround in Campbell River. I can't say it was the most exciting part of the ride to get to CR but we did get to wave at Dan Dufeu somewhere around Merville, who riding strong on his way back to Courtenay, and later on we saw Kristy Mighton and Dave White on their way back to Courtenay. I was most excited, though, when I saw the Tim Hortons/Wendy's sign because I knew we were going to take a dinner break there and be off our bikes for a bit. We weren't the only ones with that idea as a number of riders arrived while we were "dining": Mike and Brynne Croy, Michael Tilitzky, and Luke Galley. Since we'd arrive in CR around 9PM, it was dark for the ride back to our motel, especially when we turned onto unlit Merville farm roads. But the darkness helped me feel sleepy by the time we approached the 374km mark and our planned sleep stop. The shower and 4-hour power nap that followed were well worth the $74.75 room cost.
Soon enough, we were up and back on our bikes, having set the alarm for 4:30AM. Tim Hortons was crowded with characters and randonneurs when we arrived at 5AM but the staff were happy to make us breakfast and sign our control cards and we got to share a booth with Gary and discuss long-ride "nutrition." The coffee we had kept us going until we rolled into Parksville around 9AM and we decided to try to fit in with the locals at Starbucks. Of course, none of them had been up since 4:30AM and they looked slightly more coiffed than us. No matter, we had ridden about 450 km by that point. The rest of the way home felt both short and long. Short based on the number of kilometres we had left to ride to get back to Victoria but long based on how long it took us to ride them. Circumnavigating Shawnigan Lake seemed to take forever. I started stomping up all the hills just because I wanted to be done. And finally we were. 36 hours and 35 minutes after we began. Four minutes later, a gang of six riders pulled up and the post-ride party began when Jim Runkel started handing out adult recovery beverages. But the shower was calling my name and was 7km farther so Dave and I hit the road. Me, with a new pin to add to my collection, a souvenir of My First 600.
A big thank you to Jim Runkel and Phil Lennox for taking on the organization of this ride for the second year in the row. Thanks also to Stephen and Carol Hinde who staffed the Nanaimo control - I was excited to eat a hot meal of zucchini and quinoa mid-ride and fill a couple ziplocs with candy for the road ahead. Their hospitality (and the shady lawn) made all the difference. I would also be remiss to not use this opportunity to thank my partner for the entire 36 hours and 35 minutes, Dave Campbell, for his company, which is really what helped me to complete the ride. That and the approximately 9,000 calories I consumed along the way. (Anyone know how I can get a liquorice sponsor?)
---
Go to: Results
Go to: Photos (31 images - google+)

August 21, 2014