Epilogue
Cascade 1200
Ride dates: June 21-24, 2014
by John Oswald
Go To: Day 1 - Day 2 - Day 3 - Day 4 - Epilogue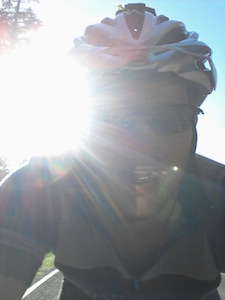 A True 'Mask of Pain'
As we sped home up the I-5 in the growing darkness, I was so taken by the whole experience of the Casacde 1200 that I wanted to do VanIsle the next day. Reality would soon intervene...

Malou had a stomach virus when she came to pick us up and passed it along to me in short order. I spent the first week after C1200 battling nausea and diarrhea and trying to treat my tibialis anterior tenosynovitis with physio, rest, ice, compression and elevation. Oh, and yeah, my whole family was in town for my sister's wedding(!).

My participation in the VanIsle 1200 is now officially in jeopardy but I am being really conservative in the use of my leg and being very aggressive in the treatment of the symptoms and the causes of the injury.

I would like to thank Chris Cullum for being the conscience of this Cascade 1200 for me. Besides keeping my ego in check and the BPM down, he made me laugh for almost the entire ride providing more than half of the material for this blog. His encouragement and inspiring riding got me through the low spots. Thanks, Chris!

This edition of the Cascade 1200 wasn't perfect but I REALLY enjoyed it. The additions of Elk Pass, the Columbia Gorge and the Moses Coulee were extremely scenic and challenging. The variety of the views along the route was spectacular. Great riding, good food and excellent accommodations made for an (almost!) painless 1200km experience. I am so stoked to get back on the bike and I hope I can still join some of you in Victoria in ten days or so.
---
Go to: Results
Go to: Cascade 1200 Home
July 4, 2014