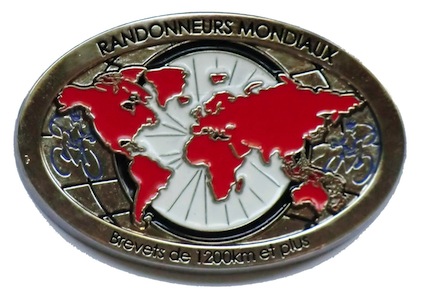 Randonneur Mondiaux 1200 km Brevet Medal 2014
Design by Ali Holt
by EF

Ali's design for a RM 1200 km brevet medal has been selected as the official design. Many 1200s have their own pin design but anyone who finishes a sanctioned 1200 (or a brevet of more than 1200) is entitled to this RM medal.
Ali has designed the majority of our own club clothing, pins and medals for the last decade. Many of you will be aware that she has also designed the last two Cascade 1200 jerseys. More recently she has worked with John Lee Ellis in Colorado on the design for the Last Chance 1200 jersey and medal as well as the High County 1200 jersey and medal.

April 27, 2014