The Hills Are Alive (300 km)
Organizer's Report
by Dewain Emrich

I had a lot of people offering to help me with organizing this ride and as it was the first one I have organized I jumped at the chance to get all these great people involved. Jim Runkel taught me how to organize one of these rides and when I was unable to do the preride, he jumped at the chance to do it for me continuing his unbroken streak of this ride since he started Randonneuring. Dan Bodden, who will be organizing the Highway to Hell offered to help me as well and loaned me his cell phone for the day while he helped out at the start and manned the control in Sydney. Paul Nielsen, a new member of my bike club and new Randonneur in the making, offered to help out and joined me at the start and manned the control at the Co-Op. Graham Fishlock road the preride and then manned the new secret control near the tennis courts of Cowichan Bay road surprising a few of the veteran riders as he "normally" has a "secret" control near Mill Bay. Graham was joined by Dave Murchie to help him wave in the riders as they went speeding by. The remote final control position out at the Kemp Lake store was manned by Charmain Munroe and a friend of hers until Craig Lylack finished his ride and then he went out and manned the control for the rest of the evening. Charmain and Craig provided a much welcomed evening warm meal and drink after a long day of riding in the rain and wind and, with no opened stores or places to eat for the last 100 or so km of the ride for most of the riders, they were a vital part of the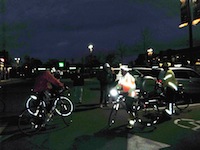 ride. Mike and Brynne Croy provided me with valuable advice along the way and manned the finish for the first 4 hours until I took over welcoming the last rider in at 1225 the next morning.

The riders started at the Starbucks in Westside village and once again were able to partake in some of the coffee I was able to purchase from the Starbucks when they opened early for us. They headed off into cloudy skies and soon encountered showers and rain as they headed out across the peninsula along with some strong head and tail winds and these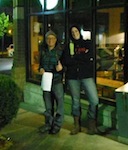 conditions would stay with them all day. The occasional sunny break didn't come at a good time for some as, after getting cold on the flats and downhills, it showed up on the uphill climbs of which, even with the shorter route, there were lots. Craig Lylack got a bit chilled so he decided to ride faster to keep warm. Steve Mahalovich was not so lucky as he couldn't shake the chill and ended up dropping out at Mill Bay. Even Ken Bonner contemplated not making the turn up to Humpback Road…but only for a second. Mark Ford encountered a mechanical problem with one of his shifters and ended up riding much of the ride in his lowest chain ring in the fine company of Michael Tilitzky. Luke Galley dragged his recumbent out of its 18 month slumber and woke it up on a few of those hills. Meeting me at the finish early in the morning, Mikael Jansson concluded his relaxing social ride with a great chat about all the awesome volunteers he encountered along the way.

---
Go to: Results

April 21, 2014