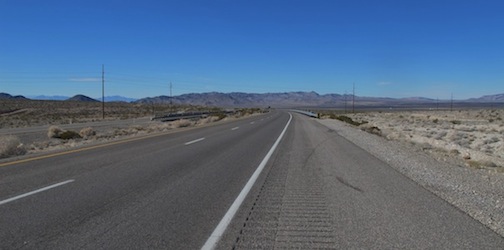 Viva Las Vegas
by Gary Sparks
Last year I almost stayed home. The price was right, but a chance to spend four days in Las Vegas wasn't my idea of fun. I had no interest in seeing the Strip and couldn't think of a reason to go. A few days later, riding home in the cold, driving rain, the obvious occurred to me: I could ride my February Permanent in warm, dry weather. I checked the RUSA website and saw several Las Vegas based Permanents. When I found some bike shops renting nice road bikes, it was "Viva Las Vegas" and I was on my way.

RUSA has Permanents all over the US. Riding one is pretty straight forward and all the rules are at http://www.rusa.org/perminfo.html. You must be a RUSA member to ride one of their Permanents: you can't get the cue sheet and control card without it! Membership will cost you $30 for the year and it's a pretty good deal. They'll send you a handbook on randonneuring when you join, and a quarterly newsletter. If you want the ride to count as a BC Permanent you need to follow our rules at http://www.randonneurs.bc.ca/permanents/rules.html.

Nevada is working hard to promote the state as more than the famous Strip. I might have missed it, but they should tell people about the great cycling. I was surprised to find bike lanes all over the City, miles of paved, dedicated bike trails, and a State law that requires motorists to pass cyclists with at least a three foot berth: http://nevadabike.wordpress.com/2011/06/21/3-foot-passing-rule-becomes-law-in-nevada/. Above all, the scenery is spectacular and some of the best is close to Las Vegas.
RUSA Permanent #833 - The Dam Ride, 201 km
Febuary 9, 2013
11:17
I rode Permanent 833 (the "Dam Ride"). In RUSA jargon, the route is "owned" by Richard Stum. Some Club members may have ordered from his company, eoGear. I emailed a waiver to Richard and he sent me the cue sheet and control card. The cue sheet was the best I've seen. It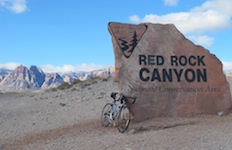 was accurate, well laid out and included Google Earth pictures to help navigate a few confusing stretches.

On ride day I took a taxi to the start. It was about ten miles from my hotel, so why make it any harder for a 5 am start? The ride started in North Las Vegas and headed south, travelling down the Strip before turning west to the Red Rock Canyon Conservation Area. It was Saturday, and there was a steady stream of cyclists going both ways through the park. After leaving the park, the route turned north to the Hoover Dam. The turn-around was in a parking lot on the Arizona side of the Dam, making it a two state day. The ride back included a 20 mile section on a deserted road along the shore of Lake Mead. I got back a little late, but of course the casinos never close.
---
RUSA Permanent #2204 - Area 51, 203 km
January 25, 2014
10:04
This year, I didn't think twice before doing it again. In January I rented a bike and rode another Permanent: "Area 51". It was an out and back course, with a turn-around at the road leading into the Nevada Test Site and the restricted village of Mercury. The Nevada Test Site is a 1,350 square mile area described as the "nation's principal nuclear explosives testing laboratory". Area 51, famous for aliens, experimental aircraft and other strange things, is north of the Nevada Test Site and closed to cyclists and everyone else.

This was my kind of ride, with only a handful of turns to test my limited navigational abilities. Most of the ride was on US-95. I was a little apprehensive about the route when I saw that US-95 is a four lane divided highway. I had nothing to worry about. It had a wide, clean shoulder and was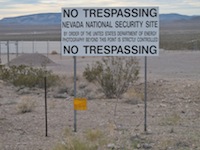 nearly deserted for most of the ride. There were long gradual climbs and big views ahead to false summits ten miles up the road. It was a pleasant 70 degree day, but this is the desert, and mid-summer would be a different story. The small settlement of Indian Springs, home to Creech Air Force Base, and the US drone program, was the only "town" on the highway. A sign on a small building beside the gas station advertised $21 rooms and I started thinking about a budget winter training camp! The ride from Indian Springs to the Mercury road and back, was a 40 mile stretch with no water, services or any obvious structures, although several intriguing roads disappeared into the desert and surrounding hills. I was in another world, only 60 miles from the Strip. No trespassing signs and a security trailer soon appeared to mark the turn-around. Off in the distance a collection of buildings rose from the otherwise empty desert. I took a few pictures, jumped back on my bike and caught a warm tail wind back.
---
Go to: Permanent Results
February 23, 2014