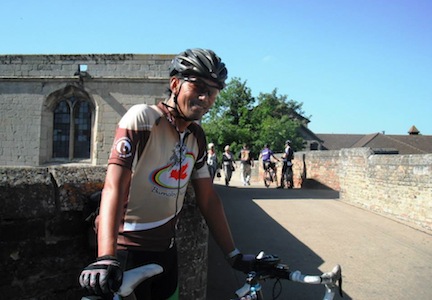 London Edinburgh London 2013
by Luis Bernhardt

In order to complete a brevet of more than 600 km, or more than one day, you need to adopt a strategy. Paris-Brest-Paris, for example, has two basic strategies, depending on your start time. If you start on Sunday afternoon/evening, the general strategy is to ride thru the first night and into as much of the next day's daylight as you can before stopping. Ideally, this should put you at around km 800, maybe 900, and setting you up to finish the next day. If you start Monday in the early morning, the likely strategy becomes riding as many daylight hours as possible, trying to complete three consecutive 400-km days.

London Edinburgh London allows you five days to ride 1400 km. Because everyone starts on Sunday morning, it is more conducive to the second strategy above. Underscoring this is the fact that the organization provides all of your meals and lodging for those five days, so it makes sense to treat this as a fast tour, covering the average of 280 km per day for five days, and getting a decent nights' sleep each evening.

2013 was my first attempt at this quadrennial ride, and being unfamiliar with the terrain, I adopted too ambitious a strategy and had to modify it as the ride (and attendant saddle issues) developed.

The ride strategy determines where you will sleep. LEL provides a fabulous benefit for those who like riding light by providing you with two free bag drops. (Aside: they provide nice cloth stuff bags with drawstrings and printed logos that include the name of the control, and they let you keep the bags after!) Now, you don't have to match the drop locations with where you will sleep, but since they also provide showers (and what passes for a towel, but then beggars can't be choosers, can we?), it makes sense to place the drop bags at your sleep points. Not fully understanding the five-day time allotment, I naturally had the bags at as close to km 350 and 700 as possible: Pocklington (km 336) and Edinburgh (km 705, the halfway point). There are nine controls between Loughton and Edinburgh, and eleven between Edinburgh and Loughton, with 99 km the longest distance between controls.

What they don't tell you is that it is pretty fast and flat between Loughton and Pocklington, but then it gets pretty hilly after that. And one big disadvantage of having a bag drop at Edinburgh is that you only get at it once. A far more clever way to arrange the drops is to take them at Market Rasen (km 246 out, 1153 back) and Brampton (550 out, 851 back), filling each for two stops, out and back (e.g., two dry t-shirts & socks, and two fresh shorts in each bag).

Carole and I arrived in London on Saturday morning, the day before the start, taking an overnight Air Transat flight from Vancouver to Gatwick. Air Transat is good to fly on in these tightly-scheduled situations because they only do direct flights. This means there is zero chance of your bike not making a connecting flight! As long as it's loaded in Vancouver, it should arrive with you at your destination, and such was the case for both Carole and my bikes at Gatwick.

I had booked a Gatwick Express (runs every 15 minutes) to Victoria Station, and we managed to take the tube with our bike bags/boxes and carry-ons to Finsbury Park station, near my daughter's flat. Aside: those who follow English Premier League football will know that this is Arsenal territory!

We put our bikes together and took the Overground to Stratford station, then the underground to Debden, from which we followed the gpx tracks for the next morning's LEL prologue to get to the start for registration and drop bag setup. We found that some underground stations are off limits to bikes – Finsbury Park, for example. The "deep" tube stations don't allow bikes, and they don't have elevators, so you must carry the bike up and down the stairs. Technically, we weren't supposed to have the bikes on the tube between Stratford and Leyton, but no one said anything.

For the second time this year (the first time was on Maui), I broke the seat post bolt tightening it. When I had the Rodriguez fixie built, I had wanted a separate detachable collar to hold the seatpost, but somehow I was talked into a plain M6 binder bolt directly into the frame tabs. I thought I had a spare (especially after Maui), but I didn't, so I had to use one of the M6 bolts clamping the stem to the fork steerer. I thought this would be a simple temporary fix until I got a replacement bolt from one of the onsite mechanics at LEL, but they didn't have one at registration! In fact, none of the mechanics I asked at any of the controls had one, so I ended up riding the entire 1400 km with one bolt clamping the stem, and the stem bolt clamping the seatpost. Fortunately it was a carbon post, greased with carbon paste, which is merely grease with tiny glass beads that hold the carbon in place, so the carbon tube doesn't slip much under minimal tightening.

The only other problem I had was that the battery died on the crank-based powermeter, so I would not be able to obtain any power or rpm readings, since I hadn't brought the spare battery. The battery is good for 400 hours, which would probably take most people a couple of years to reach, but I hadn't noticed that I had reached this in about five months. But this was not really an issue, as I was using the powermeter head mostly as a gps on this ride. I was less interested in watts generated than I was in the breadcrumb tracks and in knowing the occasional percentage grade (which is usually inaccurate anyway).

I didn't have any gps tracks showing the way from Finsbury Park to Buckingham Palace for the 6 am start on Sunday morning, so I printed off the Google Map directions. By the time we got to Euston, we were completely lost, but fortunately we saw a string of riders roll past on an adjacent street, dressed like randonneurs in PBP vests and with LEL number plates on the bikes, so we followed them. We actually went too far, looping around Trafalgar Square instead of just heading straight to The Mall at the Charing Cross roundabout, but we arrived in plenty of time for the start.
The LEL prologue rolled thru a Sunday morning London, past most of the tourist sites – Trafalgar Square, Picadilly Circus, the Parliament Buildings, St. Paul's, the West End, still busy with traffic even between 6 and 7 am. Groups got separated at the lights, but reformed further down the road. We eventually reached Loughton, back to where we had registered, by around 7:30 am, having ridden more like 30 km than the 21 advertised. The prologue segment of the route card was stamped at this point. I had arrived early enough that I didn't have to wait in line for breakfast. And from this point until we finished five days later, all the food was free!

Carole arrived shortly after, and we had time for coffee before heading to the paddock for our 8:30 am official start. All of the frame numbers had a letter followed by a number – mine was M5, Carole was M6, Ed Person was M7. The "M" meant we started at 8:30. L's started at 8:15 and N's would start at 8:45, I imagine.

On the road, along gently rolling hills in Essex county. Ed Person quickly opened up a gap while I sat in the draft of our small group. He was trying to make Thirsk by the first day, while I had Pocklington, one control nearer, in my sights. For a 1400-km ride, you don't want to be burning matches this early. You can actually make up time more easily by minimizing time at the controls rather than making harder efforts on the road.

I had wanted to limit my stops to 15 minutes at the most, but this was difficult. At the first control at St. Ives (Cambridgeshire), there were long lines for food as the faster L's and M's caught the slower of the G's and H's. The tables where they stamp the route cards were sometimes hard to find, and you had to remove your shoes at most of the schools being used as controls if you wanted to eat or to use a washroom.

Getting used to riding on the left was also sometimes an issue. The most useful thing you can learn to do in Britain is to always look to the right when you come to an intersection. Left turns were easy, but right turns were sometimes tricky, remembering that you had to finish the turn in the left lane instead of the right.

In Britain, I noticed very few "Stop" signs. Most signs are Yield, or there are roundabouts, with the right of way going to whoever is in the roundabout first.

The most useful piece of equipment on the entire ride was the gps. LEL provided gpx tracks for each of the stages. At some point, you will be riding by yourself, or you may be riding behind someone who does not know the route. It's nice to have the tracks visible, and to see the arrow following the line. And if the turns are so gentle that it's difficult to tell whether or not to turn, you can see within 50 meters that you're off course. A gps is far easier to follow than a printed cue sheet.

However, the downside of a gps is the limited battery life. I was experimenting with a portable charger that used 4 AA batteries attached to the stem of the bike, just underneath the gps, but despite the gps setting that was supposed to allow for charging during use, it could not operate and charge at the same time. As a result, I wasn't able to track the LEL prologue. I did use the recharger unit each night, with the odd recharge during lunch on the long days, so I was able to use the gps for the entire ride beyond the prologue.

I ripped along with fast groups, Kirton (Lincolnshire) to Market Rasen (at the edge of the Lincolnshire Wolds) and on to Pocklington (East Riding of Yorkshire) where I would stop for the night. I arrived at 21:30, feeling in good shape although my seat was feeling a little raw from too much pounding on the flats along the ofte3n-bumpy back roads. I had a decent dinner, although the drinks were suspect – they had a funny "diet drink" taste that discouraged me from drinking further. I drank lots of water instead. I don't understand why anyone would consume any diet drinks – drinks with artificial zero calorie sweeteners – during a long ride where you need the extra Calories.

I was glad I had left Thirsk (North Yorkshire) to the next morning; it would have been tricky navigating the narrow, winding lanes that often degenerated into gravel double-track in the dark. The hills were also getting steeper – I had to walk the fixie over one of them – but the broad panoramic views of the North Yorkshire countryside were quite superb.

I had thought we would be proceeding in a northerly direction, benefiting from the strong southerly winds, but the gps showed us headed more to the northwest, and looking at a map of Britain, this made sense. After stopping at Barnard Castle (where there really is an old castle), we reached almost to the west coast at Brampton (Cumbria), just south of Hadrian's Wall. From here, Edinburgh was due north, but first we had to cross the Scottish border and then tackle the long, steady climb out of Moffat (Dumfries and Galloway, Scotland). The road then levelled and took us along the Tweed River, between the Scottish hills as night descended, and we finally reached the control at the southern outskirts of Edinburgh at around 23:30.

This second day had taken longer than I had anticipated due to the climbing. It might have been a good idea to stop at Moffat for the night, and to take on the long climb early in the morning. I don't like riding at night. But then on the road to Edinburgh, I was able to come in with a small group. My gps also lights up after sunset, so it was easy to navigate, although the road to Edinburgh is pretty straightforward except the last part in town.

At the southern edge of Edinburgh, we passed close to Roslyn Chapel, which figures prominently in The Da Vinci Code. I would have liked to have stopped had we passed by it!

Day 3 started with a climb out of Edinburgh. By this time my butt was getting quite raw, so climbing out of the saddle was actually appreciated. I had fresh shorts at the Pocklington and Edinburgh drop bags, but by then it was too late. I bought a container of ointment for treating saddle sores and was using it liberally, but it would take about a half hour of riding before I felt almost comfortable on the saddle. This was the biggest thing that slowed me down, and a definite disadvantage when riding a fixed gear.

Still, I enjoyed the Scottish scenery as I wound thru the quiet rolling hills, past the very rural controls at Traquair and Eskdalemuir before crossing back into England and returning to the control at Brampton, southbound this time.

Having reached Edinburgh in two days, I wanted to take three days to return to Loughton. Between Brampton and St. Ives we'd be doubling back on the same roads we'd gone out on, and the final push would take us on different roads to Great Easton and back to Loughton. Along the way I'd start seeing some of the same riders, recognizing the same jersey or bike. One "peculiarity" of LEL, for North American riders, is the number of English riders on the route without helmets. I will withhold any judgment on helmet-wearing, as there are good arguments for and against, but I will say that I was far more concerned with the absence of fenders, or of mudflaps if there were fenders, on the vast majority of bikes. There was sporadic light rain over the first three days, than a steady rain on Day 4, and you did not want to be directly behind most of the riders on LEL on the wet roads. I think we do a much better job of fenders and mudguards in the Pac NW than they do in England.

After stopping in the early evening, before sunset, at Barnard Castle, I wanted to do the same at Kirton on Day 4, leaving me with only 201 km to ride on the last day. It rained on the flat section next to the river boats on the way to Kirton, and I punctured twice. One of the punctures was the rim blowing off the front wheel. I was using the new 23mm rims (Velocity A23's front and rear). I had a Vredestein Fortezza TriComp on the rear, inflated to 120-130 lbs, which was fine. But the front was a Vittoria Open Corsa Evo CX racing tire. It became quite evident to me that this was not designed for use with 23mm rims, as I had inflated it to 120 lbs the day before LEL, and the next morning, I found an exploded tube and the bead blown off the rim. I had kept it to 110 lbs, but the bead still came off the rim. I was able to finish the ride with the tire at about 90-100 lbs, but it was replaced with a TriComp after the ride. The Vredesteins are the best tires made (at least the TriComps are) – very puncture resistant, able to handle high pressures, even on 23mm rims!

Before the punctures, I was pushing the pace by myself. It's common practice amongst randonneurs for one rider to pull a string of riders for kilometer after kilometer. Eventually they swing over and the lead changes. My pulls tend to be much shorter, but drifting back, I would sometimes find the last rider opening up a gap so he could stay in the sheltered last position, out of the rotation. This happened once, and I just kept slowing down to decline the opening in the pace line. So he slowed down to try to get on my wheel. So I just let the gap open, and by the time there was a good 20- or 30-second gap, I accelerated just hard enough to get back to the string by myself, not bringing the slacker up with me! Yeah, a racing background makes you not very nice, but my motto is to just leave the weak out there to die... heh heh!

Just as Day 4 was rain, Day 5 was hot and sunny. At around 100 km to go in LEL, we hit some of the worst hills on the entire ride. It was a constant up and down, all relatively short climbs, but some were pretty steep. One required walking up, the fourth climb in LEL where I had to get off and push (the other three: two in the Howardian Hills – out and back, and one near Eskdalemuir). By this time I was making the odd stop at the British equivalent of convenience stores to buy an occasional Coke, sometimes bolstered by a Red Bull. The last stop at Great Easton was nice. They had rerouted the section leading up to it, but I followed the gps tracks to get there by the original route. After more than 1,300 km, I ran into Ed Person again (we eventually finished within about 30 minutes of each other). The last 65-km stage back to Loughton wasn't quite a victory lap, but I think I sped up as I smelled the barn. It was late afternoon, finishers were still hanging out, but I was surprised that there was a LOT of applause when I came in. I was just happy at the prospect of not having to ride the next day.

I was going to wait for Carole to finish so I could guide her back to Finsbury Park, but she had been pulled from the ride at Thirsk by one of the medical officials who determined that she was over-tired and a danger to herself on the road. Unlike me, she had been riding until the early hours of the morning to make the controls. She switched from being a rider to a volunteer and was able to talk her way into getting a ride back to Loughton, but that's another story. Mine is much more mundane.
Highlight points for LEL:
• If you can manage the logistics (and your legs can afford the additional 30 km distance), the London Prologue from Buckingham Palace is highly recommended!
• No cheering spectators along the route. Well, maybe five or six along the entire 1,419 km. Until the end.
• Scotland is scenic but hilly, with rough roads.
• When you look down at the English countryside as your airliner descends, you see lots of quaint countryside with neat rows of hedges. These actually line the back roads and generally keep you out of the wind. England is a wonderful place to ride a bike!

---
Go to: Luis' LEL Photos (Google +)
Go to: BC Rider's LEL Time Results (& some photos)
Go to: LEL Home

August 27, 2013