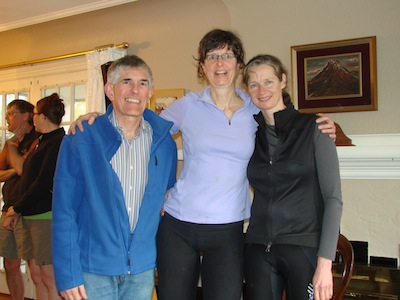 Fred, Melissa, Denise
Photo: Lorraine Nygaard
Somewhat Familiar 200
Ride Organizer's Report for Vancouver Island Spring 200 km, April 6
by Lorraine Nygaard

The April 2013 version of Somewhat Familiar was happily successful because of many factors. It was great to see 15 riders sign in. Cheryl and Nigel, and newcomer Nigini Abilio came over from Vancouver, and many friendships formed during the event. Everyone warmed to Nigini's upbeat personality, and we all learned a little bit about Brazil. Maybe Nigini will start a Randonneurs chapter there when he's done with Vancouver.

All week long the forecast was for rain, and though the day started with a bit of a drizzle, the skies opened to the sun. Cheryl reported seeing 3 rainbows. Folks went ga-ga over the views along the route. 3 different people fell, but continued on to successful finishes. Eric Guillenot and Ed Janicki made a valiant fast-paced effort, but had tire and mechanical difficulties and needed to withdraw. All riders commented on how happy they were with the support, and so a big thank you goes out to volunteer newcomers, Ted Weick and Craig Lylack, and veteran volunteers, Carol and Stephen Hinde, Mark Ford, Luke Galley, and Dave Macmurchie. Dave did the route sheet and control card work, and I was extremely grateful for his reliability and flexibility.
Though I hope that riders will submit their own stories, there were a few that were coming back to brevets after lengthy breaks, and witnessing their sense of achievement was heart-warming. Rob Scrimgeour arrived nearly an hour after the start, but was calmly determined to partake. He and Fred got a round of applause back at the house. We wanted this first ride of the spring series to be a fully supported ride with food available at all the controls, including at the 2 secret controls. We thought that this would appeal to riders wanting to keep moving through the course quickly, as well as to those who enjoyed relaxing a little at the controls. Thank you Denise for supplying the amazing home-made energy bars. You were baking until the wee hours of the night before a ride, and everyone enjoyed the fruits of your labour. Thank you also to Alexander's Coffee in Sidney, Wilkinson Plaza merchants, and Kemp Lake Store in Sooke, for letting us set up controls in your parking lots.

The gathering at the finish of the ride was really fun, as folks shared riding stories around the randonneur's circle.
---
April 7, 2013