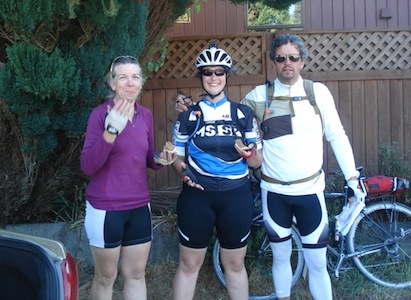 Lorraine, Brynne & Steve
Photo from Mike Croy
Fall IsleLander 200 Organizer's Pre-Ride Report
by Lorraine Nygaard
Go to: Route & Info Page.
I'm happy to predict that all participants in the Sept. 23rd "Somewhat Familiar 200" are going to have a terrific day. Thank you Steve Mahovlic, and Brynne Croy for coming out on Wed. the 19th for the Pre-ride. We had amazing weather, and the good news is that the forecast is for more of the same right through the weekend.
As I slogged along and tried to keep up with Brynne in the lead, and just ahead of Steve serving as the encouraging sweep, Steve would often stop and make route mileage adjustments as we went along. So, though this ride was created out of bits of other old rides, the mileages are corrected. They also provided input as to comfortable transitions for navigation. We agreed it was going to be a really nice ride for the following reasons:
- The control points are all manned, except for Beacon Ave. There is such an array of shops there for your mid-morning snack that choosing one will be the biggest difficulty of the day. We went to the Red Brick cafe, and it was very good.
- The big ugly hills have been deleted, so no Gillespie or Rocky Point in the second half.
- There will be a secret control to keep you all on course.
- Pumpkin pie provided by Mike Croy as a surprise on our pre-ride was so appreciated that I've decided I will make an array of pies for the finish. And I make good pie, so you better hurry up and pre-register. If there's lots of pie left, the pre-registered get first dibs at a second helping. :)
- We've already heard from one "across the border" participant, bringing our total registration up to 15. You get to ride with lots of others!
- There are currently 5 randonneurs staying at Cottage Pirouette BB on the night before the ride. There is one room left, with 2 single beds, at $50/night per person. This includes your breakfast. Contact Lorraine at info@cottagepirouette.com for accommodation.
I'm looking forward to seeing you all on Sunday. Bring your windbreakers and long leg coverage for the windy coastal sections. And your cameras. It's beautiful.
September 20, 2012