Colorado High Country 1200 Report
Ride dates: July 9-12, 2012
by Bob Koen

The ride started out a bit wet and then got intensely dry. And stayed that way. It was cold at night and very hot in the afternoons. The evenings were nice for a while, but the mornings went from cold to hot with almost no in between temperatures. The sun was intense. The stars were amazing. Venus and Jupiter were extremely prominent in the morning sky before sunrise. Mars and Saturn were there in the evening sky after sunset but I never saw them. I never had to ride late enough into the night to see the early night sky. I regret that.
There were some nice stretches of high mountain scenery interspersed with some incredibly long stretches of sagebrush flats. Colorado is partially bleak, partially beautiful. Wyoming is more bleak than beautiful. There is a college town there (Laramie) with no pretty girls. Whats up with that?
The ride had some hard parts, some easy parts. It was never out of control, not for me or for anyone else. The DNF ratio was below 10 percent. The last day was ideal. It featured a short climb and a very long descent followed by 100 kilometers of moderate rollers to the finish. People were leaving the last overnight control 2 and 3 hours after the closing time with complete confidence in making the next control with plenty of time to spare.
The volunteers were tremendous and the overnight control food was spot on every night and morning. We had motel accommodations every night with no bed sharing, sometimes not even any room sharing. This was a ride where there were no impediments to just getting on your bike and riding. It was a very good ride.
But that's not the essence of this story.
On the afternoon of the third day near the start of the final climb of the day I was passed by two riders who were only slightly faster than I. They were the rabbit that I needed to get me out of my lethargic doldrums, so I accelerated slightly to catch up with them and we started chatting. They turned out to be two southern gentlemen, Rod from Missouri and Fred from Texas. Rod was a southern gentleman who would fit in well in any rando group, while Fred satisfied just about any stereotype that you might conjure up about a Texas randonneur, or a Texan in general.
After an initial steep climb the road up Willow Creek Pass turned out to be one of the best roads that we encountered. Never steep and always scenic, nicely paved. We made good time up and over the pass and down to the one horse town of Rand, Colo (population about 10 on a good day when everyone is home). It was evening at this point and getting cool, so I stopped to put on arm and leg warmers while Rod and Fred carried on. Shortly after Rand the road went from really nice to not maintained in the last century. The endless bumpity-bump-bump slowed me down quite a bit. But there was only 21 miles to go to the overnight control in Walden, so no big deal.
Then the wind turned on like a switch had been thrown. This was at about a half hour out of Rand with an hour left to go to get to Walden. The wind went from flat calm to a force to be reckoned with in no time at all. My speed decreased by about half instantly. I quit cursing about the poor quality of the road. There was nothing to do but just hunker down and proceed on at about 10 miles an hour. I mentally adjusted my arrival time at Walden by an hour. It got darker and darker. This went on for nearly an hour when I noticed a bike light coming down the completely empty road toward me. There had not been any cars coming toward me (why would anyone go to Rand ever? Much less in the late evening?) I couldn't imagine another rider being lost out here since there was only one road and it led to food and a warm bed in the other direction. When the light got near me it turned around and I caught up. It was Fred. He had turned around and come back for me, a distance of about a mile, to help me deal with the wind. Rod meanwhile soft pedaled up the road and waited for us to join up.

I was completely blown away by such a random act of kindness. Randonneurs tend to be good folk, always willing to help each other out and stick together through the rough times. But this act really stood out for me. Here was someone who made his life harder to make things easier for me; not because I was in desperate straits, but simply out of kindness. I vowed that I wasn't going to forget it.
The next day I was on my own again through the late night and early morning, but then a big group formed up at the penultimate control. A tandem couple, Brent and Beth who were locals, attracted a bunch of us to their rear wheel and we made awesomely good time through the rolling country east of the mountains toward the finish in Louisville. Fred and Rod were in this group and we had a good ole time pounding out the final miles. Folks started smelling the barn...
Fred and I smelled the bar instead.
At about three km left to go we peeled off the back end of the peloton and headed into downtown Louisville in search of a pint or two.
I was buying....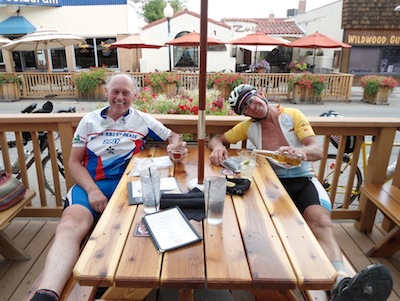 How to have a good time, not a good time...
We eventually finished about an hour behind the rest of the group that had been in the paceline. My only regret is that the peel off signal somehow didn't get communicated effectively to Rod. He worried about us when we weren't there at the finish.
July 26, 2012
---
Go to: Results (google doc)
Go to: Colorado HC home
August 1, 2012