Paradise Lost… and Found
Flèche Pacifique 2012, May 4-6
by Jim Runkel

We were the Paradise Island Riders....Unlike the poor woman in the bathroom stall, when Karen asked her about being part of a "FLESH" team...I was part of a "FLECHE" team and a great one at that.

In 2011, Philip and I completed PBP and all other rides required to apply for the 5000K pin except for the Fleche.

And so it was that the plan was hatched and we started to think about this years Fleche. Having never done this event before, and reading through the "RULES" it was a scary proposition. It all makes sense now but when I was trying to digest things like the 22 hour rule, along with the time constraints etc and add to that designing a route that worked into those rules it was daunting.

Being on Vancouver Island, routes naturally would have to start on the mainland...I thought. So we toyed with a Port Angeles start, heading to Port Townsend and then onward to Harrison. That seemed to be the most doable. Then the idea of starting just off the Ferry in Tsawwassen and heading toward Manning Park was thought about...We then had that "eureka" moment when both Philip and I agreed we would be better off trying to do most of our KM's ON THE ISLAND....At this point our team was coming together too. Lee had agreed to join early on and so was giving some feedback on the possible routes and especially the hills on some of them!. Then a chance chat with Graham and Mark at the Chilli 200, about the Fleche, brought them on board and we had our 5 members secured. Further discussion on routing occurred between all members and it was decided we would try the island start. I took care of the routing from my place to our turn around in Nanaimo and up to Swartz Bay. Both Lee and Philip worked on the route from Tsawwassen to Harrison, with Philip finalizing the details and also pre riding some of the sections.

I certainly felt better having Graham and Mark along as they had both done a Fleche before. Their collective experience was much appreciated and our success had much to do with them.

And so we gathered at my house on Friday. The weather had turned from heavy rain in the morning to bright sun and blue sky by afternoon but with dropping temperatures and a very stiff variable wind. The boys all brought bags for Harrison as Brigitte, Joel and Lorena were heading over on Saturday for the finish.

Graham had come up with a time schedule to help keep us on track. We heading out at 5pm sharp, into the setting sun and windy night. Edie, Grahams wife, was making us a big dinner at their house,which was on the way and also a control. So the thought of good food helped us move along. Lee had two flat tires in the first 4 hours of riding which was frustrating for him. We still arrived at Grahams house on time and Edie had prepared a wonderful meal, which we all were thankful for. The sun was down by the time we left but a super moon was rising and it was getting very cold. I put on more layers to fight off the cold. Off to Nanaimo we headed. Just out of Ladysmith a 3 inch finishing nail found its way into my back tire...my first of two flat for this trip.

We made Tim Horton's in Nanaimo, ate a bit more, warmed up and headed back toward Victoria.

It was our hope to get back to my place by 4-430 so we could relax, change, eat and then do the 28 km trip to the ferry without too much stress...that did not happen. The night got colder, and I recorded a low temp of 1.6 C. Coming down the Malahat at 4 am was shear agony as I was frozen. The only time I have been colder on a bike was on the infamous Hell Week 300 to Port Renfrew last year. And so we arrived at my house a full 12 hours later at 5am. Now we were in a panic...Ferries don't wait and if we missed the 7am we were done. Each team member set to the tasks they had to do. I did a complete change of clothes and stuffed some food in my mouth. We set out from my place at ~530a. Obviously we made it...buy the hair of our chinny chin chin! STRESSED I was...to say the least. When I sat down finally in the Ferry I felt pretty "GREEN". Once the knot in my tummy was gone, I could eat a bit, and then rest. We all took a breather and relaxed.

We popped out of the ferry on the other side to sunshine, but in the distance along the mountains in the direction we were headed, the clouds were dark and black...were we going to get rain?...it looked that way.

Philip with a bit of help from Lee had devised a great route from the ferry, keeping us going straight, and mostly flat. We were having a little break when "THE HOUND DOGS" fleche team appeared. After some chit chat they were on their way to Hope and we continued our journey toward Harrison. A small bump appeared in the mostly flat route as we did a steady climb up King George toward 8th....Campbell River store was our control along this part of the route. A carbon clad, spandex wearing, racer announced to us it was very wet and raining not 10 kms away in the direction we were going....So we were ready to face the rain. Another bump in the otherwise flat route appeared in the form of a 10% grade switchback on the way to 0 ave....that was the last hill to speak of though. Along 0 Ave the roads were wet and a small amount of moisture was in the air, but by Aldergrove the roads were dry and the further East we went the nicer the weather became. We never actually got any rain on our journey!

Our last official control was the Yellow Barn and after a short stop where Graham and I had some nice ice-cream, we headed off. The 22 hour control came next and we dutifully stopped and did the business needing to be done. We were looking good to finish the whole distance calculated on our route (386.6K). But then my second flat tire essentially ended that hope. Something I rode over cut my sidewall clear through. I always carry a spare tire thought, so with Philips help, working like a NASCAR tire crew, the two of us changed my tire in record time. We then motored to catch up with the group who waited down the road. 14 km to go....Near the end, the adrenaline and hope of actually making it all the way spurred us on and with heroic effort by all (Mark Ford was amazing! as was Lee!) we sprinted to the end, but time ran out, just inside the boundaries of Harrison, and at 5pm, 24 hours after leaving my house in Victoria, our ride came to an end. We had covered 385.5 km in 24 hours.

A big thanks goes out to my team. I enjoyed the experience and got to know each of you much better.

A big thanks goes out to our families for coming to cheer us on and take us home.

A big thanks goes out to all the organizers and volunteers. The Banquet was fun and hearing the stories made me laugh. It is so great to see so many Randonneurs (and families) together in one spot. In a sport that is often done solo, where seeing other is usually reserved for the start line, this event is unique. Riding as a team, especially when some are faster riders, has it challenges, but the rewards are there too...for our team, having everyone finish, was one such reward. Our unique route was another challenge. From some discussion it was thought this may be the first successful Fleche done with its starting point on Vancouver Island! also a great reward for us.
If you have never done a Fleche you should...it is "FUN" and rando-nesia has not even set in yet!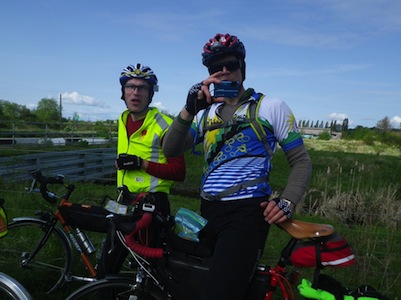 Jim snaps a picture of team Hound Dogs at Colebrook Road
Photo: Dug Andrusiek
Go to: Jim's Photos
---
Go to: Flèche 2012 Results
Go to: Flèche 2012 Photos
May 9, 2012