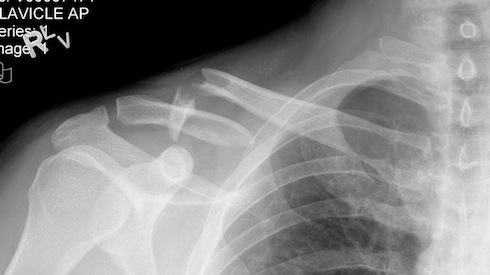 The Bike's Okay!
by Ben Coli

I'm sure that in a couple of months some of you will be wondering why you haven't seen me at any brevets. "He started with so much enthusiasm and he talked a good game, and now he's quit on us after his second season? What's with that Ben guy?"
I'll pre-empt any speculation about my commitment to the sport by saying that it's not a weakness of character that's keeping me from brevets, but a weakness in my skeleton. Specifically, it's a certain tenderness my clavicle acquired last week.
I'd had a spotty winter and spring of riding and I thought that the trip my wife and I had planned to take to Tucson to visit my parents would be the perfect opportunity to put some miles on the bike and get my posterior in shape for the spring series. Southern Arizona is a beautiful place to ride this time of year, with nice, cool mornings and endless sunshine, and Tucson has shockingly good bike infrastructure for such a sprawling, car-oriented city.
My wife and I had put on about 200 km over three days, and I was finally feeling some life in my legs. We got up early in the morning and went for a ride with my older brother. The three of us put together a high-speed downhill paceline before our climb up to Saguaro National Park. The climb up was windy and narrow, but totally manageable, and the views from the top were worth it.
I couldn't wait for the descent. I warned my not-so-experienced brother to be careful on the corners, as some of the turns on that old road had decreasing radiuses and the surface couldn't be counted on to be perfectly smooth.
I'm going to do away with all the suspense and say that I was going about 50 km/h when my shoulder hit the road. I put the bike fast into a hard corner, hoping to maintain speed for the rise after the corner. The bead of my front tire separated from my rim, abandoning me right when I needed it most, and I went down shoulder first.
I cracked my helmet off the road and destroyed it, but came away without even a headache. I've got some pretty impressive road rash all down my right side and I took a good sized chunk of flesh off my knee, but none of my joints are even sore. I also broke four ribs, but they really aren't bothering me now, and the crash was just 5 days ago. What took the main force of the impact was my clavicle via my shoulder. Just yesterday a surgeon reassembled the four-or-so pieces of my collarbone with a plate and screws.
It was simultaneously reassuring and galling to discover that it was equipment failure and not my error that caused the crash. I'd had problems before with my Panaracer Paselas becoming unseated from my Mavic Open Pros – in fact, it happened on a brevet before and I wrote about it in the newsletter. I'd always considered it to be an annoying tendency and it only ever happened once while I was riding; all the other troubles I'd had happened while I was changing a tube and couldn't get my tire seated properly afterward.
Needless to say, I won't be riding this combination of tire and rim ever again. I'll probably move over to a non-foldable tire for the reassurance of a steel bead. If any of the experienced riders in the club have opinions on this subject, I'd love to hear about them on the forum. There's no rush, of course; I won't be riding for another 10 weeks.
And now for the news that you've all been waiting for: my bike is fine. It's barely got a scratch on it. I have no idea how I managed that. My clavicle took all the punishment, I guess. Even my wool jersey isn't too badly beaten up, but my clavicle sure is.
And the necessary last words for any story of this sort: it could have been worse. It could have been WAY worse.
April 9, 2012