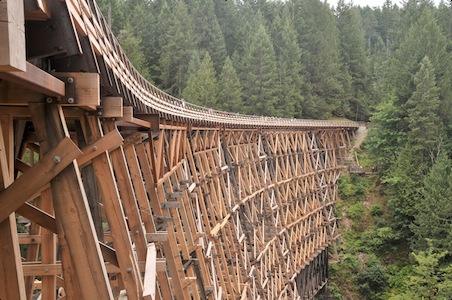 Kinsol Trestle image by martin williams
Tour de Cowichan Valley ~ Revisited
Chemainus - April 7, 2012
by Martin Williams
Go to: Route and Info Page
The Island hosts it second 200k brevet on Easter Saturday, April 7th – the Tour de Cowichan Valley ~ Revisited with an 0700 hrs start from Utopia Bakery, Chemainus. Vehicle parking on Chemainus Rd, in-front of the Legion, or Water Wheel Park. RandoPony pre-registration is recommended.
Why Revisited?. Rather than abandon one of the more scenic rides on the Isalnd calendar we decided to show you how it looks from a different perspective. So were going to ride it in reverse, with a few new turns. The turn-around point at Lake Cowichan reverts to the pre-2006 route on the YouBou side of the lake. En route to Shawnigan Lake we'll being taking a short detour to see Cowichan Valley's newest tourist attraction – the recently restored Kinsol Trestle. The ride then takes us south of Mill Bay, technically the start of the Malahat, to follow the Bamberton loop and along the scenic shoreline back into Mill Bay. The provisional route can be viewed at: http://ridewithgps.com/routes/963618 Final version will be posted no later than Wed next week.
The route offers challenges to regular randonneurs, boy/girl racers and yet provides a great starting point for newbie's, lurkers and any 'anciens' considering a comeback to randonneuring. We hope to see you out there, there's room for everyone!
The reward? What better way to justify gorging on a cream-filled Easter Egg!
A reminder to everyone, especially any first-timers, in addition to helmets front and rear mounted lights are mandatory to ride.
Any questions? Call me at 250-246-9171 or email martwlms@gmail.com
Martin Williams
Ride Organizer
March 6, 2012