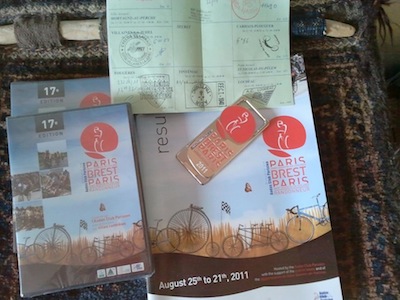 2011 PBP Packages - plaquette, finishers medal, DVD...
"Look what came in the mail..."
The 2011 PBP Packages Arrive
Jim Runkel

It was nice to finally receive the PBP package. The medal was well done and had my time engraved into it...a nice touch.

I think the most emotional piece was to touch the control card again, and see the stamps and times. It was a great memory of the event, and as with all brevets it was like holding a priceless gem....you would not want to loose it! I also realized that we did well to manage our time between sleeping and eating and resting...but it is also an eye opener to realize that in many cases we did not have more than a 2 hour buffer....one big mechanical could easily have eaten that up.
I also received 2 DVDs. I know Philip, who did not pay for a DVD, also received one...so maybe everyone got one, and those of us who paid for the DVD got two??? anyway if anyone wants one, I have two...LOL.

The "Results" book was also put together well. I am still reading through it but I like the information so far...not just a list of results but stories and dedications (there was one fatality during the event and a few before during qualifying rides).

An excellent event, well run and super fun to be involved in....and no this is not after Randonesia has set in...Philip and I had not even gotten our card stamped at the final control and we agreed this would be something to do again.....
February 9, 2012