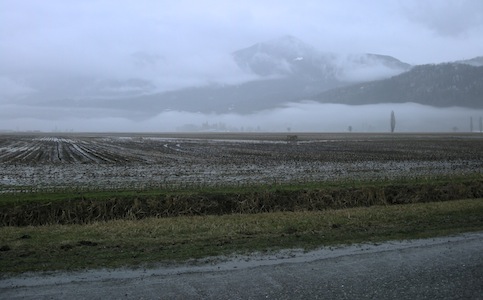 January Permanent
Permanent # 76 Report - Hot Springs Pancake
Ali Holt

On Sunday January 29th, Michel & Karen, Deirdre, Gary, Roger and I rode the Harrison Pancake permanent. It was wet, very wet and there was snow along the route as you can see from the photos attached.
We started off in the dark with steady rain which increased to heavy rain at times. It was also cold and windy, that nasty rando wind that seems to be in your face all day despite the out and back route. In retrospect, it was a southwest wind as we rode west which switched to a southeast wind when we made the turnaround at Campbell Valley Store and headed east back to Harrison Hot Springs. It felt as though it was head wind all day but was in fact more of a quartering cross wind.
As we wended our way along the route, the rain kept us company, occasionally easing off to light rain but never entirely stopping. It should have been a hideous ride, the weather was certainly the definition of inclement however it was for the most part fun, lightened by the excellent company and the many stops along the way to warm up and fuel up. The pie and fries at the Yellow Barn on the last control were certainly memorable as was the welcome sight of the lights of the Harrison Hot Springs Hotel as we arrived in the dark. The valet took our bikes to a safe dry place and we checked in for a luxurious soak in the hot pools and a sumptuous buffet breakfast.
---
Go to: Permantent Results
February 7, 2012
---