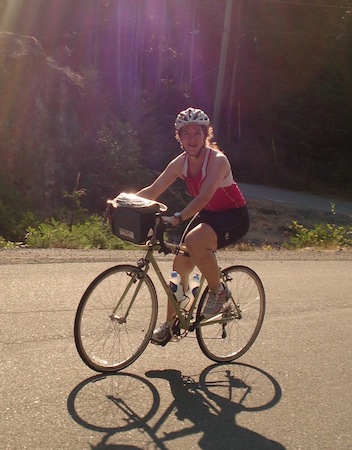 Reflections of My First
by Lorraine Nygaard

Thank you very much, Brynne, Holland, and Mike, for organizing the Fall Islander 200. When I would see Mike in his store throughout the year, he gave me encouragement and helpful tips, as I worked through some injuries. Brynne was very supportive too, and warned me that it was a difficult course, full of turns and hills, which was a good consolation for me if I couldn't see it through to the end.
The stars aligned themselves: I had zero guests the entire week before the ride, the forecast looked excellent, the meat cleavers that had been driven into either side of the knee for the winter and spring had been removed, and I knew that I had to attempt my first 200. Again. (See archives [link] for last year's ridiculous attempt). The Sunday prior to the ride, I did the peninsula, which at 105 kilometres was the furthest I'd ridden. Unfortunately, my time was way too slow to even consider a proper finish within the 13 1/2 hours. I did other sections of the route throughout the week, so that I wouldn't have to spend time being lost on ride day. Still too slow. I was in awe of those that had just finished PBP. How did they do it?
Where could I cut time? No food breaks, so I packed a tall tupperware box full of easy-to-grab fruit slices, and wrapped a healthy sandwich. I bought taller water bottles so that they would be easier to reach. Borrowed my son's watch so that I wouldn't have to grapple for my cell phone. No room for a lock, but I'd deal with it. No room for a camera, but I'd engrave the scenery in my mind. I got to bed early. Ride day meant no coffee, but excellent porridge.
It was slightly daunting knowing I'd be the only female rider and a slow newbie at that, amongst a group of excellent male riders, so I was thankful when everyone greeted me warmly, and chatted with me at the beginning section of the ride so I felt like I belonged. And then very shortly, as I knew would happen, I was alone. And very happy. The ride was much easier the second time through. The Walfred hill, which I cursed slightly during the week, was kinda funny, and easier to tackle in early morning hours. Mikael, who had started later, came from behind and cheered me on. He generously offered some of his extra packed clothing, because he thought I looked cold. Wasn't that kind?
The weather could not have been more perfect. 22 degrees, no wind. Heaven. The scenery was of course marvellous, but my brain was often doing calculations, and figuring out how fast I had to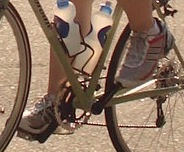 go to make the checkpoints in time. By 95 kilometres, a new phenomena: excruciating pain in the third toe. Why? I tried new shoes for ride day, a big no no. I'd get off the bike, do some calf stretches, and good for another 20 kilometres, and repeat. Third checkpoint was "Your Choice. Beacon Ave." I hope it's okay that on Resthaven, just prior to Beacon, Taste of Tokyo restaurant beckoned me....it would be my treat for coming this far, and on time. I opened the door to see if they'd let me park my bike inside.....and yureka! An apartment building lobby, with a solid door leading to the restaurant. They'd have no idea that my bike was there. I went in and ordered a take-out version of my favourite: scallops. Used the washroom, and got the card signed while the cook prepared my meal. Went back to the lobby in total privacy, and did some convoluted stretches while I devoured the sushi. The salt in the soy sauce was exactly what my body needed.
Back on the bike for the last 50, which at this point seemed like home free, I was so happy. On Wallace Drive, the full moon was coming up on my left, with a pink purple sky above the cabbage fields. They offered a gorgeous farmland scent. On the right, the sunset was placing itself so perfectly, just for me. Yippee-kai-yay came to mind. I made up some lyrics to a song, and pedalled homeward, to be met by the lovely Ms. Brynne at Moka House. A wonderful pin came out of her bag. So worth it.
I had worried about whether I could move on the morning after the ride, but remarkably, after the initial kinks were gone, I had renewed vigour. Though my shoulders and wrists were tender, I washed the kitchen floor, taught a yoga class, and put in a shift at the gym, proudly wearing my first 200 pin. I spent the day marvelling at the wonder of the human body. Discovering that my knee problems earlier in the year were coming from my lateral movements: teaching step, being clipped into spin bike pedals that were non-forgiving, dancing like there's no tomorrow, well, these things had taken their toll. Easing up and allowing the knee to heal, and being able to pull off a 200 was for me, a real high.
Thank you to all of the randonneurs that I've had the pleasure of speaking or corresponding with in the last year. I find that everyone in the group is helpful and supportive, and accepting of a newbie that is finding her way. See you on the road!
---
September 15, 2011