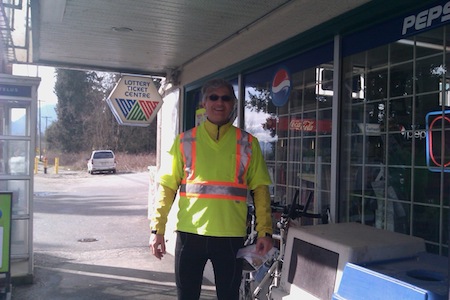 Spring has Sprung
Permanent #78 Report, etc
by Guido Van Duyn

After unseasonably cold weather in February spring has finally sprung! Sunday March 6th was about as perfect a day as one could expect for a ride east on Hwy 7 from Dunbar to Derouche, Permanent #78. Winds were from the southwest but relatively light, the only thing that marred an otherwise perfect ride was a flat tire, but a least it happened as I arrived at the Derouche General Store control.
It's hard to believe the first brevet of the season is less than 2 weeks away, I certainly feel better prepared this year. Last year everything was new to me, I started the season from zero and learned as I went along. This year I have a year of experiences from last season to reflect on. So far I've ridden a number of permanents that have helped with my physical fitness as well as keeping me mentally acquainted with the experience of being on a bike for long periods of time in miserable weather!
---
Ride date: March 6, 2011
Go to: Permanents Results
Go to: Permanent Route #78 "Dunbar to Derouche"
March 8, 2011