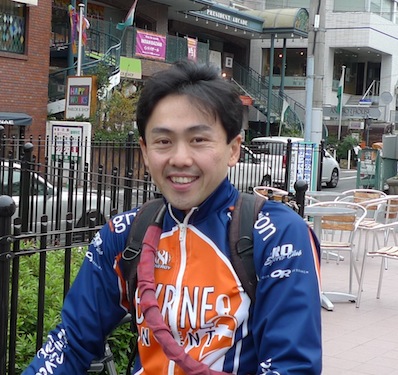 Yutaka Moriwaki
Veteran of 3 years worth of ultra-distance
brevets on Vancouver Island
Shiro Visits Yutaka in Japan
Plus a discussion of Cycling and Randonneuring in Japan
by Shiro Ogawa
I went back to Japan in the last December for two weeks and met Moriwaki-san (Yutaka Moriwaki), who rode the Vancouver Island ultra marathons every year since 2008. Both he and I grew up near Kobe, and he kindly agreed to meet me in Kobe. He is an executive of Audax Kinki, which is a branch of Audax Japan, the official club recognized by Paris, and actively involved in the club affairs. We met at one of Starbucks in Kobe, where he showed up by bicycle (he goes everywhere by bicycle). He is such a dedicated randonneur that he decided to work as a freelancer so he can take time-offs for brevets overseas. Officially Japanese workers have several weeks of yearly vacations, but it is very difficult to take more than a few days of vacation except for two certain time periods in a year. Still sometimes, he has had to go through torturous schedules (consultants must make deadlines demanded by clients), ending up with almost no sleep before staring brevets.
Kinki is the region centred around Osaka-Kyoto-Kobe with the area of approximately 20,000 km2, and officially its population is 20million. (Vancouver Island has approximately 30,000 km2). However, Japan has a very extensive railway system, and you can bring your bicycle onto trains free of charge as long as your bike is in some kind of bag (size does not matter). So I guess a wider population than in the official Kinki area would participate in the Kinki brevets. Looking at Audax Kinki's web site, they have four 200kms, two 300kms, two 400kms, and one 600kms in 2011, and all of them are limited to 100 riders.

Randonneuring is getting popular in Japan. One time more than 300 riders entered a brevet, and they cleaned out convenient stores along the routes. Non-residents can ride brevets in Japan by paying extra. The control cards, however are all in Japanese, and most Japanese streets have no name. Main arterial roads have either national route numbers or prefectural route numbers. Bicycles are very popular in Japan, and many people including students and house wives ride bicycles in a more-or-less lawless manner. Many ride on side walks, and some ride the roads in the wrong direction. Around cities, there are so many traffic signals that you must be prepared to spend longer times compared to BC brevets.
He did not think that he could come to BC this year because of the PBP and his very busy work schedule. He asked me to convey his best regards to Ken Bonner, Keith Nichol and Eric Fergusson. He was still amazed that how fast Ken can go in flat terrains, and Eric rode bare-hands, when he barely managed with gloves on. Being an ever-challenging rider, he showed a great interest in Super Week, and he may come if it is held again. Of course, he plans to ride PBP 2011, and is looking forward to seeing BC randonneurs there.
January 6, 2011