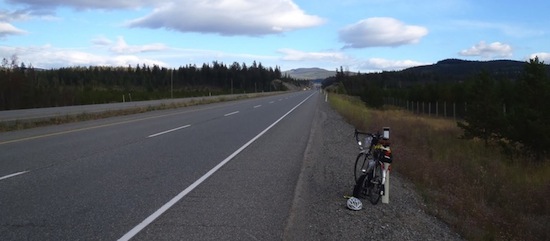 Rick's Super Week (Part 2)
Gary and Rick's High Mountain Adventure
(Jump back to Part 1)
by Rick den Braber

After an aborted attempt at completing a 400 km ride (See Skunked) I decided to pass on the Super Week 600 km and rest up to make an attempt at completing the 1000 km Okanagan-Okanogan. By Friday my legs felt recovered and I decided to make the attempt. My spouse made me promise to call for help if I needed it. I assured her that either Hope or the top of the Coquihalla would be my turn around point should I not be physically capable.

I checked the forecast and it seemed wise to bring heavy rain gear for the ride after the second sleep control. Stevens Pass (elevation 4061 ft) was promising rain and at altitude it would be cool. There were thunder showers forecast for the Merritt area but I hoped to be beyond there when they arrived.

Saturday morning seemed cooler than usual. At the last moment I pulled out my merino wool heavy jersey and merino wool long sleeve under shirt and put them on. I would probably regret them later but better to have warmth and extra gear than to be cold. Twelve riders set out at a brisk pace with a following tail wind. By the time we arrived in Chilliwack from our Abbotsford start I was certain that my legs had re energized.

We saw Ken Bonner returning to the start after about 25 km. He waved and did not look happy. There was some talk as to why he was stopping now. It made me feel unsure of my ability to complete the ride. We pushed on and made Hope in great time. A quick break to re supply and away we went.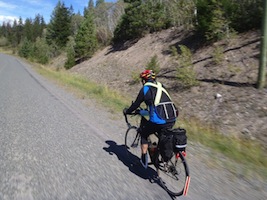 The Coquihalla summit at 1244 m is steep in places and long but this was my third trip up this year and Gary's second. It did not seem as hard as the first time. Pushing on to Merritt we passed 200 km in about 8 hrs 15 min. After a meal break in Merritt, Jeff, Gary and I began the long climbs to the Okanagan connector, one of Canada's highest paved highways (40 km above 1400 m). A sign on the way uphill warned us of severe winter conditions. No worries it was still summer. Jeff easily outpaced us up the continuous climbs and we dropped far behind him. Somewhere in the middle third of the Connector Gary got a flat tire. During the repair I observed that the fluffy white clouds had begun to darken and move in our direction. Alex caught up to us and we rode together for a distance but he pulled ahead on another of the long hills.

As we neared the top of our climb it began to rain and than hail so we stopped to put on more clothing. It was getting much colder as well so we put on every thing we could find. It was not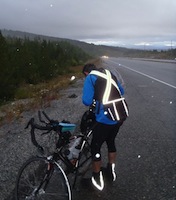 enough. By the time we began the 25 km continuous descent our teeth were chattering and the rain/hail had turned to snow till we could not even see the signs at the side of the road, as they were plastered with snow. My hands were freezing in my wet summer weight gloves. For the first time in a long time I was scared and had serious thoughts of calling for help. There were no services available, no place to warm up and so "ride like your life depends on it." When your body gets cold it shivers to generate heat. This can affect steering at higher speeds. I love to fly down hill but in the dark and with blizzard conditions it seemed wiser to stick closer to each other. I hit some pot holes hard on the descent. This damaged my rear rim and changed the braking ability of the bike. As we made our way down hill it warmed up a bit and stopped snowing. We found a restaurant in Westbank to warm up in with air conditioning!! We made our way to the sleep control in Kelowna and discovered that two riders had been picked up in the blizzard and two had mechanical issues and had turned back. Five riders had withdrawn or been forced to withdraw on the first day.

Day two found us making our way to the US border in good spirits for the wind was still with us and it was warm. Yet another rider retired due to the dreaded saddle sores leaving the field now at six.

The second day was a long 380 km. I was tired from the mental strain of the day before and so when we stopped with Bob on the side of the road and Gary and Bob worked on a mechanical issue in the dark I laid down next to the guard rail and went to sleep for about 7 glorious minutes while the cars flew by in the dark. We continued on and a police officer pulled up beside Gary and asked if we were OK. Apparently numerous calls had gone in to 911 about a cyclist down. Gary explained what we were doing as we continued to ride beside the patrol car. The police officer thanked him, wished us well and complemented us on our awesome lights!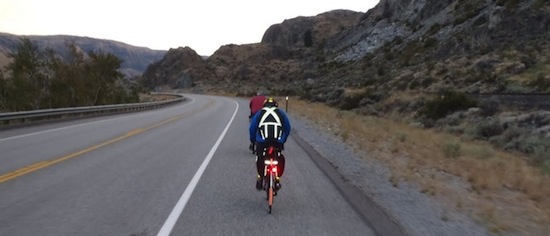 It was after midnight when we pulled in to Leavenworth for a sleep. I felt fortunate to room with Gary as his room mates were no longer riding. I had not planned well in arranging accommodations. The first night had found me bunking in with the entire welcoming Pope family in a small one bed motel room.

After an early scrambled eggs and toast breakfast, thanks to Gary's smooth talk, we rode on just before 0700 hrs. The ride to Stevens Pass was beautiful. It was cool but we had dressed in our foul weather gear. The rain did not start till about 15 km away from Monroe. The Labor Day traffic rush made for some interesting traffic conditions on Highway 2 but we rode to Highway 9 through much debris suffering through three additional flat tires before limping in to the finish control in 67 h 13 m.

The Super Week organizer's and Volunteer's did an outstanding job and went far beyond the call of duty to make everyone's ride the best. Special thanks to the Pope family for their hospitality.
---
Go to: Super Week Results
Go to: Rick's 1000 km Photos: Day 1 - Day 2 - Day 3
Go to: 1000 km Photo Gallery
September 8, 2010