Rick's Super Week (Part 1)
Skunked
Rick's adventure on the Whistler 400
(Jump to Part 2)
by Rick den Braber
So the plan at the beginning of Super week was to participate in all five rides and to ride in moderation so that I would maintain energy throughout. The first ride, Hot Gold 200 was a bit bumpy at first but smoothed out towards the latter half. My speed kept getting quicker and at one point thanks to a flat I was even ahead of Ken Bonner. Nature called and Ken caught me with my pants….. No I had no ambition to race or to turn in a new personal best. Finishing in 8h 49 m was about an hour faster than I had really wanted to go. I wondered how I would feel in the morning for the Concrete Chuckanut 300.

The sun came up with foreboding of bad weather and it was a bit cooler. At the start I realized that I was missing my knee warmers. I figured I could do without them as the day would warm up. The ride to the first control was quick as we were all in a pack except Ken who rode ahead on his own. I left the control about a minute behind the pack but than caught up to them over the long straight stretch. Gary Baker and I chose to ride together and set a good pace if you were only riding a 300. Even with a meal break after the Chuckanut we turned in a 14h 12 m performance a new best time for me. I could feel the lactic acid building in my legs as the day progressed and at days end was having serious misgivings about the coming Whistler Greenway 400. The weather did not get to warm as the day progressed and the missing knee warmers left a distinct ache in both knees. We had a great tail wind for the ride home.

The weather was in doubt for the 400 with a forecast of rain. I was stiff and sore from the previous two rides. I started out with Ken and Nigel. It was a good warm up for the legs but they were quite sore. The first sign of a hill saw me slow a bit but it was a short hill so on I went. I missed a turn in the dark and cost myself a return up the hill to find what would have been simple in daylight. This occurred early within the first 20 km and only cost about 10 minutes. Riding through the rest of Abbotsford and Langley was uneventful. I crossed the Golden Ears Bridge and wandered through Maple Ridge even getting help from a motorist when I was not sure of a street name. I found the secret control before the Pitt River Bridge and had some coffee and chips and found out that Nigel and Ken were a half hour ahead. I rode through Coquitlam with confidence as I was familiar with the route. The rain began and stopped a few times. The coffee was causing some stomach upset but not to worry. After the route hit Cassiar Street I was on new ground and proceeded cautiously. As I neared the Iron Workers Memorial Bridge I came round a corner and spotted a skunk! ambling along the far side of the road. I briefly thought "Take out your camera" and than ran for it down a hill and off the route once more. I managed to return and gain the sidewalk on the bridge. The wind was evident and the sidewalk was narrow and difficult to ride in the dark. It was feeling like October. I managed to get to the first control where Tracy offered me coffee and goodies and I foolishly accepted much to my stomach's dismay. I was still on track and set my sites on about a 24 hour finish. The hardest part of picking my way through unfamiliar streets in the dark was over. I proceeded and at the approach to the Park Royal Mall came around another corner and saw my second skunk! I swung wide around the critter and my bike fishtailed around the corner but I managed to keep the wheels on the road and although I smelled of sweat it was not as bad as it might have been. Taylor Way was steep but it seemed that my legs had forgiven me for the abuse I had put them through in the past three days.

I decided to take the up hills easy and roll down hills with minimal pedaling. The roads were a little greasy with the first rain in some time. My top speed downhill was about 69 kph. I felt out of control so I backed it down. I pedaled in to Squamish with 1 hr 18 minutes to spare. It was cold so I put everything on and rested for about 20 minutes. There was no warmth to be found in the convenience store as they still had the air conditioning on. In the end I decided to ride to warm up.

The rain was steady now and my legs started to give me trouble on the constant uphill to Whistler. I was only able to manage about 8 kph on the uphill stretches and the flatter sections found my legs too sore to push moderately hard. My stomach was reminding me that it was in control and did not like coffee. The acid pain became a bit of a distraction. I stopped to rest in a ditch out of the rain as I was weaving a bit on the up hills due to sleepiness. A startled motorist turned about and came back to check on me. Did I look that bad? There is a lot of traffic to Whistler for the early morning commute. That with rain puts a lot of spray on the cyclist. My gloves were soaked and my wind pants were wet at the back and even with the effort I was getting cold and my fine motor control was going.

I saw Nigel and than Ken on the return from Whistler they looked like I felt, tired and wet. I was determined to make the Whistler control before it closed and even if I wanted to stop before that, there was no place to get in out of the weather. My mature brain told me to pack it in and get warmed up. The 16 year old said "if we make the control its all down hill". I arrived at the Whistler control with 14 minutes to spare and called it a day. I was feeling the early stages of Hypothermia. I found a luxurious hotel and called the rescue team. I proceeded to warm up in a Hot Tub.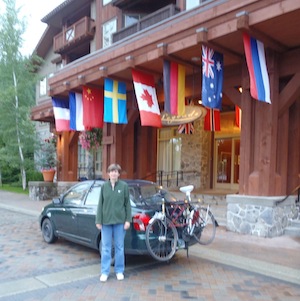 Luxury hotel - Rick's rescue team
---
Go to: Super Week Results
September 1, 2010