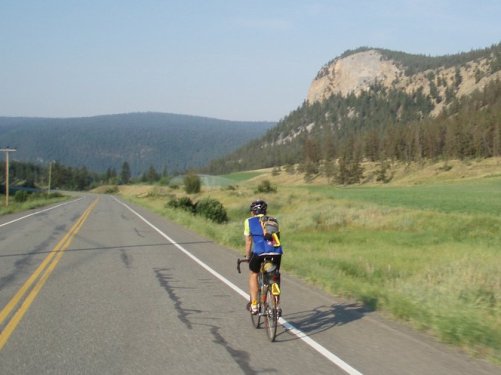 Photo of Keith, by Nigel
More Ride Photos from Nigel on flickr
More Ride Photos from Keith on flickr
This was not a normal ride. Three riders set out from Vancouver on a route that was supposed to end in Bella Coola knowing that the Highway 20 to Bella Coola would likely be closed because of fire. No big deal for Ryan Kurz, who registered for the ride knowing that because of personal time constraints he would have to leave the route at Cache Creek, and then head home to Sorrento - a planned DNF. Ride organizer Susan Allen decided not to ride because of concerns about the extremely hot weather conditions. She and Doug drove the route monitering and supporting the remaining two riders - Keith Nichol and Nigel Press - and was ready with an alternate route for when the riders hit the route closer on highway 20. [Eric F]
The (Not) Bella Coola 1000
by Keith Nichol
We had a good send off at the Fox and Hound with Dog and Sue, Deirdre and Bob, Susan Barr , Cheryl and Ryan's partner. A good supper was had as well as a final beer before getting on the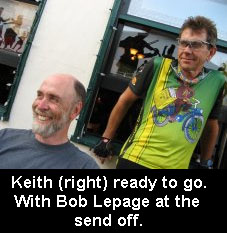 road. Cheryl kept us company until we road past home and then it was off on the familiar route out of town. Nigel and I were on automatic while Ryan just kept pace. Ryan was riding home to Sorrento and would be peeling off at Cache Creek. It was pretty warm, even sweaty and stayed that way all night. The Hope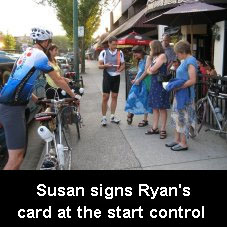 Chevron was like a zoo because the Coquihalla was closed due to an accident and we were dreading more traffic up the Fraser canyon, but luckily this was not the case. We kept an even pace and saw our first forest fire burning high on a mountain side near Spuzzum. Still small and probably caused by a lighting strike. We got into Boston Bar just before the Husky opened and we waited to fill our bottles then it was up to Canyon Alpine for breakfast. A great meal as usual. The day was already heating up and we made sure we were covered in sunscreen, but even so Nigel was going to get a surprise later. Rumours Restaurant at Spences Bride is well worth the visit for their pies and ice cream, good fuel for the oncoming hills. Ryan and Nigel raced each other up the hill towards Cache Creek and I trailed in the rear conserving energy and sweating like a pig. We eventually found Ryan in the shade at Ashcroft where a sprinkler was spraying over the fence. What a relief to cool off as it was hitting 43 degrees. Cache Creek saw us use the Doug and Sue ice sock to great effect. Take one old sock fill with ice and tie round neck with safety pin. It cools the neck, torso and drips onto hot legs. Depending on the quality of the ice it can last 20 to 40kms. Ryan left us to ride home to Sorrento and we started our last leg to 100 Mile House. The stretch of road between Cache Creek and 100 Mile is probably the worst in BC and also there is a grunt of a hill out of Cache Creek, again in the heat. Poor Nigel's legs looked like they had been in an oven, big red blotches all over them. We didn't know if it was heat stroke, bad sun block or an allergic reaction to the sun. They were to remain like this for the rest of the ride. We were greeted at 100 Mile after a 460km first day by Doug and Sue who went off and got beer and pizza while we showered. A great meal. The wildlife count for the day were deer, a black beer in the distance, coyote and a rattle snake.
After an all to brief sleep we had breakfast, Doug's power coffee and were on the road again. We started off lightly dressed and within a short space of time had everything we carried on, it was freezing. A total contrast to the night before and we only thawed well after sunrise. Williams lake and Tim Hortons for breakfast, I must get a card someday to get my free meal. We asked a few fire fighters about the situation down the road, but they could not help us, so off we set. There is a sign half way up the hill out of Williams lake that says if the lights are flashing then Heckman Pass is closed. They were flashing but we carried on anyway. There's a long decent to the river and then the real climb up onto the plateau starts. Luckily it was only in the high 30s so we didn't die. Eventually we got to the top and stopped to photograph the steep hill sign. While we were there an army truck pulled up and we asked the driver what the conditions were like ahead. He told us that Richie Creek, 10kms away, was under evacuation orders and it was like a war zone with the water bombers coming in every 10 minutes to refill. He had been further up the road to set up a camp and was escorted out with fire right down to the road and very bad visibility due to the smoke. His truck showed it being covered in soot and ash. Looking down the hill all we could see was smoke so we decided to turn around.
The ride back to Williams lake was pretty uneventful except for getting into a bit of a speed wobble at about 70kmph and having to ride it out. I was glad when I got to the bridge and it levelled out. By the time we got to Williams Lake Doug had already left us a message saying the road was closed at Alexis Creek and he didn't know how far we would get. It was decided to ride back to 100 Mile House and then Clinton, because the control was closing too early. We had to endure the really bad road a second time, but at least in the daylight which made it easier. Nigel raced ahead at this stage so he could soak his legs for a while. They were really looking ugly and in fact he had looked for tights in 100 Mile House to try to protect them. More beer and pasta cooked by Doug and Sue, we were being spoilt rotten. We decided to start at 3:30 so we got a relatively good nights sleep except for when my front tire exploded in the night. I had a side wall cut which waited until 2:30 to let the tube escape. At least this hadn't happened on the long hill down into Clinton.
Doug and Sue headed off on their holiday after having been amazing support during the ride and we enjoyed going down some of the many hills we had slogged up in the heat over the last few days. We saw an osprey's nest at the side of the road complete with nearly full grown chick and parents. They didn't like us stopping to take pictures and circled Nigel threateningly. The fire at Spuzzum had burnt a few hundred metres down the hill, but looked like it was being left to burn out, we hope. At least the smoke was less than when we went up. Nigel didn't use his mask at all. Apart from that the ride back to Dogwood Cafe was pretty uneventful apart from our respective bottom brackets playing noisy duets and making us increasingly nervous about finishing. The one amazing thing was having trucks and cars slow down behind us going through three of the tunnels to give us cover, definitely a first. Sixty six hours and fifty five minutes later it was all over and Cheryl was good enough to drive out to fetch us. Woodside could wait another day to be climbed.
Many thanks to Doug and Sue for dreaming up the idea, doing an amazing amount of research and logistics and finally supporting us when Sue couldn't ride because of the heat. Also thanks to Nigel and Ryan for putting up with my slow pace. It's not a ride you really want to do on your own. Maybe next year if it's cooler and the ash and soot has settled we'll try again.
Final distance: 1001 km
Time: 66:55
Elevation gain: 32,840 ft.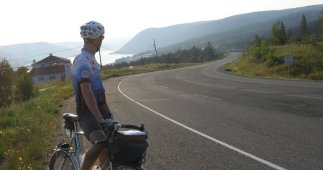 Winding road, Nigel
(Photo Keith)
---
Ride dates: August 1-3, 2009
Go to: Results
August 7, 2009 (revised version posted August 19)