Here's Jerome report from his inaugural Vancouver-Victoria permanent. His route proposal entered new territory for the permanents program - it contained a lengthy ferry crossing. Permanent's co-coordinator Tracy Barill decided to add the 90 minutes crossing time to the route's time limit. This would not be kosher for a scheduled ACP brevet, where results need to be verified in France, but there is a feeling that this adaptation to local geography would open up some interesting possibilities for the future permanent routes. [Eric F]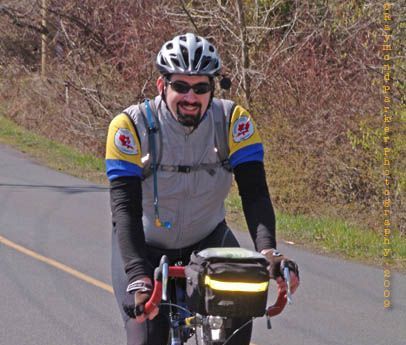 Vancouver Victoria 200 (Permanent 45)
by Jerome Lavigne
Saturday's forecast of a 5 degree high, periods of rain -- snow at higher elevations -- coupled with a high wind warning for Nanaimo weren't enough to deter me from riding this permanent. The start was pleasant enough: I rolled out of Vancouver at 6:30, my ears stinging in the cold morning air, but at least it was (still) dry. Reached the ferry with plenty of time to spare and enjoyed a relaxed breakfast on the way to Vancouver Island. I would highly recommend a two-hour rest break every 25km on all rides!
The rain started immediately after rolling off the ferry in Nanaimo and didn't let up until the turn towards highway 17. The temperature, already brisk to begin with, was slowly getting colder. But this was an enjoyable stretch of road, not much traffic and possibly a bit of a tailwind to speed things up.
Highway 17 to Cowichan Lake wasn't so much fun. The rain stopped, but a freezing headwind started up just as I starting the long gradual climb after the turnoff. Not much of a shoulder either. I was pretty beat up by the time I reached the control and may have spent close to an hour there trying to warm up & dry out -- I really don't remember!
The rain started up again leaving Cowichan Lake and quickly intensified into hail. I can't recall ever cycling in hail before... Fortunately it didn't last too long and the rain returned to keep me company all the way back to Duncan. The sun came out (briefly) and I was treated to some great countryside along Koksilah Rd, which made the hills easier to bear.
Having heard many horror stories about the shoulders & rumble strips on the Malahat, I plotted this route along Shawnigan Lake Rd which turned out to be a fairly pleasant climb. The ride down the other side of the Malahat wasn't too bad either as the shoulder was mostly clear, although I can't say the same for the weather. Reaching Victoria after dark made some of the navigation tricky and I ended up taking the wrong bridge so I'm not sure if the final mileage is accurate for the route. I had 207.7km at the end, including 2km from my place to the start, plus 2km wandering Cowichan Lake looking for the A&W. Total time was 14:21, including the ferry.
The Victoria Populaire the next day seemed almost balmy in comparison, and far less hilly! Larry Voth kindly gave me a lift to the ferry back to Tsawassen and I put in another 50km from there to get back home. It was a welcome change to ride on mostly flat terrain.
---
Ride date: March 28, 2009
Go to: Route 45 (200 km)
Go to: Permanents results
March 31, 2009