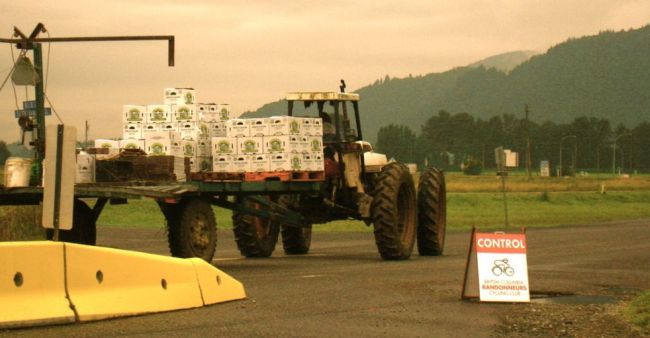 Photo: Julie Scott-Ashe
Harold's report originally appeared on the discussion list. [Eric F]
Flatlander Report
September 21
by Harold Bridge
Ominus weather on the 20th did little to raise enthusiasm for the following day's Fall Flatlnder 200.
But pre-dawn Sunday in Langley was calm, dull & damp. But not raining.
Keith & I between us got most of it right. Then he had to dash back home to get the waiver forms!
We were questioning, again, the legal need for waivers for every event when riders have to be Club Members & have thus signed a waiver for the whole season. For Populaires maybe, as non-members ride those.
Luckily, Ali got stuck in & helped keep the ball rolling.
Some riders got away moreorless at 07:00 & Maple Ridge resident, Alex Pope, treasurer & of Velodrome fame, fell foul of the Albion Ferry only having one boat running at that time of day. He missed it. Not being a triathlete he didn't swim with bike ont' shoulder, he waited for the boat to come back for him. But he got away from the Lion's Hall about 07:20.
In all, 36 riders set out on this misnamed "Flatlander". Norm's GPS suggested 745m, but some adjustments might reduce that.
After busily pressing hard on 4 carbon copies, Julie Scott-Ashe set forth to the 53km control at Yellow Barn.
We didn't see Jack Sharkey, but he got to Pointe Vista despite, I believe, an accident created detour & delay.
Enroute to my station at Popkum, I drove the route, to gauge the relative rider spread, before stopping for a chat with Julie. She told me that Premack & Wood had been & gone at 08:40, 6 minutes after opening time.
Then for me it was a case of Rte 1 to Popkum & wait the arrival of this speedy duo.
09:57 they appeared, having wasted 13 minutes on opening time. And they didn't dash away, they stayed & conversed through mouthful's of food for all of 2 or 3 minutes.
It was then a lonely vigil until more riders appeared. In the meantime I was approached by some guy who asked for a light.
I thought about getting one of my LED bike lights out for him, but instead I just told him I quit that in 1944.
The fact I forgot to pick up a Rando Sign, a water jug or a can of Gatorade didn't seem to faze anyone until Alard turned up. He is far from being a dwarf. But if he was he would have to be "Grumpy"! The lack of sign was compensated for by parking my white wagon side on to the appraoching riders. With the rear hatch up in the air & with me sitting in the wagon side on we had a clear view of each other.
I appreciate the social aspects of randonnees and it was great to see the tailenders of this event enjoying the occasion.
But oh, the wait!. But there were no doubts about who hadn't shown up, everyone was was accounted for & I left just after they set off for Pointe Vista. Once past them, I found a discreet place on Annis Road to stand, hidden by a barn so I could get a genuine picture of non-waving cyclists.
Once they had visited Jack Sharkey at Poite Vista, said riders were to ride into a rising wind across that flat expanse to Birchwood Diary where, apart from the famed ice cream, there were both Siggi Palme & Barb Pope to see to the riders' needs.
A non-stop drive back to The Fort found a solitary Event Organiser patiently waiting for the first arrivals. They, Craig Premack & Stuart Wood, turned up while I was waiting for my rather late lunch. I was invited to join them. That cost them because I just happened to have my BC Lung Receipt book with me, another $40 for "Life and Breath"!
Everythng seemed to go far too smoothly and sure enough just to spoil the record, Hugo Blad, Larry Voth and Alard Malek were late enough to catch the rain that started a bit too soon. The rail crossing on River Road got Alard & he went down quite heavily & admitted he was doubtful for a moment whether or not he would get up. Anyway, he was in good enough shape to cough up another $50 for the BC Lung Trek (more about that elsewhere).
It was a very wet drive home. Lucky eh?
On behalf of Keith, thanks to the volunteers for their efforts & for everyone's tolerance about the less than perfect aspects of the event.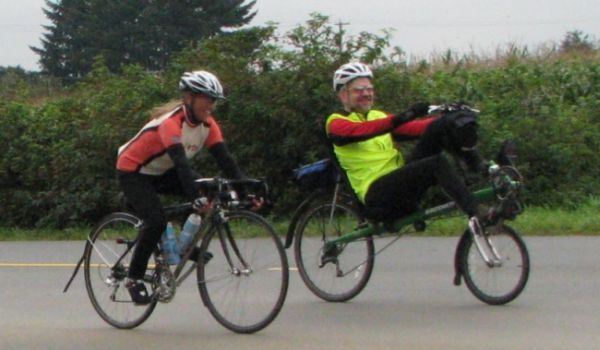 Photo: Harold Bridge
---
September 22, 2008