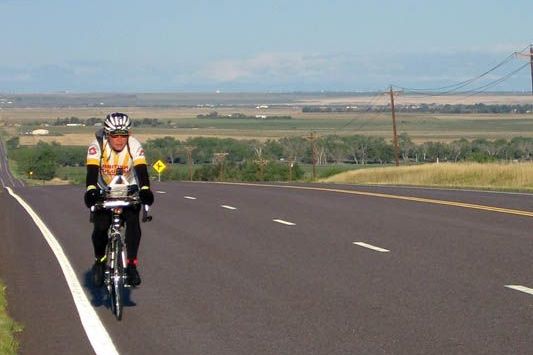 Ken nearing Last Chance, Kansas
Photo: Greg Countney
Ken is in Oregon on his way back from the CLC 1200. He checked in by e mail and shared with me and Cheryl something of his most recent adventure. He never seems to mind when I pass along his messages, so here you go. Photos from event web site and blog. [Eric F]
Ken's Colorado Last Chance 1200
September 10-13, 2008
by Ken Bonner
Hi!
I am still away, currently in Ashland, Ore. seeing some plays and trying to get my running legs back in commission!
Just for the record: I finished the Colorado Last Chance in 51h 25m. Broke my old course record of something around 54h 45m. Two younger guys worked together from the beginning and now hold the new course record of 49h 58m. They set a blistering pace, and were about 60 miles ahead at the 600k mark. I gradually gained on them during the last 1/2 of the ride, whittling their lead to 1 1/2 hours. The end result was that I was the 3rd finisher and had the 2nd fastest finishing time out of 37 starters. (Larry Ide one of the riders had invited me to join them for their record breaking attempt, but I did not want to burn out my quads as I knew they would be riding fast for the first portion of the ride.)
The weather was excellent (well, almost) for Last Chance. The usual high head winds and high temperatures did not materialize. In fact, we had mostly tailwinds on the ride out to the turnaround, and miracle of miracles, a tailwind back for the next 450 kms. The temperatures were mostly quite Victoria-like, so hydration was not a problem. In fact, the first 1050 kms were quite pleasant.
The rain started at night just as I left the last supported Control point. Within a few miles, the rain turned to a torrential downpour with strong winds coming from all directions ... mainly as headwinds! I was buried in a sea of rain and could not see very well ... fortunately, there was not a lot of traffic on the road, as I was totally blinded everytime a car/truck passed by.
Oh, it also became quite cold! The rider behind me reported seeing snow!! I did not see the snow as I could not see much of anything with all the rain hitting my face, and pedalling as fast as I could to keep warm!
Eventually reached the point where we cross under a freeway (thought I was lost until I finally got there), but was met by a sea of dirty flood waters and detour signs all over the place. In my sleep-deprived state, I sat there immobilized ... what to do ... how deep is the water? Eventually a large pick-up truck came by and the water only went up to the axle, so I thought it would be safe to follow .... except, I forgot the route the truck took, maybe he avoided a big hole ... I sat there for another period of time and another pick-up came by ... I immediately followed within a few feet of his rear and rode safely through the filthy water (which another rider thought was being fed by an overflowing sewer ... yuck!!
I barely got through this crisis when I arrived at a main highway ... I know this highway. However, it seemed to have become a 'double-decker' highway with traffic coming from the left and the right. Impossible! The strain of lack of sleep and trying to see through heavy rain in the dark had caused me to start to see 'double'. I am now about 30k from the finish, but can't determine which of the two roads I should be riding on! I took off my rain-smeared glasses, but this did not help. Then, I tried closing one eye. Voila, my double-vision disappeared! However, not being used to riding with one eye, I rode very, very carefully to the finish, fortunately avoiding a mishap!
Haven't been on the bike since I finished, and running is difficult with very sore quads.
Have fun on the Flatlander. Cheers ... Ken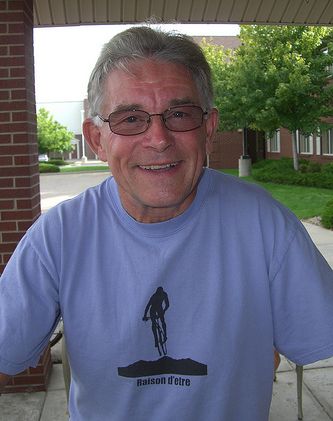 Ken at CLC registration
Photo: John Lee Ellis
---
Go to: Results (external link)
September 20, 2008