This was an e mail message Ray circulated to a few friends which he later agreed to have including in the on-line newsletter. [Subject line was originally "Slip Sliding Away" - I changed it a little. EF]
Slip Slidin' Ray
by Raymond Parker
So . . . did anyone get out for a "spin" today?
After a week-and-a-half sidelined by some kind of dyspepsia, I was determined to crack 9,000 km for 2006.
The resulting ride was done – as the Hard Men of Glencoe used to refer to suitable weather for a romp in the icy gullies of the Scottish Cairngorms – in "full conditions."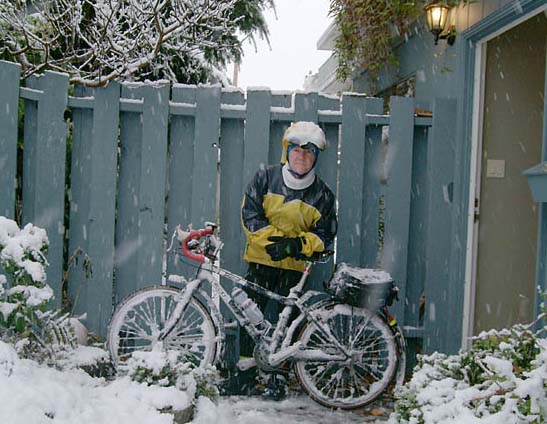 The rain had just turned to sleet, as I left the house at 9a.m., and the inclination to spend half-an-hour switching from one inch Conti Gran Prix tyres to two inch knobbies, on my trusty Rocky Mountain Blizzard, was overruled in favour of getting on the road before the snow accumulated.
Wouldn't you know it, as I punched into wind-whipped ice crystals (highly-rimed dendrites, I believe) out in Hunt Valley, the bike seemed even more sluggish than a couple of inches of snow might cause. I had, it appeared, sustained the first flat tyre of the year! Could I make it to Mitchel's Farm, a couple of kilometres on? There, a large awning extends from the front of the market, which would at least give me a modicum of shelter from the driving snow. This was not going to be fun, though; my fingertips were already numb, in spite of neoprene gloves.
It didn't take long for the proprietor to see me pulling off my ice-caked wheel. Seeing me using my cell phone, he figured I was calling for someone to rescue me. I was simply letting my wife know that I was having a jolly good time. "It's just like cross-country skiing . . . on wheels," I enthused. "Yes, dear," Amanda sympathized. "Don't forget the brevet organizers' meeting is at two."
"Come inside," the kind farmer insisted.
"Can I bring my cruddy wheel in?" I asked sheepishly.
No problem. Next thing I knew, I had a steaming mug of coffee and paper towels to dry the wheel off. Never did find what caused the flat – no staples, thorns or glass. The rim tape was as good as the day I installed it. With trepidation, I put in a new tube, thanked my gracious hosts, and pointed my Blizzard into the storm. A news van was parked on the side of Pat Bay Highway, filming vehicles performing drunken Ice Capades. I stayed on Lochside Trail, until Mount Newton Cross, continuing on Lochside Drive, until my odometer said I could beat a retreat, with the wind and horizontal snow-flakes at my back.
Coming back over the exposed flats (just this side of the hog farm, for those of you who know Saanich) I had begun to resemble an alpine larch, having built up a rather substantial layer of rime on my north side. I also discovered, upon stopping at Mattick's Farm for a nature break, why my neck was getting tired: I had gathered about six inches of snow/ice on my noggin. When I looked in the mirror, I laughed; I looked like an ill-sculpted Frosty the Randoman!
In fact, as I neared Victoria, the whole ensemble – bike and rider – had come to resemble some kind of badly-executed plaster-of-Paris Christmas ornament. Bad enough to scatter small children and make dogs bark on the final kilometres of the Galloping Goose Trail. It was here that I took the only spill of the day, when I lost track of the track in the white-out conditions. Luckily, I got up unbent.
The most difficult mechanicals turned out to be the tendency of the chain to hop when attempts were made to change gears, due to the fact that the rear cogset had assumed the appearance and consistency of a frozen meteorite (Note: single-speeds for winter riding) and the fact that, every time I put my foot down, my cleats attracted an inch of ice.
Well, I'm off to do that belated tyre switch. How long do the meteorologists predict this weather will last? Is it worth investing in a pair of expensive studded tyres?
Ho, ho, ho,
Randoray
Ray's website: VeloWeb -- A Cyclist's Diary
November 26, 2006