New Editor - Karen Smith
by Eric Fergusson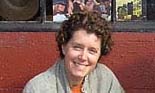 The club exec. is pleased to announce that Karen Smith has stepped forward to be newsletter editor for the 2007 season. She replaces out-going editor Scott Gater who is moving to Australia.
Karen has been a core club organizer since 1992. She has organized numerous brevets and other events, in addition to her main contribution as pins and awards co-ordinator.
October 23, 2006