London-Edinburgh-London 2005
by E.W. (Wim ) Kok, Peace Region Brevet Organizer
Introduction
"The Year. 2005. 300 Cyclists. From five Continents. Rise to the Challenge. 885 Miles, Less than 5 Days. London to Edinburgh. Then back again. On a bicycle. Yes, Really! We know it's crazy. But we're doing it anyway. Everything is booked. We can't get out of it." So reads the text accompanying Damon Peacock's introductory movie clip on London-Edinburgh-London ( http://www.audax.uk.net/el/index.htm ) By the way, starring in the clip is BC Randonneur David Kirsop, rider # 69.
Organized for the first time in 1989 and held once very four years London-Edinburgh-London (LEL) is one of those ultra-cycling events, which shows up on many a randonneur's wish list. I was intrigued by this 1,400 km event, which starts in Lee Valley/Cheshunt, just north of London for an out-and-back bike ride to Edinburgh, Scotland. It has to be completed in 116 hours and 40 minutes (or less), a time based on an average speed of 12 kph. This includes every second of down time. This spring I started thinking about doing another 1200 km ride, but wasn't sure yet which one. After contemplating GRR, Cascades 1200 and BMB, I finally settled on LEL. My goals were to (1) finish the ride in about 100 hrs, and (2) enjoy the British landscape, which meant riding as much as possible by daylight. Spring training included populaires (50, 100 and 150 km) and many short rides in between, followed by the 200 km and 300 km brevets. At the end of May I did the Vancouver Island 600 km followed by the Toronto 400 km a week later. In mid June I completed another 600 km, which brought my training close to the recommended plan for LEL. After that I reduced the volume, so that I would be fresh for the start. To get a sense of the route, I studied the detailed route instructions. There were 523 (!) directions over 1,417 km, which works out to one for every 2.7 km. It was obvious that the navigation skills had to be sharp to stay on the course.
Traveling to Britain
Left Canada on July 11 to first visit my family in the Netherlands. Did a bit of cycling, not much. Thursday July 21 I took the train from Deventer to Hoek van Holland, to catch a fast ferry - up to 70 kph -- to Harwich. There I connected with the train to London's Liverpool Street Station. Stena Lines had a steal of deal. For C$ 70.00 one could travel from anywhere in the Netherlands to London, not bad for three hours by train and another four by fast ferry across the North Sea. Beats the Eurostar price through the Chunnel. Yes, the catamaran ferry did work well! During the sailing we learnt that a series of bomb attacks in London had failed that same afternoon; the city was on high alert again. While disembarking in Harwich and boarding Rail One to London, there were no signs of alert. At London Liverpool station officials were very relaxed and above all very helpful to get me on the commuter train to Cheshunt. The Lee Valley Youth Hostel/LEL start was within 200 meters, so the trek with suit- and Ironcase was not too onerous.
Friday morning I assembled the bike and went to the on-site mobile bike shop to have two new chain rings installed. The old ones had gotten 'short in the teeth.' The rings were installed free of charge, courtesy of one of the LEL sponsors. Wonderful! While chatting, the bike mechanic mentioned that he was contracted by a London company on a permanent basis to maintain its employees' bicycles. Upon my suggestion that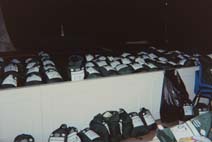 this must be a progressive company taking its employees' health to heart, he commented that it was pure financial interest. By maintaining an employee's bike the company would save one thousand pounds annually per employee by not having to provide a car parking lot. High land cost and property taxes were the deciding factors. Hey, another plug for the bike. Did a quick spin on the bike to test its readiness. My yellow-green machine was ready. Met up with Keith and Ross, including the third brother of the Nichol's trio. Also ran into and briefly chatted with the almost legendary Jack Eason, who with BC Randonneurs Harold Bridge and Dave Gillanders are exemplary in showing us younger crowd what's possible beyond age 40.
Later on walked to downtown Cheshunt to exchange Euros and cents for Pounds and pennies. Had lunch with Tony Lonera from Italy and discussed LEL strategy, if there is such a thing as strategy. Ha, as if only our minds are in control. Registered that afternoon, filled my drop bag for the Hovingham control (Km 381) and packed my panniers more than once.Nervous ritual, stage fright? Still haven't quite learnt it after all these years. The evening pasta dinner was a relaxed event; soon everyone settled in for a quiet night.

Day 1: Saturday July 23: Cheshunt - Hovingham (381 km)
1. Lee Valley (Km 00) 65 km
2. Gamlingay (Km 65) 87 km
3. Thurlby (Km 152) 71 km
4. Lincoln (Km 223) 75 km
5. Thorne (Km 298) 83 km
6. Hovingham (Km 381)
Most riders rose bright and early, enjoyed a good breakfast. Almost 200 riders started at Control #1: Cheshunt (Km 0) in blocks of 50 under cloudy skies. Rocco Richardson and Simon Doughty reminded us of two key things: (1) ride safely; take no risks; and (2) enjoy yourself! And with that we were off into the British countryside. Riding on the left side of the road somewhat tentative at first, but gradually growing more confident in tackling the many O's and mini O's (traffic circles); some 60 of them! Entering them against the grain - for non-British that is - was one thing, exiting quite another. It required fast unlearning an almost instinctive behaviour. We succeeded. The route took us through urban Cheshunt and its outskirts. The roads started to roll and wind, or to pitch and roll in sailor's jargon. Often that same road would be skirted by hedges and covered with tree canopies, creating beautiful verdant tunnels. The pace was steady, nothing like the mad dash and rush, so characteristic of the PBP start. The detailed route sheet may have contributed to this. Men and women hardened and wisened by experience, they were no fools. They knew the task at 'leg' - 1,400 km is a longer distance - and almost stoically we rode a manageable pace, at least in our group. There was ample opportunity to meet and greet fellow riders, make and renew friendships. Share and relive experiences from previous rides. Gradually we got used to the route sheets (eight pages in all; two columns per page). Using an odometer was no luxury for this event. In fact, it greatly eased the navigation, except in a few instances, where the paper route disagreed with reality.
Some two and half hours later we arrived at Control #2: Gamlingay (Km 65), where volunteers greeted us with smiles, food and other goodies. Within half an hour we were on the road again, gradually leaving the hills behind us toward Control # 3: Thurlby (Km 152). The walls inside the control were decorated with drawings and flags of participating countries. These were made by the primary school kids. A neat touch of community spirit. After food and cups of Yorkshire tea we tackled the next leg, most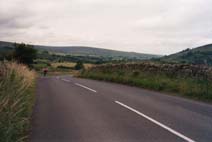 likely the least attractive landscape of the entire brevet. It was mainly flat and open; not much tree cover. The grainfields of the coastal plain were dissected with quite a few drainage channels. There were many gigantic cooling towers, power plants and transmission lines. Ugly! For awhile it felt as if we were riding in circles. We did not. Finally we made it to the youth hostel at Control # 4: Lincoln (Km 223) with more food and refreshments - what's new - and onward to the next control. The ride through these sections revealed a lot about the nature of the British cultural landscape. Reading the place names revealed a distinct Norse influence in place names ending with -by such as Harby, Ingoldsby, Newby, Saundby, Slingsby, Thurlby, and Whisby, or -thorpe as in Caythorpe, Elsthorpe, Manthorpe; and -toft, as in Toft, and Sandtoft; and a Roman influence in place names ending with -caster as in Ancaster and Doncaster. 'Typical British' then represents a mosaic of other cultures solidly welded in a landscape of geographic names.
Lincoln is a pretty sizable city with an impressive cathedral. It took a bit of city riding with all the traffic, before we were out of town. The route sheet caused a minor problem, but we were able to cycle our way out of the confusion. Not long after having solved that one, another obstacle: a work crew had blocked a level railway crossing. They couldn't tell us when it would re-open. After waiting a bit, we asked if we could use a narrow passage to cross the tracks; they agreed. We crossed, waited and regrouped. Then the pace picked up substantially. A tiny Welshman dragged us along in the fading evening light. Could he ever spin! Meanwhile the Italian contingent began singing Italian songs to cheer up one of their teammates, who apparently hit a low. While it wasn't vintage Paverotti, it did the trick. This was the spirit. Camaraderie at its best. Indeed "Memories are made of this," to quote from one of Dean Martin's songs.
As we got closer to Control # 5: Thorne (Km 298), we had to stop and ask a few times for route clarification. It was dark by the time we made it to the rugby club, where a few late night patrons were still sipping their brew. How inviting to join, but the plan called for another 84 clicks. Some riders called it a day at Thorne, and planned to continue at dawn. Not a bad idea. After restocking the body we left and cycled over a flat stretch that did not leave any impressions, other than it was dark and we were fast. Around Sand Hutton (Km 358) the terrain became more undulating and road more winding. One of the Belgian riders, whose bike was equipped with abundant lights and very detailed route maps, set a grueling pace. Since route finding in the dark was a bit of a challenge, we decided to hang on. We were flying over those narrow country lanes; somewhere took a wrong turn, but recovered the route to Barton le Willows ('le' stands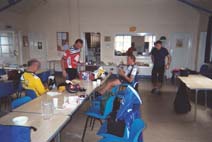 for lea meaning meadow). After crossing the A64 we cycled over an increasingly steep road to Slingsby; a giant roller coaster it was. Passed a huge monument, then entered the gate of Castle Howard. A bit further, suddenly there it was in the centre of a roundabout on the tree-lined alley, a beautifully lit obelisk. A stunning sight. Wow. Photo-opportunity for the digital camera-bugs. Missed seeing the actual Castle Howard, but that was a treat for the return trip. After another 8 km we pulled into Control # 6: Hovingham (Km 381). Too tired to eat, I first took a shower, then stuffed some food in a rather reluctant body, and 'settled' in for a short, uncomfortable rest - the place was packed -- of no more than 3 hours.
Day 2: Sunday July 24: Hovingham - Dalkeith/Edinburgh(326 km)
6. Hovingham (Km 381) 80 km
7. Eppleby (Km 461) 42 km
7a. Langdon Beck (Km 503) 27 km
8. Alston (Km 530) 58 km
9. Cannonbie (Km 588) 53 km
9a. Boston Hall (Km 641) 66 km
10. Dalkeith (Km 707)
'Woke- up' a little after 5:00 am. Many riders had already left, so the hall was less crowded. Breakfast went down a lot better than the food upon arrival. The morning was stunningly beautiful, very serene and peaceful. It felt great to get on the road again through this pastoral landscape with lots of sheep. First we tackled some pretty steep rollers, much steeper than expected. There were heaps in the berm; these had us guessing as to their origin, cause and purpose. No, they weren't road markers, anthills or disintegrating sandstone rocks. What could they be? So after a bit of scientific and non-scientific deduction, I figured/speculated/concluded that they must have been heaps of sand mixed with road salt to help motorist in the winter safely tackle the slippery slopes. We could have asked, I guess. The climb through Coxwold was challenging, but scenically rather rewarding. Soon we were in more open country on our way to Control # 7: Eppleby (Km 461). At that point we had covered about one third of the distance. We did not stay very long, then moved on toward the Pennine Chain, Britain's geological spine.
This leg was quite pretty; we crossed the Tees River a few times and noted an increasing amount of road kill. The further North we went, the worse it got. The road was littered with dead rabbits, crows, magpies, hawks, rats, partridges, all kinds of rodents as well as hedgehogs, all unsuspecting victims of encounters with travelers of the other kind. We avoided the spiny leftovers of hedgehogs, because no-one was interested in multiple punctures. Many of the rabbits were totally flattened and dried-up, leaving no more than a thin sheet of 'bunny paper' on the asphalt. In our (my) sillier moments, I suggested they'd make fine souvenirs: 'From Scotland with Love.' Plain silliness of course, but that sometimes happens on long rides.
The road kill however did remind me of an interview broadcast many years ago on CBC radio 'As It Happens', with a peculiar Brit and his extraordinary habit. The latter made him peculiar. I can't recall whether he traveled by car or motorcycle, but his habit was to scoop-up road kill, clean it, wrap in foil and place it on the manifold. He then kept on driving until it was done. The well-done, rare, medium or scorched morsels then became the carnivorous component of his supper. He recounted many tasteful, and less appetizing details of the raw status of the road kill as he picked it up - I'll spare the details. Pheasant was the only kill he wouldn't put on the manifold. This bounty he'd take home, string it up and let it cure until the head fell off. Only then would it be ready for the pot -- after further necessary culinary treatment of course - and eating. So the story went. While there was ample road kill between London and Edinburgh (and back) to feed all of us, none of us made use of it. No manifold on the bike!
We passed the beautiful Barnhard Castle and gradually climbed our way up the spine toward Control # 7a: Langdon Beck (Km 503). Here they served yummy potato-and-leek soup, good coffee, sandwiches and fruit. Langdon Beck isn't much more than the youth hostel, a few distant and dispersed farms; a pub and a church, at least judging by the name St. John's Chapel. The countryside looked like one gigantic alpine meadow. Windswept grasslands with miles and miles of stone fences. It felt empty, remote and austere, yet the scattered farms in the valleys below, somewhat protected from the elements, and the sheep on the hillsides provided ample evidence to the contrary. There were stunning views, although somewhat subdued by the overcast skies that day. Wondered what a bright sunny day would do to this open space. Departing from Langdon Beck we headed for the summit at Yad Moss over a persistent 11 km climb, then descended over the next 15 km to Alston. There was a brutal 16% drop in the last 400 meters over a cobblestone road surface, including a 90 degree left turn as conclusion.
We stopped briefly at optional Control # 8: Alston (Km 530), another youth hostel and then continued. Turned right at the war memorial and went up the hill on a section, which for a change required little route sheet reading for the next 28.8 km! Time to take the eyes of the odometer and enjoy the pretty scenery and rolling landscape. The winds had died, the cloudy skies opened and sunshine 'broke out'; temperatures rose. After Brampton the choice between a 'hilly route over back country lanes' or the 'heavily trafficked A6071/Longtown/A7 to Cannonbie' one. We opted for the latter, which on account of Sunday turned out to be a rather quiet route. Outside Longtown the winds picked up, to bother us until Control # 9: Cannonbie (Km 588). That control provided good food and offered a service with a personal touch. For a pound we'd buy a Cannonbie postcard and the control crew would mail it.
Since the leg from Cannonbie to Dalkeith was 119 km, LEL organizers had set up an extra control after 53 km at Boston Hall near Ettrick. This would then leave another 66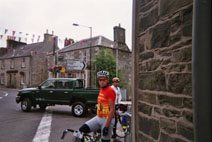 km to the turnaround at Dalkeith. We left the Cannonbie control as a loose group (Glen Werner, Edmund Hinz, Jens Kussler and others), crossed the Esk River, panted up a steep hill, then turned left onto a nameless country lane. A bit of anxiety here: a 'no name' country lane? Would we indeed ride off the map, never to be seen or heard from again? We went through Claygate, then indeed disappeared for awhile, rode narrow lanes, cycled up and down a few wicked hills, crossed a small river, and passed through a marvelous forest - would not have wanted to miss this gorgeous section. Near Langholm we reappeared and connected with the main road to that community. Here we noted the Lockerbie road sign, pointing to the place where tragedy struck December 21, 1988, when PanAm flight 103 was blown up in mid-air. It killed 259 passengers and crew, and 11 residents of Lockerbie, eternally scarring an innocent community and humanity.
( http://en.wikipedia.org/wiki/Pan_Am_Flight_103 ). Upon seeing the Lockerbie sign, the disaster wasn't quite so abstract anymore. I couldn't help but think that LEL should have gone through Lockerbie, to provide us with that glimpse of history - and a reminder that 'it ain't all pretty'. Lest we forget.
After crossing the Esk in Langholm, we literally headed for the hills of the Scottish Borderlands. A sense of remoteness and loneliness rested in the landscape. We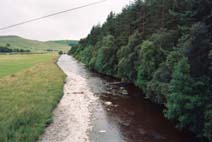 skirted the valley; steep hills on either side. It was not long after that our group fell to bits. We met quite a few of the Thorne starters returning from Dalkeith. Somewhere I heard a voice call 'Hey Wim', to my pleasant surprise it was none other than Dave Kirsop. Needless to say that we stopped for a few minutes to compare notes. Dave had recognized my yellow green machine with blue panniers. Soon we resumed our ride in opposite direction. Dave South, Wim North. Flanked on either side by steep hills, the route through the Esk valley was very scenic. The climbs became longer and more arduous, as a result the ride became an individual struggle. Glen was behind, Jens and Edmund and others were ahead. At that point I cycled alone, both body and mind complaining: "you're tired; it's still so far, you're lacking sleep." I brushed these mental deviants aside and plodded on. One trick that helped me stay focused was comparing the remaining distance (to the control)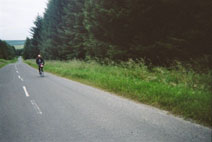 with my 30 km early morning training circuit. That helped put distance and time in perspective. An LEL patrol car stopped to check on us. I understood the distance to the next control to be less than it turned out. The route sheet read 'Left in Ettrick, imm. after river bridge', there were however many small bridges and roads to the left, but none of them pointed to a control. Uncertainty about the distance made this section a bit of a grind. Finally, after the umpteenth bridge -- no sign of Ettrick - but there was one to the LEL Control # 9a: Boston Hall (Km 641). Hurrah. I had expected to be far behind the riders with whom we had left Cannonbie, only to find out that they arrived just ten minutes earlier.
The stop here was brief, because we wanted to capture as much daylight as possible. The coffee, soup and other goodies did miracles. After we resumed, our speed increased substantially. We turned on to a narrow lane with several 'sheep guards' (cattleguards for sheep), which had to be crossed carefully. We conquered quite a few long climbs. It must have been past 11:00 pm, when we arrived at Innerleithen, still another 50 km to the turnaround. We had to clarify the route directions with local residents. They warned us about sheep on the road ahead. I couldn't help but remark that if we'd collide, it would be a soft and woolly landing, later on realizing that most sheep had been shorn - thus no soft landing!! For a moment I also wondered why in the land of plenty there was no mutton and red wine on the menu at the controls. Then again, come to think of it, we could have easily dropped in at a restaurant for such a gourmet dinner. Never thought of doing this. We were too occupied. Ah well, next time.
After some 30 km in the Moorfoot Hills we came to a snow-gate. The route sheet read to go through, but the sign blocking the road indicated construction ahead and pointed to a detour. Lacking local knowledge about the state of the road and the nature of construction - who wants to possibly cycle 10+ km of gravel in the dark? So we decided to follow the official detour through Heriot. The detour added an extra 10 km to the 1,417 km brevet. Less than 1%, so what? We rapidly descended the dark and winding road; caution was the word and deed. We finally made it to the A7, which led us through Edinburgh's suburbs to Control # 10: Dalkeith (Km 707). Arrived at about 1:30 am Monday morning. Time for a shower, a meal and a sleep. The hot shower was great, so was the meal; what counted for 'sleep' left lots to be desired. The post had run out of cots and blankets, so the solution: find a spot and fend for yourself. It was not very warm. I found a spot, used a tiny towel as blanket. That did not work, so I put my Goretex jacket on, closed up every vent and zipper to keep the heat in, only to discover that this material has absolutely no R-value. I shivered and teeth-chattered myself through the rest of the night. Was I ever glad to get up for a hot breakfast.
Day 3: Monday July 25: Dalkeith- Eppleby (247 km)
10. Dalkeith (Km 707) 66 km
10a. Ettrick (Km 773) 53 km
11. Cannonbie (Km 826) 60 km
12. Alston (Km 886) 26 km
12a. Langdon Beck (Km 912) 42 km
13. Eppleby (Km 954)

By 6:00 am Jens, Edmund and I were on the road. Cycling warmed us quickly. We now saw the road and countryside by daylight. It looked so much better and ride went faster.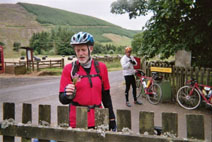 No concern about the next corner; how sharp it might be; would there be potholes and/or gravel? We could see it all. And, it was well worth it. This part of the return leg also seemed to have more downhill than up; nice bonus. The hills were really neat. They were covered with heather, which had just started to bloom. Couldn't help stopping to pick a few twigs as a souvenir. When I showed it to one of the residents at Boston Hall, she mentioned that they use it to decorate churches and halls for special occasions. Passing through Innerleithen, we did a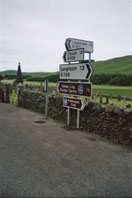 zig-zag -- first right, then left -- and continued south. Passed the Buddhist temple, quite an 'out-of-place' feature in the Scottish landscape. During the 1999 edition of LEL, this temple did double duty as one of the official controls.

Outside his house, just before Control 10a: Boston Hall/Ettrick (Km 773), a bagpiper stood playing some Scottish (or personal) lament. I remarked to a fellow rider that the chap either played for us, or that his wife had kicked him out, to which he responded 'probably the latter'. Recounting this to a kilted Scotsman at the control, he dryly repeated 'probably the latter'. So there is a general agreement that in order to practice their craft bagpipers are kicked out of the house. One Scottish comedian on 'Just for Laughs' called what comes out of the bagpipe 'the missing link between a noise and a sound.' Quite a bit of self-deprecation. The stop at Ettrick again was brief and much appreciated. The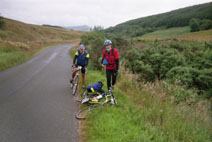 remainder of the route south was straight forward - if you don't count the numerous curves, that is -- mainly downhill and very pretty. In Langholm we crossed the Esk again, disappeared for awhile into the sticks with steep snappy hills, then sailed across the Esk into Control # 11: Cannonbie (Km 826). We spent close to an hour here and chatted with Edmund and Jens about the next section. On the way up they had taken the 'scenic, but very hilly section' to Cannonbie, which in their words had caused 'ein grosses und tiefes Trauma'. They may well have ended on a shrink's couch, had it not been for the opportunity to get it off their minds. Luckily for them we took the flat but, busier section this time, which must have shrunk 'das Trauma' even more. Randonneuring can be such a purifying experience.
The next 60 km went via Brampton, Midgeholm, Slaggyford, Knarsdale in the Tyne valley to Alston, places which by the way look much bigger on the map than in reality. We picked Alston (Km 886) as Control # 12, so that Langdon Beck (Km 912) km) with its leek-and- potato soup became optional. Since I had picked Alston as optional on the way up, I ended with a stamp for every LEL control. The first 400 meter out of Alston was a real muscle burner. It includes a 16% grade and as insult to injury the cobblestones (Dutch: 'kinder-koppen'; Flemish: 'kasseien'). Grunted up this hill in my granny gear. The grade then eased off, but overall the road kept on climbing to the Pennine summit at Yad Moss. The weather remained cool and windy. Despite the climbing effort, I kept my windbreaker on; no luxury! At Yad Moss we began our descent, which did not require any effort: gravity took care of us. Since Alston was only 26 km behind us, we passed the optional control at Langdon Beck and just kept on sailing down through Middleton in Teesdale (very pretty), Mickleton, Romaldkirk, Cotherstone, and Lartington, across the Tees in Startforth. Here we went steeply down into the valley, negotiated a 180 degree hairpin, followed by a 90 degree left hook across the wooden bridge over the Tees.
With only 10 km to go to Eppleby we must have misread the route sheet. Somehow, it did not make sense anymore: so close, yet so far. Sigh!! We waved down a farm service truck and explained our dilemma: our quest, destination and required route. The mechanic, who was intimately familiar with every lane and trail, got us back on track in no time. Another sigh, this time one of relief. One shouldn't be too shy to tap local knowledge. He drew a sketch map of our route. This made more sense than trying to absorb verbal directions like: go left, then right after the third corner........... Well, you know how that usually goes. During such explanation, (1) you nod in agreement; meanwhile (2) question marks rise in and above your head; (3) you are too polite to ask again for fear of sounding dim; then (4) you mumble 'I get it' and 'thanks' and depart, while (5) hoping for the best; and within minutes (6) you realize that you can't remember the details anymore. Oh, drat!! Now (7) you're stuck in the proverbial brown paper bag. Anyway, with the route sheet and the sketch map we made it to Control # 13: Eppleby (Km 954) by 9:00 pm.
The original plan was to make to make to Hovingham (Km 1,034), where I wanted to be reunited with my drop bag. However I remembered that the Eppleby-Hovingham leg had 40 km of rather hilly terrain. After two days of challenging hills in the Scottish Borderlands, riding those lumps in the dark had lost some of its appeal. And, it also meant arriving very late in (if not early in the morning) in Hovingham. To stick to the original plan did not make sense anymore. I would be figuratively and literally losing sight of my objective to ride as much of LEL in daylight. Stopping in Eppleby would get me back on track. The other advantage would be an earlier and longer sleep, which did not seem a luxury at all. To continue or not to continue, that was the question. With more than enough time in hand, an executive decision was made to do the extra 80 km on Day 4. Called it a day, went for a brief walk in town and popped in at one - probably the only one - of the local pubs for one pint of Guinness. In the afternoon I had been wishing for a cool beer. I even 'saw people walking on the road all dressed up going out for a gourmet dinner'. Of course, there were none. Upon closer inspection these 'imagined people' were no more than traffic signs along the road.
Meanwhile in the pub, I chatted with the only patron and the host about the meaning of all those bike(r)s in town, learnt about local concerns: crime, drugs and not enough police; in short crime and punishment. On the walk back to the control, one of the villagers stopped me and also asked about those cyclists; yet another opportunity to extol the virtues of randonneuring and LEL. By 10 pm I was horizontal in the very quiet of the control.
Day 4: Tuesday July 26: Eppleby - Thurlby (311 km)
13. Eppleby (Km 954) 80 km
14. Hovingham (Km 1034) 82 km
15. Thorne (Km 1118) 77 km
16. Lincoln (Km 1195) 70 km
17. Thurlby (Km 1265)
Around 4 am the near dead became restless and rose for a leisurely breakfast. An hour later a small group(Australian, Belgian, Gerard Hazebroek, a few others and myself) started out at a good pace. At Scorton we cycled around the village green, crossed a big highway somewhere and entered Coxwold, did the long descent and then the beautiful roller-coaster to arrive at Control # 14: Hovingham (Km 1034) in 3.5 hours. Some who had continued the night before had taken some 5.5 hours to cover the same distance. Riding in the dark at the end of a long day definitely slows one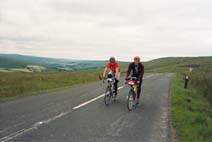 down. In Hovingham I had another great shower, switched clothes from the drop bag and enjoyed my breakfast. Felt like a new man ready to tackle the remainder. An hour later we were on the road to Slingsby, past the beautiful Castle Howard, the obelisk and through the gate in the castle wall. Then down a steep, winding road with hedges on either side. This section was dangerous, since cars came scooting up the hill. Once across the A64 the rollers disappeared and the landscape flattened. Indeed it was flat until we got to Control #15: Thorne (Km 1118). The rugby club was pretty quiet at this time. We took our time to recover and then cycled to Control # 16: Lincoln (Km 1195), for a late afternoon arrival. We had completed the almost 1,200 km of LEL in about 80 hours. A break and another 70 km to go. This went pretty well, until a few clicks before the control we missed a turn (again). With some local advice, we were able to navigate ourselves in the dark to Control 17: Thurlby (Km 1265). It was 10 pm and the control quite crowded. Most riders decided to take a meal break. For a financial donation to the Red Cross, this control even offered a brew- transfusion. Marvelous idea. A few of us wondered whether to continue to London for another 152 km. Since we had covered 311 km that day, fumbled in the dark just before the Thurlby control and lost time doing so, we decided to put our heads down until daybreak.
Day 5: Wednesday July 273: Thurlby - Cheshunt (152 km)
17. Thurlby (Km 1265) 87 km
18. Gamlingay (Km 1352) 66 km
19. Finish Cheshun/Lee Valley(Km 1417 )
Arrival @ 13:55 pm. Total 101:25 (hrs:min)
Got up around 5:00 am, enjoyed another leisurely breakfast; and by 6:00 am Gerard and I were on the road. The red sky at the horizon was impressive, although the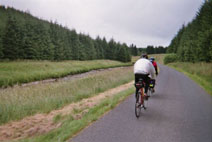 overhead cloud cover threatened rain. Sure enough, a few hours into the ride a cold drizzle and light rain started. "Red sky in the morning, cyclist's warning" is the new maxim, a variant of the old sailor's one. On this stretch I was thinking about the finish. While chatting about it with Gerard, my thoughts went back to the RM 1200 finish line in Kamloops 2002. I recalled being emotionally choked up about it for quite a while after. Such a sense of accomplishment. Three years later I still get choked up, when I think about it. Anyway upon arrival at Control # 18: Gamlingay (Km 1352) we enjoyed another meal. Interestingly, the closer we got to the finish and with enough time in hand, the more relaxed we got. The urgency was gone. Yet LEL wasn't over until its over, so we resumed to finish the remaining 65 km through busy urban sections and over steep rollers in the last 25 km. The weather improved a bit by the time we arrived at control 19: Cheshunt (Km 1417). The finish. At 12:55 pm we pulled in: 101 hours and 25 minutes since our departure. Done, mission accomplished. Wonderful.
After the Ride
After the ride, showered, loafed around for awhile, chatted with other riders and celebrated the successful LEL completion. Enjoyed a great East-Indian supper with Gerard, Henry and Maarten, members of the Dutch LEL contingent. Next morning packed my belongings and worked on the details for getting to Heathrow some 50 km away. My Vancouver flight would leave Heathrow on Friday at 9:00 am, rather tight for a morning departure from the Youth Hostel. A rumoured UK 100 pound cab ride was financially repulsive. To beat that, I used YH internet to book a hotel near LHR, one with a free airport shuttle. Went to the Cheshunt Railway station and bought a ticket for UK 7.5 pounds. Rail One got me to another station for a transfer to the tube to Heathrow. On account of the deadly bomb-attack a month earlier, there were a few detours -- not to mention my wrong transfer across the Thames to Wimbledon and back -- but ultimately I made it to LHR and the hotel. Hotel cost UK 46.96 pounds. The 10.5 hour flight to Vancouver was the way I like it: uneventful. The transfer, custom and immigration clearance were very efficient and at 2:30 pm I stood on the ground in the airport terminal in Fort St. John. Home sweet home.
Afterthoughts
LEL is a well organized ride. The 12 kph minimum speed allows for almost 117 hours, which is plenty to complete the distance. The start time at 8:30 am in London however makes a first day objective of Hovingham (km 81) before midnight somewhat tight. Especially considering that one has to very quickly master the art of 'left-side-of-the-road-riding' and the intense navigational requirements. An earlier start, adding some 3 hours of extra daylight would be preferable. On the other hand using the Thorne start provides the same challenge, since it requires 409 km with most of the climbing on day 1 to make it to Dalkeith. The disadvantage of this figure eight option - I think -- is that back in Thorne, one still has to do the southern loop to London. That might be psychologically tougher. An other approach would be to ride the event in five days: (1) Lee Valley -Thorne 298 km; (2). Thorne - Cannonbie: 290 km; (3) Cannonbie-Dalkeith-Alston: 298 km; (4) Alston - Lincoln: 309 km; and (5) Lincoln - Lee Valley 222 km. This provides for more daytime riding, but would leaves a very tight time frame.

The Route: London Start ( http://www.audax.uk.net/el/london_to_london.pdf )

The route was laid-out such that it avoided most urban centres. Yes, there were a few of them, but no major cities. It went mainly through rural England and Scotland, passing through small places, too tiny to appear on maps and atlases. Most of the roads were narrow country lanes, paved and of very good quality. No gravel, no potholes. Riding 1,417 km without a single flat tire tells something about the road and tire quality (and possibly the navigator). In studying the route sheet I came across many places that were completely unknown to me (wonder why), but they were on the sheet, printed in bold, so they must be true. Sure, they were! They must mean something. And, yes they did! In fact, from the route sheet and maps they took on a life, size and meaning of their own. Images much bigger, much more unreal developed in my mind. In reality however, most places were tiny hamlets, hardly known to their next-door neighbours and certainly not significant at all. No figments of imagination here: real places and people. One does not develop a sense of place by looking at a route sheet or a map. One must go there, be there and live there, that's when places reveal their meaning.
Controls
The controls are well spaced, varying from 87 km for the longest and 27 km for the shortest distance. The northerly leg of 119 km between Cannnonbie and Dalkeith was cut in two. The advantage is that 'LELephant' is cut in bite size pieces (see R. Himschoot's article at http://www.randonneurs.bc.ca/pbp/ron_tips.html ), which substantially eases the mental challenge of tackling this delicious beast. The controls were in a variety of places: community halls in Gamlingay, Hovingham, Eppleby, Cannonbie, and Boston Hall @ Ettrick; rugby clubs in Thorne and Dalkeith; youth hostels at Lee Valley, Lincoln, Langdon Beck and Alston; and last but not least an elementary school in Thurlby. The youth hostels were of course best set up for the traveling gang. Some of the community halls had seen better days, but that's exactly what gives them their distinct character. You'll see them in rural BC and elsewhere in Canada. Add the wonderful volunteer spirit, and the memory is unforgettable. After all that's what counts.

Course Profile
The profile is described as flat for the first part, then the hills of the Pennines and Scottish Borderlands. This is the global synopsis, but looking at the profiles (see website: Stage profiles: http://www.freewebs.com/lel-gps/stageprofiles.htm ) and recalling the ride in more detail, it goes like this. Soon after you leave the Cheshunt control you'll be taken aback by the short snappy hills over the first 50 km. Then the going gets easier as you move on to the coastal plains for the next 270 km to Barton le Willows (Km 360). Here the rollers are back with a vengeance until just past Coxwold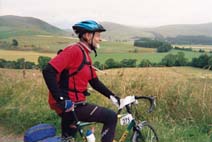 (Km 400). A bit of respite with general rollers up to Middleton-in-Teesdale.(Km 492). It's an uphill battle now via Langdon Beck to Yad Moss, which at 617 m.a.s.l. is the highest elevation on the route at Km 523. The descent to Alston and the rollers last until Cannonbie (Km 588). From then on it is in and out of the saddle, the work has arrived. First the tiny wicked hills between Cannonbie and Langholm, followed by two major climbs to Ettrick, two more to Innerleithen, followed by another three before the final descent into Dalkeith/ Edinburgh. These seven long climbs are interspersed with lots of rollers. You'd better be ready. Actually, the worst were the short, steep and mean snaps near London and Cannonbie, requiring frequent pops-in-and-out-of- the-saddle to maintain that momentum, rapid up-and-down shifting to make it over the top. Over all the beginning of LEL is somewhat similar to the PBP hills, while the longer climbs across the Pennine Chain (Yad Moss) and the Scottish Borderlands resemble a shortened and subdued version of the RM 1200 climbs, without the mountains of course. Total climbing is about 31,000 vertical feet over 1,417 km.
And Finally:
I completed the 1,417 km distance at an average speed of 14 kph. Figuring that I was off the bike for about 40 hours, this left about 61 hours on the bike for an average riding speed of 23 kph. Could it have been completed faster? Yes, as shown by others. In my case for sure, but I met my main goals: (1) completed LEL in about 100 hours, and (2) rode as much as possible by daylight - after all I did want to see Britain. That last objective was lost on the ride up, but easily recovered on the way down by adjusting the plan. Faster would have meant less time at each control. My appreciation to everyone for a great ride and a great event. To Tony and the Italian crew, for your wonderful spirit of camaraderie. To Edmund, Glen (W). Jens K, and Gerard thanks for the pulls, the company and the chats. A special word of appreciation to the LEL volunteers - our unsung heroes and heroines off-road. These of course include the motorcycle gang members, who so valiantly kept a watchful eye on us. For the chief organizers Simon, Bernard and Rocco you have demonstrated an outstanding ability to pull together a great team, and............. make it work! Thank your for the memories. Last but not least to Driekje and the cheering crew on the home front, you are always in my thoughts, when I'm out there.
Time to reminisce.
* * * * *
November 6, 2005