Canadians Tackle "Land's End to John O'Groats"
June 11 - July 3, 2005
by Harold Bridge & Nancy
THE REASON WHY:
I am a dual citizen of Britain & Canada. And so; completing a Canadian
"Side-To-Side" in 2004 inspired a return to Britain to complete a British "End-To-End" in 2005. At 77 I knew it would be difficult & thus: "Now or Never". To wait another year might mean the endeavour was beyond me. In fact, it got close to that as it was.
BACKGROUND:
In 1998 I had set out on a solo 2 week tour. But I gave up riding main roads while still in Cornwall & the resulting route convolutions caused me to run out of time before Scotland.
When, during "Shore to Shore 2004", I mentioned my objective a few of the other Trans Canadians asked if they could come too. They didn't know what they were getting into!
In the end 3, Nancy, Irene & David, signed on for this classic British trek from the far southwest to the extreme northeast. Two others, Betty & Jack, also joined the group. Betty set out a couple of years ago from Land's End with one other woman. But somewhere in Somerset the woman crashed & died as a result. So Betty, at 75, was intent on getting through our tour.
The official distance that the record breakers use is 874 miles (1406kms). To tourists it may seem impossible that the Men's & Women's current records are respectively: 44 hrs 04 mins 20 secs (19.8 mph or 31.9 kph) & 52 hrs 45 mins 11 secs. (16.6 mph or 26.7 kph). These times are authenticated by the Road Records Association, (see: www.rra.org.uk)
But tourists are not going to use the main roads those times would require. They will travel back roads, taking their time to appreciate the passing scene, reading route instructions & maps as well as enjoying local hospitality & sampling local brews. Thus the time & distance expands to 2, 3 or even 4 weeks for something like 1,100 miles (1,770 kms). To North Americans Britain seems small & therefore easy to traverse. But many roads go straight up, or down, the side of hills on gradients that can get as extreme as 33%.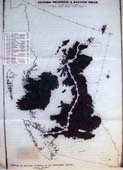 Click to Enlarge
ASSOCIATED AIMS:
In August 2004, after my legs had recovered from the 9 day "Trans Adanac" drive bringing the support truck back from St John's, I was feeling in great shape. A few rides took on the mantle of private time trials & left me feeling disappointed I had no events in which to use this condition. Thus I extended my 2005 vacation to allow me to send off an entry to the Mersey Roads 24 hour time trial in the Cheshre/Shropshire area of England just south of Manchester.
In fact, when I finished the tour at John O'Groats I realized I would not be able to do the necessary training for a 24 hour time trial, I was in need of rest & I tried to cancel my entry. But I was too late, I would be down as "DNS".
I had wanted time for some competitive preparation. Therefore, I decided I needed to set out from Land's End fairly early in June & the flight plan had Betty, David & I leaving Vancouver June 7 to arrive at Gatwick the following day with the intention of meeting up with Nancy, Irene & Jack in Penzance. As a precaution against airline screw ups, missing bikes & the like, our plan allowed us an extra day to get to Penzance. We didn't need it as Murphy's Law was invoked & we had to find beds in Penzance for the night of the 8th. Meanwhile, Nancy;
June 8. Irene & I left our London hosts early to walk our loaded bikes from Glouscester Road to Paddington Station via Kensington Gardens. We timidly got on & rode down one carriageway, turned off onto a narrower path toward our gate. Loud shouts told us it was a pedestrian path & brought us to a sudden stop. One of the shouters caught up with us & apologized, saying he had been hit by a cyclist. He walked with us, still apologizing. This was our introduction to cycling in Britain. Yell first, then apologize. It became a pattern.
I had originally planned to use the CTC E2E route. But for a party of 6 there was the complication of booking accommodation without very much knowledge of the best places. Someone suggested using Bike Adventures Inc. They have tabs on all the best places to stay, they book the B&Bs & provide detailed day by day route information. All at the reasonable price of 715 pounds for the 20 day / 19 night tour.
There is a surcharge of 20 pounds per person per night for extra nights. We had 5; 2 in Penzance, one in Cheddar, our first rest day after the exhausting ride through Cornwall & Devon, one at Bomere Heath near Shrewsbury & the final rest day in Fort William. As the cheapest B&B I had after E2E was 26 pounds the cost of using a tour company such as Bike Adventures seems well justified.
The Bike Adventures contact, Sarah, expressed some concern about an elderly group such as us, (61 through 77) doing their supported tour route unsupported. Our loaded panniers proved to be the major drawback to the tour.
We took the train to Penzance & walked our bikes to our B&B, still too chicken to ride in traffic on the left-hand side of the road. We walked back, without our bikes to the train station where Harold, David & Betty were just stepping down. They were surprised to see us. We had an "After you Alphonse" routine getting their bikes & luggage to the nearest hotel. We spent the next day exploring Penzance, getting the bikes put together & fixing minor details at a bike shop.
I had thought a "Shake-Down" ride would be a good idea before we set out from Penzance for Land's End. On June 10 we rode to Britain's southern most point, the Lizard, sitting as it does right on the 50th parallel. David, the only one not to install new tyres for the tour had the first of his several punctures enroute to the Lizard. Apart from a stinking climb out of Helston it was a fairly easy ride. Those riding on the wrong side of the road for the first time managed very well. It was a round trip of 52 miles (84 kms).
Harold said he remembered the route to the Lizard as flat so we decided to ride with loaded panniers for the experience. Some flat - 17% grade!
Back at Penzance came the first of 3 episodes of high-grading of gear for Irene & I.
We mailed everything we thought we could do without back to friends in London. We had already decided lighter was better. At Cheddar (Day 5) & again at Fitz Manor (Day 10) we mailed 2 more parcels. It's amazing what we decided we could live without after we had pushed our loaded bikes up a few hills.
On the morning of June 11 at about 09:00 we set out for Land's End. We decided upon the more direct (& less hilly) main road route of about 10 miles (16 kms).
Harold's & Nancy's TOUR JOURNAL:
Day #1: June 11, Land's End to Perranporth. 42 miles (68 kms).
Route: St Just, Morvah, Zennor, Towednack, Hayle, Gwithian, Portreath, Bridge, Porthtowan, St Agnes & Trevallas.
The good thing about Cornwall is the strikingly beautiful coastal scenery. The bad thing is its popularity & thus crowded roads & villages. But with good weather we had a decent ride, albeit a rather slow one.
The first real day's ride to Perrenporth included 17 roundabouts & we just did what Harold did. Tons of minute black flies stuck to the bag balm we had put on our faces to stop windburn. Who said cycling was glamorous?
We travelled up several hills that were signed 17% & several others on lanes that didn't have a gradient specified but which were steeper. Climbing high among the tin mines we could see the coast & with the stone walls it looked like a scene from a Daphne Du Maurier novel.
We shared the narrow road with many sheep & the cars couldn't get past.. Hedges were full of nettles, so if you hugged it too close you paid with burning pain. But we discovered that we could get desensitized. After a few days we were getting much less of a reaction - even having crouched too close to some at a desperate call of nature!
Harold got a broken chain….
St Agnes sits in a dip in the countryside so there is a steep winding hill through the village & an equally steep winding climb out of the village. It was on this climb I learnt to distrust SRAM 9 speed chains, despite a few trouble free years using the old 8 speed version. Trying to make use of the downhill momentum when on the uphill I was suddenly dumped in the road when the chain broke. But fortunately, Jack was right there with a Power Link & the chain was soon back together. I thought perhaps I had made a bad job of joining the 2 ends when I installed the chain. But the following morning a close inspection found another plate had disengaged from a pin. I was able to entice it back into place, but at the first opportunity (SJS Cycles, Bridgewater) I bought a Campagnolo chain & had no more trouble once that was installed.
Irene & Betty had taken a wrong turn just before this so we all straggled into our B&B separately & received the first of many lectures from B&B hosts about the advisability of carrying a cell-phone with us.
Day #2: June 12, Perranporth to Tavistock (Lamerton for most). 60 miles (96kms)
Route: Mount, St. Newlyn East, St Columb Major, St Wenn, Withel, Bodmin, Mount (another one), St Neot, Commonmoor, Minions, Upton Cross, Rilla Mill, Bray Shop, Stoke Climsland, Horsebridge (enter Devonshire).
Although only 60 miles it took us 12 hours! We had a few problems getting everyone to believe the instructions on our route sheets that got us lost 3 times & sent us on the A30 - something to be avoided with its terrible noise & narrow, broken & glass strewn shoulder. We already can't believe we were afraid of riding on the other side of the road, or that I was ever afraid of roundabouts. By a 100 of them I actually prefer them to traffic lights.
There was a glitch due to us misreading the route instructions. At a cross roads where "straight on" was angled to the left there was a signpost; "Bodmin" pointing to the right & we were unsure which route we were to take. We went right only to find ourselves on the A30 about 5 miles west of Bodmin. We hunched our shoulders & made use of the tailwind to get it over with asap.
We did a circuit through the town as per route sheet, couldn't find anything open & finished up back at the A30 junction from where we had entered town. Here we found David who, being by himself, had followed the right route.
It had been a very difficult day & it was dark by the time we had arrived at the farm. However the lady was very pleasant & didn't seem put out by our late arrival. Just to complete the day the farm was situated at the top of a monster hill! To be positive; the weather was good, the scenery beautiful & there were few cars on the tiny lanes.
There's lots of climbing getting up Bodmin Moor but the views are as usual, spectacular. We reached St Neots at 5pm & since it was Sunday there was no food service at the only pub open.. A lovely man, who was there on his day off, said he would make us some sandwiches & also gave us some homemade black current ice cream with clotted cream. Wow!
Accomodation difficulities spilt the party. Nancy & Irene were to press on into Tavistock while the rest of us detoured to the farm in Lamerton, about 4 miles NW.
Day #3: June 14,Tavistock to Tiverton 48 miles (77 kms) (20 miles, 32 kms).
Route: Two Bridges, Postbridge, Morton Hampstead, Tedburn St Mary, Crediton, Stockleigh English, Poughill, Cruwys Morchard.
Everyone was aching & complaining about the route. Another sunshiny day with more climbs up Dartmoor. There was a sign on the Highway saying to watch out for sheep lying on the road. They were. Everywhere. The lambs were particularly unpredictable. There was one particularly long, steep ride with a turn at the bottom where the wind picked me up & shifted me sideways at the bottom giving me a good hit of adrenaline & a case of the shakes as I dodged sheep at 40mph. We had lunch at Postbridge's East Dart Hotel, right by the famed Dartmoor attraction, the historic Clapper Bridge.
At Morton Hampstead Betty found a building contractor in a pub & she charmed him into using his truck & labourer for the bikes & me while his Land Rover took the other 4 to Tiverton at 10 quid each. Cheating? No, just the downside of have pre-booked accommodation. I think we would have been content to stay in Morton that night otherwise. David being David decided to ride anyway.
At dinner that evening we had guests join us. A long time cycling buddy from back in the fifties now lives in Cheriton Fitzpaine, a few miles SW of Tiverton.
Alan & Brenda Fowler came into town for a pleasant hour or so of chat & reminiscence.
Day #4: June 14, Tiverton to Cheddar. 55 miles, (88 kms).
Route: Uplowman, Holcombe Rogus (enter Somerset), Langford Bugville, Milverton, Halse, Bishops Lydeard, Enmore, Durleigh, Bridgewater, Chedzoy, Stawell, Edington, Blackford.
This was a perfect day's ride for me. There was brilliant sunshine for most of it. We lost a mile or so getting out of Tiverton but the directions were pretty simple after that. The Quontock Hills were the only part that some people had to walk.
Nothing was open all morning for coffee break. We found a pub at noon, the Lethbridge Arms at Bishops Lydiard, but after that nothing was available in the afternoon, until Bridgewater. Here was a big disappointment. I was looking forward to browsing around St John Street Cycles with its old world bike shop, museam & coffee bar. When I got there I found a glass fronted office with the sales staff sitting staring at computer monitors. Oh dear!
Enroute to the Lizard my computer had quit working. The sensor cable had been partially damaged in transit & it just fell apart after a few jolts. For the leader to be without a computer was a bit embarrassing & I promptly bought, along with the chain, a new computer harness at SJS Cycles. I had dealt with SJS several years ago by mail order. The sales guy asked me if I had been a customer before & low & behold he brought my name & address up onto the screen.
We were fairly late at Cheddar. But the main problem was Jack. He was sick. He finished up being taken to Weston Super Mare Hospital where he stayed overnight whilst getting rehydrated. He was resigned to missing a few days while he caught up by train.
In Cheddar David, Irene & I went out for the best fish & chips in the whole world. The piece of fish draped itself over both sides of our individual platters. Our hostess was right when she told us we would only need one order for all three of us. We didn't believe her so wasted 2/3rds of our meal.
Day#5: June15th. Rest Day.
It was somewhat wet. Somehow the tourists aspects of Cheddar got neglected. Instead we did laundry, checked e-mail, wrote cards, fixed bikes & did some shopping. In my case, 2 major bike things; chain & computer harness.
In checking e-mails at the library I lost my first journal entry to the airwaves. Dave, Irene & I took the bus to Wells to see the Cathedral & Bishop's Palace. We returned to do some bike maintenance before dinner then Harold took Betty & I out for a delicious meal where Dave joined us for dessert.

Day#6: June 16. Cheddar to St Arvans. 48 miles (77 kms)
Route: Compton Martin, Regil, Winford, Failand, Portbury, Eastern-in-Gordano, Pill, Avonmouth Bridge, Hallen, Easter Compton, Olveston, Severn Bridge, Chepstow (Monmouthshire), St Arvans.
We awoke to another damp, foggy day. We climbed into the Mendips between the towering cliffs of Cheddar Gorge. Once on top it was fairly gentle to Compton Martin. From there we crossed a valley to Regil while heading toward Bristol. Our route was to take us round the west side of the City on a convoluted & rather depressing series of side streets to the Avonmouth Bridge. Perhaps the idea was to have splendid views from the Bridge. But as we crossed both that & the Severn Bridge in damp mist it didn't happen.
We found our instruction confusing around Bristol & we got lost while trying to get to the Avonmouth Bridge. We were too tired to see Chepstow which has the oldest castle in Britain.
I am renowned for my long term memory. But not for my short term memory. Where 7 years sits in that spectrum I don't know. But in 1998 I rode through Cheddar enroute to a B&B in Chew Stoke. From there I followed a bike route round the east side of Bristol to the Severn Bridge. It used, for much of the way, a trail on the bed of a old rail line. From what I remember that was much better than the route we used this time.
Crossing over the Severn Bridge's excellent path for cyclists & pedestrians (British Columbia Highways Department should make a pilgrimage) took us into Wales. It was then a relatively short ride to the B&B in St Arvans, albeit with a steep climb from the turn off into Chepstow itself. It is a pity that time didn't allow us to go into the old town. But the accommodation we had in St Arvans would have been hard to beat. In 1998 I had stayed in the old town itself.
Day #7: June 17. St Arvans to Pembridge. 55 miles (88kms).
Route: Parkhouse, Trellech, Monmouth, Rockfield (Herefordshire), Maypole, Skenfrith, Bagwy Lldiart, Kingstone, Madley, Bishopstone, Credenhill,
There had been some rumblings among the troops about all the twisty little lanes that took so much time with route interpretation. The initial part of the day's route would by-pass a significant bit of ancient history; Tintern Abbey. As a result we detoured down a steep, winding hill into the Wye Valley so as to remedy that omission. After spending an hour or so gazing in awe at the massive ruins, (courtesy of Henry VIII) we had the choice of continuing north on the A466 to Monmouth or grovelling back up to the suggested route. David the Brave chose the latter.
In view of the rumblings I suggested we should try some main road & see how people felt after that. As it happened the very popular tourist route as far as Monmouth wasn't too bad. We were to meet David at a certain Monmouth pub but we never found it. We didn't see David again until we arrived at the B&B.
After lunch we continued on the A466 for a while. It was much busier than the stretch from Tintern Abbey to Monmouth & there were no more rumblings about twisty back roads. Having left the chosen route we managed to put in some miles going round 2 sides of triangles, including a stretch of the A49, before getting back on route to Pembridge.
By a miracle we eventually ended up on the right road. We phoned from a village to say we would stop & eat on our way to our next B&B. But we were reminded this was the night we had reservations for dinner! We were only 4 miles from Pembridge at this point but thought we had much further to go. We arrived at a beautiful Tudor home where we each had a private room, the only time on this tour. This gorgeous house had the biggest bathtub I had ever been in. Our lovely hostess made Welsh teacakes to welcome us with tea. Then we went down the road for a fabulous dinner - beef & ale pie, creamed leeks, carrots, oriental peas, two kinds of potatoes on the table, fresh strawberries with ice cream for dessert.

Day #8: June 18. Pembridge to Fitz. 45 miles (72 kms).
Route: Staunton-on-Arrow, Lingen, Birtley, Brampton Bryan, Bucknell, (Shropshire), Bedstone, Hopton Castle, Aston on Clun, Hopesay, Minton, Little Stretton, Church Stretton, All Stretton, Picklescott, Pulverpatch, Nox
One problem related to the time of year: The spring growth was far enough advanced to obscure signs, but was yet to be trimmed. We missed our first turn out of Pembridge. But on turning round the sign was quite visible from the other direction. The lack of roadside trimming was quite obvious throughout the tour.
We were heading for our next day off. It's a beautiful ride on a sunny day - little too hot. Another day when we can't find breaks when we need them. Either nothing is open or nothing available at the times for coffee break, lunch & afternoon snack. It was 2:30 before we found food today. Thank goodness for peanut butter in the pannier. Dave went off on his own to go faster & Irene & I got separated from Harold & Betty on the Long Mynd - a huge lump with at least a mile long climb up it, but with sensational views at the top. Irene & I had a great ride following intricate directions after lunch in Church Stretton.
We arrived at our B&B, Fitz Manor at 6:30 to find Jack already there after his short ride from Shrewsbury station. There are about 10 bedrooms. We were welcomed by the chaos of crawling babies, dogs, & warm people who put cold beer in our hands before we had even got off our bikes. Our room was about 24 feet by 30 feet with a fireplace, & armchairs. Tea was available in the hall between all the bedrooms.
We came down, after showering, to the dining room, about 50 feet by 40 feet, with a table that looked tiny but held 24 people who cheered us for our ride. Our hostess had cooked roast beef, cold rare salmon, potato salad, greens, pickled beets all set out for us. Dessert, she said, would be at the concert they were taking us too that evening.
After dinner they drove us to another manor house where the Shrewsbury Light Orchestra was raising money for the Church of St Peter & St Paul, situated about 50 feet from our manor house. The evening was called Proms in the Park, & our host, Neil Baly welcomed all the guests dressed in summer finery, some in kilts. What a fabulous experience! We got the chance to belt out Land of Hope & Glory, & Jerusalem, & sing Vera Lynn songs. And listen to better singers & musicians entertain.
Our hostess, Dawn Baly, was busy passing out rolled chocolate cake containing strawberry preserve, served with fresh strawberries & double cream, with wine, then finished off with coffee, chocolate & plum liqueur. Everyone was waving Union Jacks at the end. When Neil drew the raffle tickets at the intermission he also introduced the cycling Canadians & everyone clapped & cheered. What a night!
Day #9: June 19. Rest Day.
I had initially expressed disappointment that the route didn't go through Ironbridge. For first time visitors to Britain the historical significance of the birthplace of the Industrial Revolution was, I felt, important. But Neil & Dawn decided to rectify that.
The Balys drove us to Ironbridge. We saw a raft race there on the River Severn. Spectators threw bags of flour & eggs down on the participants. We went to a Roman Village, saw more abandoned abbeys & other local sites. We then went back for a late lunch & a nap. We took our hosts to a pub for dinner that night.
Day #10: June 20. Fitz to Acton Bridge. 51 miles (82 kms).
Route: Bomere Heath, Northwood, Bettisfield (Cheshire) Malpas, Tiverton, Tarporley, Utkinton, Crowton.
When we left Fitz Manor we felt we were leaving old friends & Dawn had tears in her
eyes. It was the best B&B experience we had on the tour. All the buildings were chosen so we could experience the variety that existed..
We left early & had a super day cycling. It was only 47 miles(?) through rolling hills
Dave, Irene & I had lunch on a lawn beside a canal with colourful boats lining the bank. We were into our B&B by 4.00 pm, "this is more like it!".
We had to cycle about 3 miles to a pub for dinner, after showering. I decided I don't like to cycle in the evening. I'd prefer a sandwich in my room.

Day #11: June 21. Acton Bridge to Clayton-le-Dale. 56 miles (90 kms).
Route: Little Leigh, Comerbach, High Leigh, Broomedge, (Lancashire) Warburton, Hollinfare, Glazebrook, Glazebury, Leigh, Hindley, Aspull, Haigh, Blackrod, Rivington, Belmont, Tockholes, Pleasington, Blackburn.
There was some apprehension about this day. We would have to deal with the
busy roads & heavy traffic of the conurbation that exists between Liverpool and
Manchester. However, once through, "Nervous Nellie" asked when were we going to
meet the difficult bit? It hadn't been as bad as anticipated. It was also a milestone in that we were now in the north of England & the Pennines were our next challenge.
It was a fabulous day, but long. Incredibly scenic but with just the right amount of up & down. It rained in the morning & again there was nowhere open for a morning break. But Betty persuaded a pub owner to give us tea & coffee in the kitchen. But they moved us into the pub & refused to let us pay. Bless Betty.
We were to spend the next few days dealing with more long, steep climbs. But I think we were in better shape to handle them than we had been in Devon. Fortunately,
the weather continued to be kind to us, the open moorland can be nasty in bad weather.
Day #12: June 22. Clayton-le-Dale to Dent.4 5 miles (72 kms).
Route: Hurst Green, Waddington, Slaidburn, High Bentham, N.Yorks), Ingleton (Durham), Thorton-in-Lonsdale .
Clayton-le-Dale is really part of Blackburn & even the Ordnance Survey 1:250,000 map of Northern England doesn't show it. We by-passed Clitheroe enroute to Hurst Green.
Irene & I went into Clitheroe to get our brake blocks replaced & went to the library's e-mail while we waited. It was necessary, but meant we didn't get on the road until after noon. Our route instructios said "Climb steeply" & that's putting it mildly. The views were as spectacular, but very different than Bodmin & Dartmoor. There were lots of cattle grids.
As we left Slaidburn the view reminded me of 1998 when I first laid my eyes on the intimidating road climbing over Catlow Fell. The road doesn't zig-zag up the side of the hill like a civilized mountain pass, it just goes straight up. There were cattle grids as well to make sure we didn't go too fast.
An enduring vision along this stretch is going over the top of a climb & gazing at the Trough of Bowland. Late spring, the foliage at its best, the weather fresh & clear. The map denotes the area as the "Forest of Bowland". But I think building wooden ships changed the landscape. From Ingleton there was a 6 mile climb through Whernside, spectacular but slow.
We met Harold & Betty when we were phoning our hotel from Thorton-in-Lonsdale to say we would be late. Harold & I freewheeled down amazing grades. Betty came along more cautiously and Irene took the ultimate safety precaution of walking down the 33% grade. It was a plummet down through Deepdale to Dent. A man warned us that the 33% grade at the bottom ended in a sharp right turn to a closed gate! The impression was that past the gate was Dent. But no, there was a distance to go on a narrow winding lane into the cobbled streets of Dent. Access to, & exiting from the village gives a clue to the name.
We ended up in Dent's Sun Inn. The whole village, including the Sun, were from the 16th century. Everywhere we go people say; "You're mad, absolutely mad"

Day #13: June 23. Dent to Kirkoswald 51 miles (82 kms).
Route: Cowgill. Nateby, Kirkby Stephen, Soulby, Burrells, Appleby-in-Westmoreland, Long Marton, Newbiggin, Culgath, Langwathby, Little Salkeld, Gloasonby
My notes say we were to go through Hawes between Cowgill & Nateby. However, looking at the map Hawes is well off the direct route between those 2 places.
Except for David the route was largely irrelevant as we felt the need to "cheat" again. To arrive at a B&B on time was a benefit to us as well as the hosts. It was obvious that the climb up to Dent Station was going to take a good part of the morning & in the pub the previous evening overtures were made to "Motley" who had a truck. Jack, Betty & I waited for the train that would take us to Lazonby, 3 miles from Kirkoswald. Nancy & Irene compromised. They accepted the lift up to the station but then set out to ride from there. That was perhaps the better choice.
Irene & I took the ride in the farm cart to the top. I paid for it because my much loved new bike was on the bottom of the stack & got badly scratched. The ride down from the top was really steep, but fabulous, ending in undulating hills followed by rolling hills. We had tea & crumpets in Kirkby Stephen & got to the Featherstone Arms in Kirkoswald 2-1/2 hours after David who had come via a longer route.
We went for a walk & discovered a secret garden through a door by a bridge. "Bob the Builder" told us the house we were looking at is owned by Timothy Featherstonehaugh, the longest name in Britain. Timothy owns the whole village, including the Arms. Our innkeeper told us he only pays pennies to rent the inn - less than they could get a flat for anywhere else.
Day #14: June 24. Kirkoswald to Boreland. 53 miles (85 kms)
Route: Ainstable, Heads Nook, Corby Hill, Laversdale, Hethersgill, Harelaw, Rowanburn (Dumfries & Galloway), Canonbie, Corrie Common.
Before setting out from home I had set the bike up with a 24 tooth granny ring. It put the front changer on the recommended limit of 23 teeth from the 47 big ring. It had proved okay before the bike was boxed. But I was never able to get it right once on tour. As a result I had a few falls when the shift onto granny went wrong & the weight of the panniers took me down very quickly. The only problem was that my right knee would bang on the top tube every time it happened & the knee got badly bruised & swollen.
Before leaving Kirkoswald I found a clinic where the doctor confirmed my own opinion; it would only take time to settle down & as quitting was not an option I had to live with it. Not to be left out of things Betty had a few bruises that needed looking at too.
We didn't follow the route today, another minor rebellion. We went into Carlisle, bought a map & followed it. No hills, same distance. Proves to us our tour company is sending us out of our way to go up hills.
The next Landmark was immediately we crossed into Scotland. "Gretna Green" gave the opportunity for a laugh & a photo when Betty stuffed her helmet up her shirt!
The B7076 is a good road that is intertwined with the A74(M). As a result it has light traffic, albeit with the constant roar of the adjacent motorway. We invaded a busy café in Lockerbie for tea & pie before setting out on the last 5 miles to Boreland.
Our route misdemeanours didn't go unpunished. Just before we left the café the heavens opened for the most serious rain of the tour. We frantically donned rain gear within the cramped confines of the café.
The rain quickly flooded the ditches & was sheeting across the road. But it wasn't cold & it was only 5 miles worth. Just to show us what the whole tour could have been like. The rain wasn't as bad as the wind has been for 2 hours against us before Lockerbie. Everyone got in cranky but dinner cheered us up. We dried our clothes on the room's heaters, which were more effective than the dryer some sent their clothes to.
Our hosts had left us in the hands of some young people who seemed to manage very well. They gave us good plain grub. As it was our first night in Scotland we asked if we could have a bottle of single malt - yes, gratis. That cheered us up even more!

Day #15: June 25. Boreland to Lesmahagow. 59 miles (96 kms).
Route: Moffat, Broughton, Biggar, Thankerton, Carmichael.
We stayed on route to Moffat where we stopped for coffee. People were looking at maps & tracing the route before setting out. No doubt for good reason the route appeared to be somewhat circuitous. At the same time the map showed the B7076 & later the B7078 continuing on alongside the A74(M).
We saved 15 miles & a lot of hills by not following the route. We had a 2 hour lunch in Abington & still got in by 4pm.
As before, it proved to be a decent road with very little traffic. My notes show I arrived at the farmhouse with 45 miles for the day. Jack & David did the intended route & arrived sometime after the rest of us. The farmhouse & its owners were nice. We were to eat out & the Farmer's advice was to go to the Golf Club, a bit too far to walk. So he drove us there & came & picked us up as well.
Day #16: June 26. Lesmahogow to Balloch. 53 miles (85 kms).
Route: Boghead, Stonehouse, Glassford, Westburn, Glasgow, Clydebank, Milton, Dumbarton.
An apprehension about this day existed for similar reasons to the day we braved the Manchester conurbation. But again the ride was largely on a bike route & getting into & out of Glasgow proved to be quite easy. Some of the road surfaces left something to be desired & one had to watch out for broken glass. Otherwise it was an
entertaining ride.
It was an easy day but still exhausting from trying to get everyone to agree with me on directions! I need a girl guide whistle. There was a wonderful cycle path from way before Glasgow that saw us all the way to Balloch right beside the River Clyde on the Loch Lomond cycle path. We ate lunch in central Glasgow after another cyclist told us it wasn't safe to leave the path before then.
As it was a Sunday many people were out enjoying the sunshine. As we left Glasgow we rode past the back of large multi-storey tenement buildings. The thought of living in such a place made me shudder. The occupants were out the back of their abodes enjoying the sun, packed, as they were, into the small space between the buildings & the bike trail.
Beyond Glasgow we were following the River Leven through quiet well-treed country & across fields full of cows. By a lock (not a loch) there was a bike shop doing a roaring trade from the local family cyclists using the trail. My contribution was to purchase a new pair of mitts. The mitts contained what for me was an innovation. Between the forefinger & middle finger as well between the other 2 fingers there were loops of fabric or tape the purpose of which wasn't initially clear to me. A demonstration by the proprietor put me right. By hooking the fingers of the other hand in the loops I could easily remove the mitt.
Arrival in Balloch found the place teeming with people. Being at the southern end of Glasgow's playground, Loch Lomond, it attracts a lot of weekend business from the City.

Day #17: June 27. Balloch to Bridge of Awe. 62 miles (100 kms).
Route: Callendoun, Garelochhead, Arrochar, Cairndow, Inveraray.
This was to be largely a "Loch Edge Ride". With few road options the navigation was simple. But we were very soon on a quiet back road that switchbacked over
some lumpy land. This finished with an exciting descent to Garelochead where the Ministry of Defence had intimidating fences & signs to protect the nuclear subs moored in Gareloch. After coffee we headed north along the eastern shore of Loch Long to Arrochar before going round the elbow to go down the west side to Ardgarten.
Here we turned west & started the 5 mile climb of the "Rest And Be Thankful" Pass. After so many brutal & badly graded hills it was a pleasure to tackle this climb despite the traffic. At Cairndow a couple of miles took us round the end of Loch Fyne. At a tee junction Betty & I stopped to rest about 8 miles before that evening's destination. We were to turn onto what was a busy road due to its ferry traffic to & from Oban. When we set off again I was, unknowingly, a bit too far in front of Betty, due I suppose to her taking longer to get on her bike. A commercial vehicle cut me up as he sped past & at the same moment I heard screaming behind. I stopped just in time to see Betty land in the grass on the other side of the road. Immediately 2 or 3 cars stopped to assist. Luckily, apart from a bruised elbow, there was no injury or damage. Betty wasn't able to explain what happened but it seems the commercial van had clipped her pannier & in so doing re-directed her bike across the road. Luckily there was no on-coming traffic at the time.
The young woman who helped was an "end to ender" herself. A van had stopped & the driver asked if he could help. I suggested Betty should have a ride to the Brander Lodge Hotel. The driver, a Canadian, was only too pleased to help.
This wasn't the only incident in this area. David was put in danger when a bus insisted on passing him when descending at high speed. Irene, too, got clipped by a passing vehicle & was knocked into the sidewalk.
Vehicles around Bridge of Awe don't want cyclists on the road.
Day #18: June 28. Bridge of Awe to Fort William. 50 miles. (80 kms).
Route: Taynuilt, Connel, Benderloch, Barcaidine, Appin Village, Portnacroish, Duror, Ballachulish, Onich
This was a dream day of cycling. There were lots of easy, rolling hills. The first 10 miles were a bit scary because of the previous day's trauma but the traffic eased off after we crossed the bridge from Connel when we turned toward Fort William. We had lunch in a brand new café perched on top of the hill we climbed out of Portnacroish. There was a spectacular view across Loch Linnhe with it's much photographed Castle Stalker in the foreground.
Then, I had my only flat. Harold & David said I should change it myself since it was a sunny day & conditions were perfect. We had just had lunch & we weren't in a hurry. I was supervised by Harold with David offering to mend my tube. Irene (bless her heart) & I did it. It couldn't have been better timing. But it was still different than doing it at home.
At Ballachulish we had a cream tea in a hotel where they treated us like Royalty even in our cycling garb. Dinner was at the B&B and we girls were having a pyjama party when David persuaded us to dress & go to the hotel 2 doors away for a drink & listen to a lounge singer.
Day # 19: June 29. Rest Day.
Played at the internet, shopped for a Scottish cycling team jersey, wandered around, got a haircut, transferred pictures to disc, bought another spare camera battery to replace the rain ruined one. Irene & Betty took the cable car up cloud enshrouded Ben Nevis & mailed cards with that post mark, returning to brag about what we had missed.
I have been questioned about why I have a custom built bike frame with a black paint job. The reason was made apparent in Fort William. Nancy & I had our bikes locked together, one each side of a post. The B&B was a mile or so out of town & the bikes were useful for getting to & from. We left the bikes locked there for most of the morning. When we returned there was quite a crowd admiring Nancy's red & yellow bike, while mine was completely ignored. I like that.

Day #20: June 30. Fort William to Drumnadrochit. 53 miles (86 kms).
Route: Clunes, Invergarry, Fort Augustus, Invermoriston.
Easy, fun day with one difficult 10 mile stretch along Great Glen's gravel cycle route.
The conditions were damp which was a blessing, I think the gravel road could have got
quite dusty otherwise. We captured another castle, photographically speaking. Castle
Urquhart is situated on the NW shore of Loch Ness & makes for an attractive scene.
The Castle is about 12 miles before Inverness, which sits at the NE end of the Loch.
Just past the Castle we turned out of the Great Glen for the short ride to Drumnadrochit.
While riding alongside Loch Ness the British equivalent to the RCAF's Snowbirds
aerobatic team put on a superb display right beside us & low to the Loch. Heard but didn't see.
Day #21: July 1. Drumnadrochit to Bonar Bridge. 50 miles (80 Kms).
Route: Beauly, Muir of Ord, Conon Bridge, Dingwall, Evanton, Ardross, Ardgay.
I had planned to meet up with a Clubmate, Roger Sewell, now resident in
Dingwall. On the phone he said he would ride,11 miles, to Beauly to meet us. He didn't
want to do too much as he was riding a 50 mile time trial the following morning.
We stopped in Beauly's hotel for coffee assuming the stack of bikes would warn
Roger we were off the road. Among the strong Scottish dialects we had become
accustomed to, it was a bit of a shock when Roger's strong London accent suddenly
disturbed the peace when berating us so-called cyclists for lounging around in hotels.
His plans were changed after dressing for a bike ride & the heavens opened.
We had no rain. He, & wife Pam, drove to meet us. He gave us directions to his home that included
reference to a steep hill in Dingwall. We were very grateful to the weather Gods for changing his plans. We had a pannier free ride to their home where we were treated to a fine lunch.
We climbed for 15 miles but it didn't feel like it. At the end the wind got heavy & acted as a brake when going down hill. The side gusts were intimidating. We stayed at Kyle House in Bonar Bridge & ate down the road at a pub that would have live music later. Dave & I went back to sing ourselves hoarse, then dance him into a limp. We were cheered by everyone in the pub when we left, as the entertainer told them we were cycling from Land's End to John O'Groats. I like being treated as a Hero.
Day #22: July 2. Bonar Bridge to Betty Hill 55 miles (89 kms).
Route: Lairg, Altnaharra, Syre
This was an easy, beautiful day with up & down to moors which were wild & desolate. Irene, Dave & I stayed together & had lunch at Crask Inn. We all did, no choice. Crask Inn is perhaps the most isolated pub in Britain & was the only place to get any food along the way. Later, Irene fell into a ditch when a camper didn't know how wide he was. She was afraid she smelled like sheep, but came out smelling like roses, good clean dirt.
Although the roads were very narrow the surfaces were good. There was eager
anticipation of reaching the North Coast with its wide open vistas of the North Atlantic.
While not yet at our final destination we had, nonetheless, ridden from the South Coast
to the North Coast once we reached Betty Hill. The ride ended with a difficult climb up to the Village itself. The hotel sat right at the top & its big windows looked out over the
windswept Ocean.
Day #23 July 3. Betty Hill to John O'Groats. 61 miles (98 kms)
Route: Strathy, Melvich, Reay, Thurso, Castletown, Dunnett Head, Brough.
There were long uphills but they weren't hard to cycle. Strong winds of possibly 50 mph gusting to 80 at a guess. Did an extra 10 miles to Dunnett Head so Harold could say could say he had been to the genuine furthest north point. When we got into John O'Groats everyone seemed a bit cranky, possibly anti-climax, but we went down & got our pictures taken after all.
Betty cheered us up when we gathered to go out for dinner. She presented us all with Tams with red hair attached. We went out looking suitably silly. After dinner we went into the pub side of the hotel & danced ourselves to a standstill. The others left at 11:30 but Dave & I stayed on , forgetting our B&B, just across the road, locks the doors at midnight! We stayed on with our young birthday celebrant at our table offering us beds for the night followed by a "real Scottish breakfast". Another young woman offered to share her tent. We had knocked on the Door but got no answer. Finally the birthday girl phoned & persuaded them to let us in. After I had a major fit of the giggles. We slunk in feeling suitably teenagish & chastised. We felt then that we had celebrated: "Cycling from LAND'S END TO JOHN O'GROATS.

CONCLUSIONS:
Jack's comment was: "Climbing, climbing, climbing, every day. Would I do it again? Certainly".
Bike Adventures had provided detailed route instructions & excellent accommodations. We can't hold them responsible for that fact that in the main we were overloaded with both too much baggage & too many years. Given our age range perhaps we should have investigated the supported tour option. But I believe the supported tour is at a specific time & may not have gelled with the timetable I had set up. As things turned out that was a waste. My plans for further touring post E2E were shelved. The 17 miles from John O'Groats to Wick the day after were difficult. I had had enough.
Bike Adventures' route engineering was an elaborate piece of work, well thought out & obviously based upon intimate knowledge of the British countryside. But I wonder if the presentation of the information could be improved? I found it difficult to keep track of my place in the instructions. One "TR" looks just like another. A tabulated form could reduce a lot of repetition. Based upon over 20 years of reading BC Randonneurs' randonnee route sheets I think I would have had an easier time with tabulated route information.
Perhaps, for future reference, it would have paid to increase the number of days so that in Cornwall & Devon we did less miles between B&Bs. There were difficult hills in the north too. But by then we were, I think, in better condition. Or perhaps brow beaten into acceptance? Added to that the road system is much less complicated & as a result navigation gets easier the further north one goes & thus creates less interruption.
In my own case there was a distinct difference between my fitness at the time of initiating the tour & when I actually started. After 2004's Trans Canada tour I felt in good enough shape to start racing again. But during the months immediately preceding this tour I found I was having difficulty on the hills. But as a Brit an "E2E' was almost mandatory & I set out without knowing the results of the stress tests I had during the week before flying to UK.
Riding from one end to the other, whether it is across a continent or across an island, is not touring in the real sense. The end objective takes priority over seeing things or detouring to more remote points of interest as one would when casual touring. But the objective of getting from Land's End to John O'Groats was achieved.
And who earned the Maillot Jaune? I reckon Betty did. She is one tough old girl!
---
Who is
Nancy
??? Harold's co-author here is retired Province Columnist Nancy O'Higgins.
---