The BC Randonneurs Crowsnest 1000 June 20-23
(Or how I got really sick of going up hills)
By William Roberts
The premise of this ride appealled to me. Start in Vancouver, ride 1000km east, stop. By the end you really would have gone a long way from home, since in most 1000km rides you are never more than 500km from the start. It does however lead to the logistical problem of how to get back home. This was to be solved by the tandem team of John Bates and Danelle Laidlaw driving as far east as possible, dropping off their van and riding west, whilst the duo of Michel Richard and Eric Fergusson would ride east, pick up the van and then drive home. Since I enjoy riding to my rides, I planned to ride from west to east and then home possibly taking in a brief saunter up the Icefields Parkway and maybe even up to Prince Rupert on the BC coast. Or at least that was the plan.
The ride up to Vancouver on wednesday was uneventful, a delightful tail wind pushing me the whole way up the flat roads of highway 9. A brief stop at the Arlington Chevron gave me a report on the status of the riders doing the make-up ride of the Arlington (via the North Cascades Highway and Bellingham) 1000k. Some interesting navigation into Vancouver, using a route sheet for a ride going out of Vancouver, gave the end of the ride a bit of entertainment. But without too much bother I arrived at John and Danelle's house to drop off a bag of stuff that I wouldn't need for the initial 1000km. John and Danelle very kindly fed me and gave me a bed for the night so I didn't have to get over to one of the Vancouver Youth hostels. As I have found in this my first year of randonneuring, Randonneurs really are a very freindly bunch.
8 am was the designated start time on friday so at 8 am the three of us, Eric, Michel and I, met, set our odometers to zero and began our ride east. The initial section of the ride was out along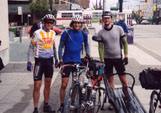 Broadway through the middle of Vancouver, although we chose instead to take the quieter streets off Broadway. I was glad to be able to follow the two natives otherwise I could well still be circulating the backstreets. Soon the quiet backstreets gave out into busier ones and on in the drizzle we rode, onto the Lougheed highway, a rather busy two lane highway but with a mercifully clean and wide shoulder. Soon the Lougheed became somewhat more pleasent as it wound along the Fraser valley, and with, once again, a delightful tailwind we made blistering progress. I was joyously swept along in the wake of Eric and Michel, both of whom possess much better flat land speed than I. However, by the time we arrived at the first control I was wondering if keeping this sort of pace up was really sustainable for the next 3 days. Of course the only way to find out was to try, so off again towards Hope and the mountians.
Out of Hope the road went up, immediately. This was where our paths were predicted to part as we all found our own pace up the hills. We passed on the road a bike tourist from Montreal who took our picture on this our first climb, he was somewhat bemused, understandably, to be asked to take a photo of 3 people apparently doing the same thing as him but with 1/10 of his luggage. "But when do you sleep?" was his question, I still don't quite know how to answer that.
Michel rocketed off up the hill, then Eric who I later passed. No use in hurrying I figured, plenty more hills to have a go at later. The first climb up through Manning Park was in 2 parts, up for about 10km then flat for about 20 km before up again to the summit. After the first part I was pottering along on the flat having a rest when I spotted Michel in the not too far distance. This worried me. Michel, I had gathered climbs as though he is on an climbing on an escalator while you or I are on stairs, how could I have caught him unless I was going way too hard and brewing up for a major collapse? Eventually I crossed the summit and we all met up at the Manning Park Lodge for a warm up, arriving within about 2 minutes of each other. As we sat in the warm Michel explained that his left hip had started to be troublesome as he was climbing hard, but was fine when he backed off the tempo so had decided to take it easy.
Another hill before our control in Princeton, then a flattish section into Osoyoos and by now the westerly wind was howling. We roared along in the dark thanking our stars that we were not going the other way. After about 60 km we arrived in Keremeos, a town I had decided looked well placed for a night's rest. Michel and Eric wanted to carry on through the night, something I really didn't fancy doing if I was to ride home, however it is not often that one gets a wind that's quite as favourable as our's was. I was really torn between getting a bit of sleep and getting pushed down the road. I decided that the wind would proabably still be there in the morning so it was bed time for me and I bid Michel and Eric bon route. In Keremeos I had spotted the local Mountie waiting outside a bar so figured that he would be a good man to ask where to spend the night, or failing that acquaint myself with the man who was going to wake me up and tell me that vagrants/randonneurs were not welcome to sleep under a bush in his town. He told me of a campsite just outside town and that he wasn't worried about the nocturnal habits of randonneurs so off I set. I eventually found a suitable looking bank beside the road that was high enough that it offered a degree of seclusion from passing traffic, so bed down for the night.
When I awoke next morning satisfyingly the wind was still blowing so the next 50 km into Osoyoos fell pretty fast, except of course for the ubiquitous hill just prior to Osoyoos. Whilst eating breakfast at the Husky in Osoyoos I carefully studied my map looking at the road, counting the number of hills, many, and number of kilometers, more, left. Fortified with my Husky breakfast it was up the hill out of Osoyoos. I had been warned of the hill out of Osoyoos, but since it didn't feature on my map I reasoned that although steep it was not long. The fact that I could hear trucks with there engines roaring as they braked long before actually seeing them somewhat countered this argument however. The hill ground on and my Husky breakfast felt as though I was dragging a pack of huskies to the top rather than them dragging me. Nor did the tune "Those Magnificent Men in Their Flying Machines", which was going round and round in my head, help me fly up. Eventually I just had to stop. I could take no more. I could not claim the need to stop for any reason other than I just could not face pedalling my bike any further. My map had clearly shown that the high point on this road was just outside Grand Forks, 120 km away. I was barely 20 km out of Osoyoos. How many metres below sea level was Osoyoos? Was it possible for a road to go up for 120km? With such cheerful thoughts going through my head I girded my loins and pressed on up the hill. The road wound on with an eventually decreased gradient and the km ticked by, however, all the while I was accompanied by a sense of foreboding at the impending Leviathan of a climb which was surely looming. As the number of km to Grand Forks went down so, in my mind, did the steepness of this climb go up. Eventually after many km had passed I reasoned the grade of the hill had got to be so steep that, oh it goes down hill. And thus began the descent into Grand Forks. The hill never came and evil thoughts aimed at the map makers passed through my mind. On this descent I passed John and Danelle going west. This gave me happy thoughts, I was over half way, John and Dannelle were looking good and were also over halfway (their route was slightly different), it wasn't raining, the sun was coming out and I was on my bike.
Into Grand Forks and I had one mission. I wanted a burrito the size of my head. I had been dreaming of it for about the last 10 km so I stopped at a gas station to get some more drinks and chocolate and asked the girl where to get a burrito. She thought, then said: "Hmm, can't think of anywhere, this town is Russian mainly." Borscht isn't quite the same as a burrito.
Out of Grand Forks and onto the next stop of Castlegar 100km away, then if all went to plan I thought, I may even get to Creston. But as Rabbie Burns said: "The best laid schemes o' mice men, gang aft agley". What made this scheme "gang agley" was a hill called Paulson Summit and torrential rain. I had forgotten from my morning look at the map that there even existed a hill between Castlegar and Grand Forks so I was expecting to make good time along the road and after a brief nap in the sun I felt ready to go. However first a bit of bonk hit, then the road went up and the rain came down. I was mentally not ready for another hill especially after the Osoyoos debacle so with the road going up I nearly lost my mind. The passing trucks were going satisfyingly slowly as they passed, but after about 20 km of up I was going mad, why did the road just keep going up? Any bears in the vicinity got to hear some fine examples of British profanities, and various implorings to the Gods to please stop the road ascending. Eventually the road did stop going up and then the sign telling trucks to check their brakes appeared heralding the descent, and also the hail. Soon the hail stopped but the rain carried on and got progressively heavier, but at least the road was going down hill. The grade gradually lessened until it was such that pedalling along in top gear was an option thus allowing me to get some warmth into my soaking wet legs. When I finally arrived in Castlegar I was utterly drenched and began to consider my options: to carry on in the rain, which was not too bad in the valley but doubtless it was pouring up the next hill just outside town; find somewhere to wait for a while dry out before continuing onto Salmo before the last big hill, Kootenay pass; or to stop for the night in Castlegar, but at 8pm it was far too reasonable an hour to be thinking about bed. I remembered that John and Danelle had spent their first night in Castlegar and left some stuff behind so reasoned that maybe Eric and Michel had stopped in there too, to maybe pick up some bits for the last stretch. Upon enquiring if any cyclists had been through recently I was told two wet, shaking, slightly hypothermic specimens had arrived, were staying the night and planned to leave at 2.30 the next morning. This seemed a good plan so I decided to follow suit and spend the night in a warm bed, dry out and continue with Eric and Michel in the morning.
Far to early in the morning it was off this time as 3 again. About 2 km outside town Michel fortunatley got a flat tyre. I say fortunatley since as he was fixing it I was looking at his bike admiring his rather elegant Nitto bottle cages and with that swift clarity of thought that comes only after 600 km and not enough sleep, realised it was slightly strange that they were empty bottle cages. A quick return trip to the motel to pick up the bottles ensued.
Another hill into Salmo, followed by a quick spin alongside the river before the last real climb, up Kootenay Pass. The clouds were hanging low in the valleys making for a fantastical appearance, as Michel commented they could have filmed Lord of the Rings there. The grade ever steepened with no respite and we all turned our lowest gears. The kms slowly crept by, towards the end I had a great time trying to work out who had the lowest gear. Since my ability to do anything mathematical is the first casualty of a very early morning this passed the time well. The thoughts went something like: divide number of teeth on chainring by number of teeth on rear sprocket to find Michel's ratio. Divide two numbers to find my gear ratio. Realise I have forgotten the ratio for

Michel's bike. Repeat until you arrive at summit. Amazingly quickly the summit arrived, heralded once again by the check your brakes signs. Both Michel and I saw the signs, then looked at each other then at the sign, disbelieving that it was indeed the top, but thankfully it was. A swift fun descent in the clearing weather with a bear and deer for company beside the road, passed all to fast as we descended into Creston and met some headwinds. Thankfully the winds changed as we turned up the valley to Cranbrook pushing us along at a great rate arriving in Cranbrook at a blistering pace. The sun had even decided to come out too. Onto Fernie along the rolling roads, which were so much easier with a tailwind, so much so that we only really noticed how rolling the road was when we drove along it the next day, but soon the rain began again as we were outside Fernie our penultimate control.
From Fernie it was 50 km up to Crownest Pass but it was by now dark and the shoulder of the road had been really torn apart with rumble strips. This meant either play with trucks or ride on what was left of the shoulder which, although fine in parts, would occasionaly be hideously potholed or non-existent. Soon however the traffic thinned such that the main carriageway was the best option and on up the final hill. Just as we passed through Sparwood, home of the world's largets truck, with 20km until the top, Eric's Achilles tendon decided that enough was enough and that it was time to start hurting. But we were now within spitting distance of the end, so on we went. The traffic was very sporadic by now but there was one occasion when I heard a truck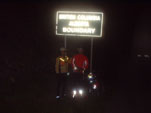 approaching behind and was idly wondering, given the Law of Traffic that states that on a dead quiet road, two trucks going in opposite directions will always meet when there is a cyclist, when the next truck would arrive. I was pleasently surprised that no truck came, instead an elk decided to cross the road. Crowsnest Pass arrived as a bit of an anticlimax, it was the gentlest climb we had been up, I had expected more from the Rocky Mountains, but was thankful nontheless. We took our photos at the border and coasted back downhill to Sparwood and the finish in a total of 64hrs 45 mins.
The next day, monday, I hitched a ride with Michel and Eric from Sparwood down to the first US border crossing into WA. The weather was not looking good in the Rockies so I decided to take the easiest way home. Once over the border the roads deteriorated as did the quality of the chocolate (Canadian chocolate uses the same recipe as British, so to my palate tastes so much better), and the winds were in my face. But since there was no longer time to worry about, I had a pleasant, lesiurely jaunt home arriving on thursday evening.
I even went over some more mountian passes!

May 26, 2005
This story originally appeared in the May/June 2003 SIR Newsletter. The photos are Will's except for the one from the start in Vancouver (Eric's photo). And just for fun, here's a profile of the hilly portion of the route: Hope to Cranbrook (click to enlarge):