Apologies to Michel Richard who submitted this story to the newsletter one year ago only to have it lost in the shuffle. At the time Michel was President of the BC Randonneurs Cycling Club and for flèche pacifique 2004 he was captain of the team called "All the President's Men".
Shame on You Mr. President
by Michel Richard
It was under rather inauspicious skies that the rather hastily put together 'All The President's Men' gathered at Chapter's on the corner of Broadway and Granville for a 16:00 start. The team, made up of Susan Barr( I know, I know... ), Barry Chase, Eric Fergusson and I eagerly left on time and in good spirits for the 501.9 km route that was a variation of one of Eric's previous participations. Barry was nursing an Achilles problem that was the result of a sadistic 400 km ride the previous weekend that I had had the good fortune of preriding two weeks prior. It didn't seem to be hindering him though as he set the pace early on guiding us through Vancouver rush hour traffic towards our uncertain Fraser River crossing via the Patullo Bridge.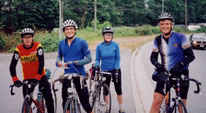 We were beginning to get into a rhythm along the customary Winston/Government corridor when I spotted a Randonneur Control sign on the side of the road. Sure enough, Danelle and John just couldn't resist setting up a secret check about a kilometer from their house. Photos were snapped and John handed us an alternative route around the Patullo Bridge which was undergoing repairs, should it be necessary.
We were shortly off again and quickly reached the bridge which posed no difficulties in crossing. Those construction workers must have packed early for the long weekend as the sidewalk was clean and tidy so no detour or shuttle was necessary.
The heavy traffic along the King George Hwy was actually helpful in countering a steady southern wind as we headed for the border. The pleasant on-again, off-again Croydon Dr. soon had us at the Douglas border crossing. Rather than irritate the border guards who were working to rule, we decided to self control our cards. After powdering our noses and refilling our bottles in the washrooms, we headed out along Zero Avenue.
After the initial roller coaster hills, the road started to gradually level out and we soon found ourselves in an echelon paceline against the wind, only occasionally tucking in to accommodate approaching cars. The majority of the hills and the worst of the traffic were now behind us. As we dropped down Huntingdon hill the wind was becoming more westerly and soon our pace was in the mid to upper 30's. Things were really going well, tailwinds and no rain.
O.K., it couldn't last. We began getting big isolated drops of water on us. Eric had at first thought that a bird had relieved itself on him, no such luck. The frequency of the drops was steadily increasing and anybody who has spent a lot of time riding in all sorts of weather knew what was coming, a storm! We pulled over on the side of the road and put on our duck weather gear and turned on our lights. It soon caught up to us and we were instantly soaked. The rain was bouncing off the pavement and the road was quickly covered in manure coloured streams. I was at the back of the team now and the spray off of Susan and Barry's bikes immediately had me blindly trying to stay on the road. I cursedly sprinted to the front and tried tearfully to get my vision back. By the time we made it to Vedder, our second control, I had my sight back but was still looking for my sense of humour.
Our attempt to control at the Esso gas station was met by a surly attendant who asserted that we would probably get quicker service if we went across the road to the McDonald's, so we did.
A lot goes through the mind of a soggy randonneur when he/she sits around in a warm restaurant with a warm drink, eating warm food, an awful lot. Well, we sat around for 2 hours. Initially, there wasn't much conversation as we wringed out our rain soaked clothes and draped them over the back of chairs, and filled up our fuel tanks with the "excellent" food for the task that lay ahead. I don't remember who brought it up first but once the idea of quitting the ride was suggested, the flood gates opened. It seemed we were all thinking the same thing, but nobody wanted to be the first to propose it. The heavy rain was showing no signs of letting up and the evening had barely begun. So, 127 km into the ride we were done. Eric got some directions from the staff and off we went shivering towards a hotel in Chilliwack.
Surprisingly, on our way there the rain sort of stopped. The hotel had an internet terminal so we decided to check the weather forecast to see if this really was the end of it. Forecast: Periods of heavy rain for the next 24 hours. Phew! What a relief. This hotel was booked, no, not with humid randonneurs. Anyway, a couple kms down the road we found one with vacancies. We let the organizers know of our plan, showered and spent a pleasant night under covers and roof, waking up only occasionally to hear the rain falling.
At 8:30 the next morning, we ambled over to the restaurant for a leisurely breakfast. Barry's wife had picked him up earlier, so we were down to three. After breakfast, quiet roads led us to Harrison where we checked the rando cabin. It was too early, noon, so no one was there yet. Susan decided she wouldn't wait for the brunch on Sunday so she left to ride home to Vancouver about 100 km away.
It was just Eric and I now. We checked into our hotel and made plans with Patti Marsh for dinner later that day. What to do now. It was too early to go to the bar and the weather was too unsettled to go for a long ride. We thought we should see the town by bike so we set out to explore. Well, the more we rode the better the weather got. We followed the road along Harrison Lake that led us to Sasquatch Park. Then we made our way to the cemetery and gun range ( coincidence? ) above the golf course. This road also swung by the Mountain and Kent prisons. Eric said he had always been curious about seeing those institutions. I said O.K. . We checked out the Mountain facility first, nothing special really. Just a few buildings surrounded by fencing and barbed wire. So we then went to Kent. This place seemed very different. The buildings had a more sinister look. Plus they were surrounded by a much higher fence and there were guard towers all around. We were stopped and pointing things out to each other and speculating on the bad boys who were taking up residence here. Once we had seen enough, we headed out again. A few hundred metres later I looked in my rear view mirror and noticed two bigs trucks racing towards us from behind. I jokingly said to Eric: " I think we're busted. " The first truck overtook us and motioned for us to pull over. We pulled alongside the first vehicle as the other one stayed a short distance back. The driver had a Corrections Canada uniform, a gun strapped to the dashboard and he wasn't happy. We were trespassing and he was threatening to have us arrrested. I could see the headlines in my mind's eye: " President Quits Ride And Gets Arrested, Members Demand Resignation". We played the ignorant cyclists part and got off with a stern warning to not come again. As we were sheepishly rolling away, we joked about not using this place as a control location.
The weather was really quite nice now so we kept on cycling over Woodside Mountain and turned right at the Sasquatch Inn to explore Morris and Hemlock Valley roads. We hadn't brought any food with us since we were only going to ride around the town. It was now several hours later and I was bonking. So before tackling the gentle side of Woodside on our way back, we decided to drop by the Kilby Store which was advertising homemade ice cream. They were out of ' homemade ' but they had regular stuff so we indulged.
By the time we made it back to Harrison it was 18:00, we let Patti know we were back and we'd be ready for dinner in 20 minutes. After showering and changing, we went to the pub. Eric and I then proceeded to ingest industrial quantities of food and a certain type of dark Irish beer. Having nearly satiated our cyclist appetites, we stepped in next door at the beer and wine store where we bought a six pack. We took this to the rando cabin which was staffed by the Penners. A happy, boisterous hour or so was spent debating and explaining our decision to abandon, trying to decide whether the decision was right or not. Should we feel guilty or not. Not drawing any conclusions in our now pickled minds we decided to get back to room and sleep on it.
Well with the new day we awoke and I certainly felt fine, good night's sleep and all, not a hint of guilt. And that's how I came to appear at the Sunday brunch, grinning from ear to ear, happy to tell our weekend's tale. I don't yet have a team set for next year, anyone interested?
Michel had no problem finding a team for 2005 - he and three other boys signed on with "Karen's Harem". Despite rain on Friday night (again!) the team finished without incident.

Submitted May 2004. Resubmitted May 2005