Greg from the Redmond Cycling Club, and eight of his friends joined us for the Lower Mainland Spring 300. Here's his story:
Taste of Summer
By Greg Sneed
At this time of year in the Northwest one is always worried about the weather before a long cycling event. All long-distance cyclists have war stories about the rain, wind, and mechanicals caused by lousy weather. It's hard to shake off the Randonneur's mindset about spring rides.
Well Gang, Linda Knapp & Sue Mattrews, Matt Dalton, Tom Killion, Ralph & Carol Nussbaum, Steve Rossano and Greg & Ruth "Lovey" Sneed from Redmond Cycling Club got a fine taste of summer riding with riders from The BC Randonneurs Cycling Club on their annual BC Randonneur Cycling Club's Lower Mainland 300K held on May 1st.
With Deirdre Arscott & Bob Lepage Co-hosting this spring classic approximately 50 riders started riding at 6am in 50-degree clear morning temperatures from Marina Park in Historic Fort Langley. With just a touch of ground fog the pack was soon gliding along the back roads of Glen Valley and Vye Road heading for the south crossing of the Canadian - U.S. Border at Sumas. There was the sun lighting up the hills with a slight tailwind as the riders rode to the first checkpoint at Lake Whatcom (78.6 Kms).
As we broke into our different groups riders stripped down to shorts and short-sleeved jerseys, the uniforms of summer, which we all had been waiting for since the start of the year. Ralph & Carol, Linda & Sue, and Lovey & I formed our own "100 of the Best" rotating three tandem paceline. The big rigs easily holding 18 to 20 mph heading south from Everson & East Smith road to the Sudden Valley Area. It was strange with all our years of combined riding the folks in our ride group had not ridden these roads before and found them even with the chip & seal beautiful for cycling.
The BC 300K was for Ralph & Carol and Steve Rossano the longest distance these folks had ever ridden. You couldn't tell that with the way these riders were enjoying riding the course. These three seemed to ride with more strength in the later parts of the ride. Well Done! Gang.
After riding the 20 miles out from Sedro Woolley to Concrete on Highway 20 Our group reached the Second Control at Concrete (157 kms) in 7hrs and 30 minutes. The ride was very well organized with the BC Club providing A-board signs, table & chairs and good advice on riding this difficult course.
Inside the restaurant groups of riders about filled up the place. Tuna Sandwich, Apple Juice, and Hot Beef Soup were great and recharged us after completing the first 100 miles. I'd felt at this point that we had had tailwinds mostly to Concrete and upon leaving Concrete after lunch we're were going to have to deal with headwinds back the 20 miles to Sedro Woolley. I was ugh correct.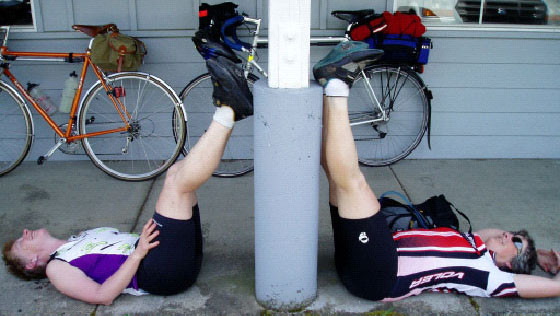 In case our BC Randonneurs friends have not seen this special Redmond Cycling Club ritual before. At the half way point of all long distance rides RCC Females offer themselves to the cycling gods for good weather. g
With temperatures above 80 degrees our three tandems headed back to Sedro Woolley and the first of my problems with our tandem. Lovey and I tend to stand a lot while riding our tandem. We both stand while riding to catch up to a faster group or for climbing short hills to stretch the legs. It's bad for morale when you stand and heard a grinding noise coming from the front of the bicycle.
First we stopped the paceline to check the front wheel loose spokes maybe. We started again. Second Stopping tighten crankarms and check pedals. Third stopping retighten bolt on newly installed consentrix. YES! With our ride group kindly awaiting it's a good feeling to solve a road maintenance problem in a reasonable amount of time.
The section from Control Point #3 at Alger (213 Kms) to The Douglas Border Crossing Control at 274 Kms and 12 hours on the road had drained me of strength. Ralph & Carol and Linda & Sue were doing most of the pulling at the front. I was trying the Ensure and Chocolate Milk method of settling my stomach. The temperature was dropping quickly as an overcast had set in. Lovey was doing fine but I was ready for this ride to be done.
From the border to Fort Langley was just 18 miles with four nice little hills throw in to finish off what was left of my conditioning. Our group completed The BC Lower Mainland 300K at 8:50 pm total distance 192 miles. Total time 14hrs 50 minutes a new speed record for Lovey and myself. The meeting of old friends, food and a few beers at the Fort Pub in Fort Langley. Priceless!
Well Done neighbors for a most enjoyable event.
Greg Sneed
Social Director
Redmond Cycling Club
[And here are a few more photos]
Note: This story was originally called: "Taste of Summer from The B.C. Randonneurs Cycling Club, British Columbia, Canada."
_