BC Randonneurs
Cycling Club
Next--->
The Twist In The Tail: Lower (and Upper) Mainland 300 - 2002-05-04
Harold Bridge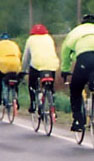 The building contractor who employed carpenter Michel Richard on expensive houses on Westwood Plateau has a lot to answer for! It gave Michel a lot of nasty ideas. To make matters worse, Michel's co-conspirator Karen Smith has friends who live in a big house in Anmore, close to Buntzen Lake. They succumbed to her charms and agreed to have the final control at their house, and that didn't close until Sunday at 00:43! Of course, having a route coordinator who is always looking for new roads to use doesn't help; he goes along with these schemes.
As a means of avoiding a drive home after a long ride I usually arrange with the organiser to start an hour early and do the last part of the route first. That is, if the route passes by home and this one did. But the 14.5 km to Anmore was going to take me about 75 minutes and I would be outside the time limit by the time I got there. So, I rode the Vancisle 300 the previous week instead. But, having not finished that I decided to give the lower mainland one a go. Not having tackled long climbs like Westwood at the end of a 300 before I wasn't sure what my response would be. If I lasted long enough I would find out.
Forty-eight riders assembled at Burnaby Lake for the 06:00 start that actually happened at 06:05. That rain would accompany them round the Fraser Valley was a given. As they galloped off a sedate group quickly formed the rear guard and I was dragging out the back on every slope, I felt dreadful. Heart rate normally around 120 went up into the 140s as I struggled up toward the Pattullo Bridge. I knew that the first 20 km would take forever. The hills put me out the back and vulnerable to green lights suddenly turning amber.
Finally, as we got up to Whalley we gathered together ready to get rolling along the Fraser Highway. But of course, there's traffic lights at every intersection and one is through Langley before the route is clear of the blight of suburbia. For a change we went south on 240th to Zero Av as our approach to the first control at the Canada Customs station. Here a shivering pair of Cooks, Doreen and Gordy, were stamping and timing cards. They also had food available, something we haven't seen lately.
Those who still have speed in their legs can afford to waste time at controls. I can't. Get all done that has to be done, grab some food and eat it on the way: "The sooner we start the slower we can go" is a British Club motto and applies very well to riding randonnees. It was a while before all were caught up and apart from the lumps on Vye Rd we were able to ride comfortably to Yarrow. A public facility caught my eye there and I off the back by a few minutes when my front tyre went flat shortly before the Vedder control. The event organiser being very helpful and trying hard to make up for the cruelty that was to come supervised the tube replacement.
I was beginning to settle down and started to think I could get as far as the halfway control at Johnson Slough. A big bowl of soup and muffin at the Vedder control made me feel human again and we set off on a very flat, wind assisted ride for the next 44 km. As we headed east at the Agassiz intersection we were able to check on the progress of some of the earlier riders fighting the headwind back from the control. I noted that Gary Fraser had decided to let brother Keith do his own thing, while he, Gary, took what shelter he could from a couple of other riders.
Last in, first out, I didn't stay too long with Bob and Patty Marsh at the rest area. I wanted to take my time on that drag back west so I could go over the top in company. It is a good road with a wide shoulder so that a 7 rider (Sharkey, Caton, Bailey, Bose, Brodie and Fletcher being the others) revolving pace line was set up to get us to Agassiz as efficiently as possible at about 18 kph into that stiff wind.
It was going to be a slog across Nicomen Island we thought. The trip up to Harrison was uneventful and it was a pleasure to use the back roads before hitting Hwy 7 and Woodside Mountain. Jack Sharkey on his ATB was having difficulty staying in contact and I think had to walk Woodside. I almost got to that, but a 26" gear (26x26) just about got me through that. A big incentive to stay in the saddle was the cleats on my shoes. Bob Bose on 30x26 (30") but wearing SPD's was encouraged to walk. (I've got 2 granny rings going spare Bob, a 26 and a 28; want to try them?).
It is said the sun shines on the righteous. It could also be said the wind drops for the righteous and once over Woodside we had a fairly comfortable ride back along 7. The weather had cleared up and the wind had dropped. THEN, we met the Mad Woman of Deroche. The policeman asked me if I wanted to lay charges and I declined, as there was no damage or injury. (But in fact I discovered 2 days later scabs on grazes on my knee where I had hit the road). Jack, with a Daughter in Abbotsford, decided he would quit at Deroche and the Mountie gave him a ride.
A roadside conference between Lake Errock and Deroche, another one in Deroche where the woman had parked her Plymouth van by the phone box and yet another one on the approach to Mission where the Mountie stopped us to collect names, date-of-births, phone numbers and statements all must have cost best part of an hour. Then we stopped at Rocko's in Mission for more soup before heading for Maple Ridge about 20:00 hours.
(Editors note: more on this later when the Mounties are finished their investigation into said woman.)
We arrived at the control in the rain. David Blanche did a trojan job signing cards there. One of my rear lights had quit on me, the one on the left of course. Michel swapped the good one and the bad one. He also tried to get my BB generator working. We both assumed it had succumbed to the rain and I had to do without that big beam. In the light of day on Sunday I saw the problem. One of the spade terminals had become disconnected! Think positively! After the Maple Ridge meander, by the Pitt River Bridge, I had to stop and replace dead batteries in my Cateye Halogen. About then a toot-toot from a white Chrysler van denoted the McGuire passing by.
On the previous Thursday I had ridden from Port Coquitlam to Port Moody via the Westwood Plateau and Anmore route. I had planned to go the whole way to Burnaby. But while re-toothing my chain at Anmore I realised my pump was still sitting in the Hinde's car on Vancisle. So I turned for home. The ride from Oxford St at #7 Hwy to the Anmore control had taken 1 hour 4 minutes riding time or 70 minutes total. I guessed I would need between 80 and 90 minutes at the end of a 300. That meant I had to be at Oxford St by 23:15, latest. If I didn't make it I would go round the corner home.
We reached that watershed at 22:25 whereupon Bailey punctured. About 23:40 we set off, everyone following me, as I was the only one who knew where he was going. I will draw a veil over the traumatic grunt to Anmore, suffice to say we got to the control more-or-less at midnight, confirming my estimate. Descending Sunnyside with a hint of snow in the rain was made a bit of an adventure without my 6v Union headlamp and with brake levers getting very close to the 'bars.
But it was all over bar the shouting and once on the Barnet Hwy Bose took off like a scalded cat. We were together as we turned onto Sperling and I, smelling the barn, took off assuming everyone was there. Got to Broadway and had to wait for them all. Round the corner to find a happy Miss Smiff ready to sign our cards at about 01:30 Sunday morn. But, where was Bailey? He scraped in just in time having punctured again somewhere over the 300 km mark and virtually walking distance from the finish.
Now, three days later, I'm still tired. My left knee, where all the arthritis trouble started in 1994, is clicking and groaning. But I got a nice pin, designed by the very same Miss Smiff! Thanks guys, don't do it again, eh?!
_