BC Randonneurs
Cycling Club
Next--->
Cycling BC, what's in it for me?
Ian Stephen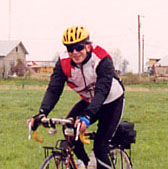 The question was recently asked "What's in it for me to join Cycling BC?" The discussion that followed made it apparent that there is confusion over liability insurance through Cycling BC membership. I phoned Cycling BC Executive Director Tom Fawsitt to get the definitive scoop on this topic.
Tom assured me that any insured Cycling BC membership includes 24 hour liability coverage while on your bike. What has changed is the medical and dental coverage under the policy. Medical and dental are provided only on the way to or from a sanctioned event, during a sanctioned event or while training for a sanctioned event.
What qualifies under "while training for" could be very important to randonneurs, many of whom consider their commute to be part of their overall training strategy. Tom has raised this question with the insurer and they are working on a definition of training. As a guideline the insurer said that if the rider is in their training gear, ie cycling clothing and helmet, they could be considered to be training.
For those like myself who join Cycling BC for the liability coverage;
Yes liability coverage is included with insured membership.
Yes it is 24/7.
Yes the membership forms are available from www.cycling.bc.ca
So get insured!
_