BC Randonneurs
Cycling Club
Next--->
North Van, Squamish, Whistler, Pemberton, D'Arcy and back, 400km ride, May 27, 2000
Val White
Woke at 0300 to the sound of rain pelting against the bedroom window. Those who wanted this particular 400km ride moved to May to avoid the heat of July had their wishes granted as the rain poured down and dawn was only a slight lightening of the grey sky. Astonishingly, fifteen brave and eager riders showed up to attempt one of the hilliest routes on the randonneur calendar for this year. All registered quickly and efficiently, making my job easy; even the two Americans had Canadian money with them. Sharon and Roger Street showed up to lend support and advice prior to taking on their role at the secret control. Sean Williams (what a nice guy!) came to bring something for Keith Fletcher. At 5 the usual aggressive types were off while others dawdled and Hank Berkenbos dithered about whether he was going to ride in the rain. I left with Bob Bailey to ride the route as far as D'Arcy and then help with the organization in the latter half. I guess Hank decided to go back to bed, smart man, as he never passed us. I can't comment on the early part of anyone's ride as we were at the tail end, taking our time, enjoying the scenery!! and getting flats. (Mine required a boot after I hit a piece of sharp rock, which had fallen off the cliff above the road, and which slit a one inch gash in the tire and tube; I had been carrying this boot material, that Danelle had given me, around for years and was glad to get a chance to try it out and, surprisingly, it lasted for the rest of my ride.) Stopped for a double espresso latte and scone at the Starbuck's in Squamish and then a few minutes later to chat with Roger and Sharon who had seen everyone through the secret control. Then the climbing really began, but it didn't seem too bad; as Roger said, you feel like you are getting somewhere, rather than the up and down from North Van. to Squamish. Once the blue sky peeked through and I thought it might clear up, but no luck. I do remember how long it seemed from the first Whistler sign to the Creekside Petrocan where Susan and Doug were waiting after just shooing Bob Bose and Keith Fletcher on their way. The four of us had a substantial lunch at a very homey cafe, just next to the Husky station before the Petrocan on the left side. Then we were off on the easy part to Pemberton where we decided to call it a day and where we had arranged for Bob's friend Theo to pick us up. We drove up to D'Arcy seeing many of the riders starting on their long way back, all of whom seemed to be in good spirits, considering what they had been through. For a short while the rain stopped, and again it seemed as if it might become decent, but no such luck.
We then drove to Whistler (after picking Theo up where we had left him to watch the hockey game in the bar of the Pemberton Hotel; each to their own!) to Bob's cousin's place so I could get a shower and we could all go off to the Keg for a great meal while everyone else was out slogging in the rain which had begun again in earnest. Alex called to say he was waiting for Bob and Keith to check in at Pemberton, and then he joined us. We six had a great meal. The plan then was for Bob Bailey to go to the Creekside Petrocan and wait till Wayne Harrington, Bob Bose and Keith arrived to see if anyone was bailing and needed a ride as the conditions had become truly horrid again with nightfall. Alex and I were going to head down to Squamish, checking on people as we passed them. However, no sooner had we reached Brandywine Falls, where the rain was almost snow, when the cell phone rang and it was Bob asking us to return to Whistler as a lot of people were quitting due to the atrocious conditions. When we got back to the Petrocan, Bob Marsh was there and was already loading two bikes into his truck, Bob Bailey was loading up a few others and Alex went off to find Bob and Keith. Danelle and two others went to her condo in Whistler, and with us taking a few bikes, everyone and their bike was taken care of or transported back to North Vancouver.
Meanwhile, Karen Smith was staffing the finish control at Tim Horton's, planning to stay there till 0800 the next morning, but now finding that she would have a relatively early night. We got back there at 0140, just as Keith Nichol, Dave Johnson, Michel Richard and Noboru Yonemitsu were finishing and congratulated those who had made it through the deluge. (It was amazing how many people there were at Tim Horton's at 0200!) In all, only six of fifteen completed the ride that day. Three others completed on different weekends riding on their own: maybe they knew something about the weather that we didn't!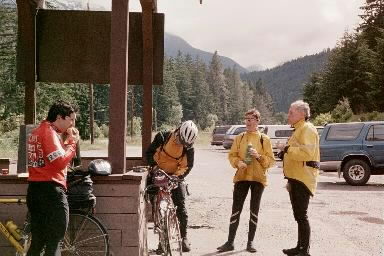 Jean-Marc (I think), John Bates, Danelle and Ron Himschoot at D'Arcy control on 400km ride.
A few comments from us as the organizers. Some people were very well dressed for the weather: Wayne Harrington as an example, while others must have thought they were in a tropical downpour: Ted Milner, for example, who had to be lent a jacket by Susan Allen. Even though these were really extreme conditions, some people need to give more consideration to their rain gear and having enough layers of clothes on to be warm, if not dry. (I still have a jacket, with hat and gloves in the pockets, which was given to us somewhere along the way, and which I have washed; somebody please claim it!) Alex, Bob and Karen used cell phones a lot; we felt much more comfortable knowing where everyone was and how they were doing given the weather.
My solution for this route: make it a 300 km ride from North Van. to Pemberton and back. It is too nice a route and too challenging to give up entirely, but making it shorter would allow people to finish by midnight and so not have the daunting task of spending a whole night on that highway, which truly was dangerous in those foul weather conditions. Similarly, if the weather was very hot, as it was on the previous running of this route, the shorter ride would make it less extreme, but still take in almost all of the climbing.
Our thanks to Sharon and Roger Street, and Susan Allen and Doug Latornell for helping with the controls; to Bob Bailey for riding with me to Pemberton and for transportation when I had told him he was back-up, and probably wouldn't even be needed; and to Bob Marsh for turning up at just the right time.
_