This story was submitted to the BC Randonneur newsletter, March 2008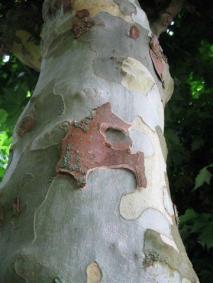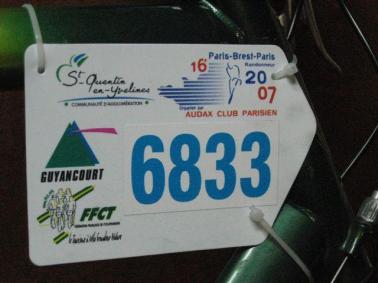 PBP 2007:
My Long, Wet and Windy Road to Paris
by E.W. (Wim) Kok
Introduction
Somewhere, some time, someone mused that if you have done PBP once, you will be changed forever. Affirmative! My experience at PBP 2003 was such that I wanted to be back for PBP 2007. Paris-Brest-Paris is a 1,227 km long distance cycling event, dating back to 1891. And so it happened again in 2007. In retrospect the road to Paris was long and windy in many ways. First, the qualifying brevets. The early cold, cool and windy brevets, which as time progressed did get a bit warmer, but also windier, and many times not in my favour. Second, there was a minor delay in getting by train from Rotterdam to Paris by TGV, not much in the bigger scheme of things, but somewhat symbolic in that it represented one of those challenges one has to deal with. Finally, the actual event, leaving Paris and getting back there via Brest in 90 hours or less; in my case 84 hours. While the North American literary community celebrated the 50th anniversary of Jack Kerouac 'On the Road Again', we celebrated our own version of on the road again: the 116th anniversary of PBP. Not that is has been run every year; then again Jack was done after writing only in one sitting. For us, days and nights of cycling from Paris to Brest and then back, the culmination of yet more days of 'on-the-road' preparation. I completed three 200 km, one 300 km, one 400 km and two 600 km brevets. The rest was training, so by the time PBP rolled around I had 2,500 km worth of brevets and another 2,000 km of training in my legs for a 4500 km total. So here's my account of PBP 2007.

To reduce the jet lag effect we traveled to Europe well ahead of time. To arrive well rested in Paris, I had booked an early trip by train from Rotterdam to Paris. Arriving at Rotterdam Central, I waited for the arrival of the Thalys to Paris. That train never came. Minutes before departure it was announced that the train was stuck in Amsterdam: mechanical breakdown. The advice: "Find your own way to Brussels and connect there with the next Thalys. Have a good trip. Goodbye." That meant taking a local train - comparable to a milk run - to Roosendaal, transferring to another delayed train to Antwerp and Brussels, dragging backpack and bike-in-the-box (ironcase) in-and-out of trains, up-and-down stairs, because as luck would have it, the elevators were also out of order. Just don't sweat the small stuff. Ironically, 'Thalyscope', the on-board magazine, advertised a carefree trip, speed and good food. We barely left Antwerp and the food ran out. Some advertising! In all fairness to Thalys, the return trip was much better.

Finally I made it to Paris Gare du Nord, where some huckster wanted to get me a taxi-van to Plaisir. "Deux cents Euros," his price. "Non, cinquante Euros," my response. "Deux cents." Non." Deux cents." "Non, non!" End of dialogue and with that we parted. Amicably? Hard to say. Part of the business. Suckers may be born every day, but that day I wouldn't have any of it. So back in the line-up, patiently waiting for a smaller and more reasonably priced cab. Yes, I got one. Not only was the cost a mere E 46.50, the driver also knew the road to Plaisir, and he drove much gentler than the cabby four years ago. Could not help but think that the trip was a test of patience and taking it in stride, an approach that also comes in handy while cycling under adverse conditions. At the Hotel Le Pavillon des Gatines many of the Canadian contingent had already arrived. Time to assemble the bicycle and make plans for the days leading up to the great adventure. Anticipation. Excitement!!
Friday August 19: Anticipating PBP.
On Friday Ross Nichol and I decided to pre-ride parts of two legs of PBP, the first and final one: first from Plaisir to Nogent le Roi, a shortcut to Dreux, and then back to Plaisir at an easy pace. We set out from the hotel under chilly conditions down the hill into Ergal, to connect with PBP's outbound route. As we cycled away from Plaisir, we passed billboards plastered with "Paris-Brest-Paris 16th Edition." Then there were those towering ones with Jacques Bilinski's imposing picture from PBP 2003, when he obviously cycled himself into that picture, and now in 2007 was trying to cycle out of the same. Paused for a few photo ops between Ergal and Jouars.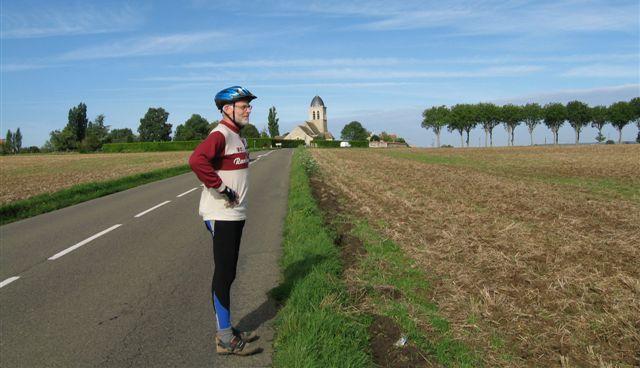 We often stopped to taste the flavour of the region, ate sweet blackberries, munched our lunches on a small 'bridge' accessing the front steps of a church in Nogent. We overlooked the Eure River. Did a double take: first a shortcut to Dreux, then pictures of fields of flowers.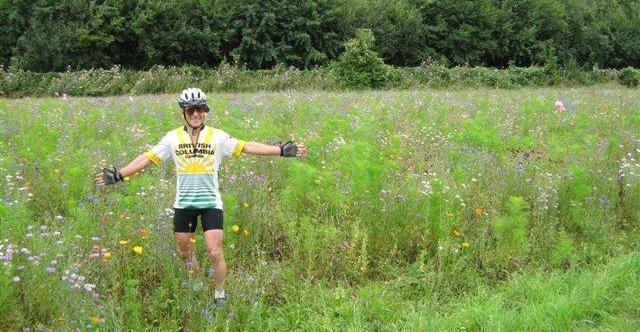 Near Dreux we ascended a hairpin to reach the city's edge, figured out where the return route was, turned around and descended the same hairpin into the countryside. In St. Gemme-Moronval we stopped at the bridge across the placid Eure, briefly thought about writing a poem, then ascended another hill before becoming rural again. Blooming poppies invited us to stop and record this Van Goghian moment.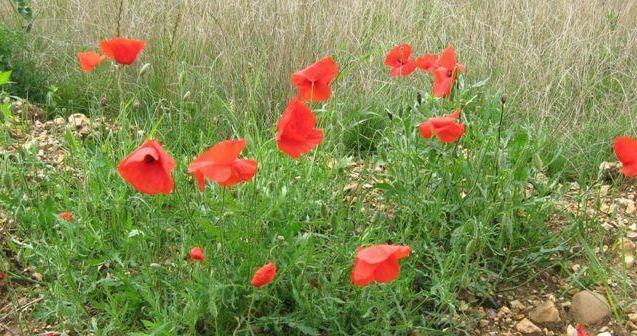 The countryside was rich in fruit. Small orchards with apples and pears. Fruit de campagne. Chestnuts, hazelnuts, and walnuts everywhere. Fruit de bois. Mountain ash and blackthorn. The latter has a purple fruit, which even when ripe tastes so sour, that it draws the jaws together. Then again the fruit makes a good wine and an excellent liqueur, apparently tasting much better. Blackberries and elderberries make excellent jams and wines. According to folk medicine dried elderberry blossom make good herbal teas to alleviate colds. It's all there, just for the picking: fruit de pays.
Since the PBP 'fleches' had not yet been mounted along the route, we carefully oriented ourselves back across the wide open space. Grain fields, crops harvested, only stubble left. Grain elevators, depopulated countryside, sprinkled with tiny hamlets, some so quiet and deserted, which made us wonder if anyone was left. Imprints of corporate agriculture, of course superimposed on that other corporate landscape of imposing castles, churches and estates. Remnants of days gone by, but firmly embedded in the physical and human landscape. As we cycled, we read the landscape attempting to discover "who we were, who we are, and who we are about to become" (with due credit to Pierce Lewis). This of course also refers to the social relations of feudal times, the ones that are often buried in that same landscape or simply left untouched during touristic pursuits. Near Conde-sur-Vesgre we returned to the inbound route and headed back through the villages. The Rambouillet forest with its heather in full bloom, chestnut and oak trees fully loaded - fruit de bois -- food for 'wild' boars. In Montfort we paused for an Orangina and ice-cream, then finished our 140 km PBP pre-ride.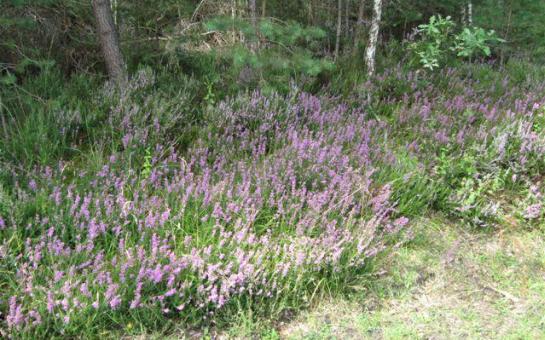 Saturday August 20

On Saturday we cycled via the Bois des Loisirs to the start, enjoyed a lunch, then tried to head back via the official route. We must have missed a turn. We did and felt lost until we saw a road sign "PBP assistance". Followed the signs and ended up, actually down in Gif sur Yvette, a small, but very picturesque town in a valley. Here we did what men usually do not do - but randonneurs will do: we asked for directions at a local bicycle store. "Nous nous perdons! Ou est la route a Plaisir?" translating our dilemma. The store owners not only pointed us in the right direction, they also gave us a regional bicycle trail map. Upon my return I sent them a postcard: "compliments of Canada." The route from Gif to Plaisir meant exploring a new a part of the region, albeit by accident. Up the Merantaise valley, then across the river into Chateaufort, where a recumbent tri-cyclist came literally flying down the steep hill. Man and machine bounced over speed bumps, just about not making it. Wow. Lots of guts I'd say, possibly lacking brains! If he hadn't made it, he would most likely have spilled his guts, too. Literally that is.
Sunday August 21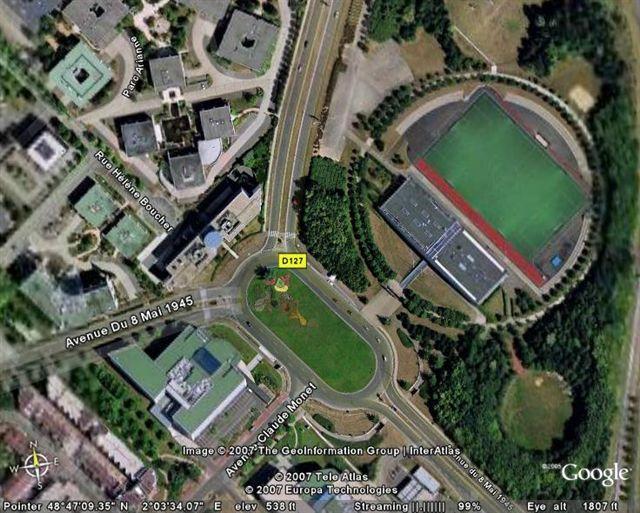 This was the easy day where we were to register, do the bicycle check and the group photo. As we arrived at the Gymnase anticipation and excitement filled the air. We stopped, I got my bicycle tagged by Bill Bryant (RUSA). Glad to have a chance to finally put a face to a name. Through the tunnel to the front of the Gymnase for the BC and Canadian group photos.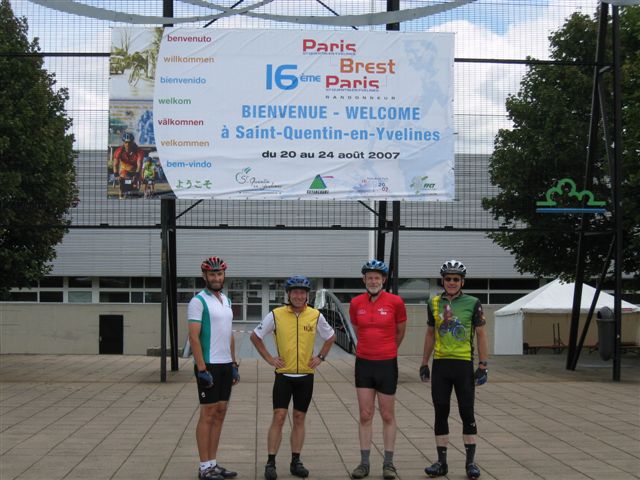 On account of the rain the bicycle check had been cancelled, so registration was easy. What an atmosphere, meeting friends from brevets gone by, recounting memories of fun and suffering. It was all worth it, otherwise we would not have come for more. Registration went quickly, I parted with a few Euros for an FFCT cycling cap and a multi-purpose neck warmer. Considering the weather conditions, that neck warmer proved invaluable. Met some of the 2009 LEL organizers: Heather, Damon, Ivo and others. Learnt about Simon Doughty's unfortunate accident earlier this year. Simon is the author of the Handbook for Long Distance Cycling and other books, and co-organizer of LEL 2005.
The Weather - Intermezzo
The weather before and during PBP 2007 deserves an honorable mention, at least. After all, it did everything wrong to draw our attention. Daily newspaper columns in Le Parisien, such as "Quel temps fait-it?" and "La meteo des vacances" provided a healthy dose of morning weather info, it was often accompanied with commentary so prosaic, one swears only the French are capable of. As randonneurs we kept of course more than one eye on the weather, looking for those bright spots. Le Parisien not only provided that essential information, but also sprinkled it with heavy showers of black commentary, as if that did not brighten things up. The writers did a marvelous job. For me these columns were a morning delight, if only for their tone of sarcasm. Kept a few notes, after all they made a good read. Headlines in Parisien (Aug 18): "Meteo de l'ete: le vrai bilan" and "Le triste bilan meteo d'un ete a oublier." One article opened with "SACREE METEO," a very strong expletive about the state of weather, an expletive so strong our mothers definitely wouldn't approve. It then let loose about the lousy state of affairs: "It - the weather that is - leaves a sadness worthy of crying about." Maps illustrated and underscored how wet it had been in July and August thus far. While Brittany was wet in July, for August the pattern shifted to the Ile de France. It was so bad that the same paper (Aug 24) announced: "Ile-de- France: Jamais aussi froid depuis 1970, jamais aussi humide depuis 1950." That was essentially the meteorological context for PBP 2007. It might make us feel better! For the record, let me cite a few more of those comments.
The outlook for the beginning of PBP was poor at best; the prediction for Tuesday was 'depressant', while Wednesday's scene was dubbed 'une crime', so bad that to beat the weather the reader was advised 'chasser les escargots', pick snails. Good suggestion, because they were out in droves. By the way did anyone check the bicycle after the event? Mine had collected a lot of them, pieces that is. For Thursday there would be signs of improvement, especially in Brittany, however this would be offset by very strong winds. Some improvement! Another commentary read 'Les excuses de Mister Apollon' (Apollo - Sun God) and referred to the state of weather as 'Le meteo culpa'. Enough said about it. The forecast and patterns preceding PBP provided ample warnings for some last minute mental training, most likely 'gritting teeth' and 'grinning and bearing it' exercises. From a practical perspective, checking PBP rain gear and warm clothing seemed an obvious choice. Judging by the scant clothing of quite a few riders at the Monday night start, I wondered how many did not, and by default scripted their own demise? Unfortunately, they did not get away with it.
Monday August 22
Another easy day in the park. Went for short trip to Plaisir where we picked up a few last minute items, necessities or panic inspired rituals to address those nagging insecurities. Last chance. I picked up a few clinchers. Installed a Hutchinson Fusion on the rear wheel, pumped it to 115 psi and felt good about this new rubber for the road. More lazing around. Everyone wanted to get going. The training and preparation were done. What were we waiting for? Anticipation got mixed with impatience. Later that afternoon we went for the last supper, saw huge line-ups and dark clouds. The meal was simple and fine, the ambiance contagious. The countdown for the 80 hour group was as exciting as seeing that 500+ pack of cyclists leave. Not so exciting: the sky, it did not look good at all. Things were definitely brewing up there. Time to head back for some sleep. Our turn would soon come.
Day 1: Tuesday August 23: Paris - Tintineac (366 km)
1. Guyancourt          Start   (Km 000)  140 km
2. Mortagne-au-P       Km 140  (Km 140)   82 km
3. Villanies la Juhel  Km 222  (Km 222)   88 km
4. Fougeres            Km 310  (Km 310)   56 km
5. Tintineac           Km 366  (Km 366)
Guyancourt - Voisins le Bretonneux - Montigny le Bretonneux - Trappes - Elancourt - Ergal - Jouars - Les Mousseaux - Le Tremblay sur Mauldre - Bazoches sur Guyonne - Montfort l'Amaury - Les Haizettes - Gambaiseuil - Gambais - Bourdonne - Conde sur Vesgre - Grandchamp - Faverolles - la Butte d'Auvergne - Coulomb - Lormaye - Nogent le Roi - Ormoy - Tremblay les Villages -Chateauneuf-en-Thymerais - St Maixme-Hauterive - Jaudrais - Senonches - Neuilly sur Eure - Etang des Personnes - Longny au Perche - St Mard de Reno - St Germain de Loise - Mortagne-au-Perche - Parfondeval - St. Jouin de Blavou - la Gravelles - Sure - Mamers - St. Remy du Val - la Hutte - Fresnay sur Sarthe - Souge le Ganelon - Le Gue- Ory - St Paul le Gaulthier - Averton - Villaines-la-Juhel - Loupfougeres - La Croix Barbe - Hardanges - Le Ribay - Charchigne -Lassay les Chateaux - Chantrigne - Ambrieres les Vallees - Gorron - Herce - Levare - St Berthevin-la Tanniere - La Tanniere - St Ellier du Maine - Le Loroux - Laignelet - Fougeres - Bliche - Romagne - St Sauveur des Landes - St Hilaire des Landes - Vieux Vy sur Cuesnon - Sens de Bretagne - Feins - Dinge - Tintineac
In the wee hours of the morning we cycled from Plaisir through the suburbs to Le Stade de Droits de l'Homme. Was dark; the skies were cloudy. After getting our control cards swiped - recording that we were indeed present - we found ourselves corralled in the holding pen near the start. The moment we'd been waiting was about to arrive. Gyancourt [Km 0 @ 5:10]. A few minutes after five an air-horn blared a sickly sound, and more than 700 got on their way, not as madly as the 2003 start, but still hairy enough. The grand peloton set in motion, finding its way, carefully watching for and avoiding obstacles on the then wide, then again narrow roads. This caused an accordion effect, where the peleton was on-and-off compacted and stretched, creating a few delicate situations. As the riders cycled quietly, but intensely, the peace was interrupted by warnings and squealing brakes, subtle signs of slight panic and nervousness. Understandable, since many had trained and waited for four years to be here. No-one wanted to see the dream end prematurely in the first few kilometers, or even the last. Unfortunately one rider wasn't so lucky. He was walking with what looked like a crumpled bicycle. That handheld contortion appeared to be result of a brutal collision with an obstacle, cataclysmically ending his dream at km 17. So sad! What a way to end PBP 2007, barely 1.4% of the distance into the ride.
That incident reinforced the message: heads-up, keep your wits about and then some. The mantra: only the most alert will survive. While Jim, Ross, Clyde, Susan and I cycled more or less together for awhile, it was not long before we lost track of each other. Trappes, Elancourt and Ergal, then to Jouars, past the church on the hill. A serpentine of red lights weaving its way up the gentle slope, imprinting one of those magic moments in the mind. To the south of us dawn was cracking, at least attempting to cast whatever feeble light it could below the darkening clouds that approached from the northwest. Exactly where we were headed. Then Les Mousseaux, and Le Tremblay sur Mauldre, before we made our way into and through Montfort l'Amaury. Once outside Montfort and into the countryside, an element of calm came over the no longer so madly moving mass. We started to settle down and in for the long haul.
Gambaiseuil, les Haizettes, Bois de Rambouillet. Cote de Gambais. The first gentle hills, followed by a fast descent down the Cote de Gambais into Gambais itself, where two not so gentle speed bumps cruelly separated the boys from their poorly attached toys, as had happened in previous PBPs. History was repeating itself. Water bottles, head lights, tail lights and other paraphernalia lay strewn all over, just as I had predicted would happen a few days earlier. We then did a left turn onto the 'grand' Allee de Gambais, followed by a sharp right and almost immediately another left to go through very quiet Bourdonne. The grand peleton was no longer. Torn apart. Whatever shreds were left, they now consisted of smaller groups, dropped riders who could no longer maintain the pace - I was one of them -- and others who tried to leapfrog from bunch to bunch. I had mixed feelings about this, since I ended up riding solo, then again I do this a lot where I ride brevets. Nothing new. I knew that here at least someone would come along, or I'd catch up with others somewhere along the route. At Conde sur Vesgre we picked up the 'route de Nogent.'
Past Faverolles, Grandchamp - yes there was indeed a very big field. Fields of grey canola stubble, weathered by the elements since the harvest. These fields created a somber landscape, one that mirrored the gloomy skies. NW winds low clouds, drizzly. Somewhere near Senonches a farmer was spreading liquid manure across the field, which added a special aroma to the ride. Mmmm. Thanks, but no thanks. With increasing daylight, yet darkening clouds, those skies became grimmer and grimmer by the kilometer. There was no escape: we were on a collision course with the ugliest of the elements: a 'wind-and-rain' combo. The clouds came in like a steam roller, covering and hiding everything in sight. Then the skies just opened. Hopped into my rain gear just in time before the deluge. Even noted some hail. "This could become a very interesting PBP," was all I could think at the time. Down into and out of Nogent-le Roi so picturesquely situated in the Eure valley. On to the plateau headed for Mortagne [Km 140 @11:06] 'controle ravitaillement', the first meal stop on the ride. I didn't need an excuse to sample the selection. Before long I was on the road again. Soon after I noted Grant McLeod parked along the road with a broken chain. A quick link provided that instant relief and we cycled together to the next control. More showers. Stopped to put on rain gear again, ate more blackberries. That sweetened the wet ride a bit.
While cycling along memory lane toward Villaines, I had this flashback 2003. During the third night on our return after a pretty hard push, I almost faded into oblivion. We stopped for while, we recuperated and continued. Somewhere past an intersection, it may well have been near St. Jouin de Blavou or some other saintly place, there they were: Samaritans providing solace for the suffering souls. And I was suffering that time. Coffee and food. For that bit of mercy shown here, these women for me will always be the "Sisters of Mercy" This is what I thought about when cycling along the site in 2007. It was still heartwarming four years later. Arrived in Villaines La Juhel [Km 222 @ 14:06]. The festive atmosphere was so inviting. The announcer informed the crowd about the arriving riders: "Voila un randonneur canadien; ah, un autre cycliste d'Allemagne, etc."
Since we missed the food services here four years ago, it was not going to happen this time. It took awhile before I got a handle on this labyrinth of buildings. Probably stayed a bit too long, but the food was good. Onward through small places with churches, and past churches with small places. The weather seemed to clear up a bit, but that might have been an illusion on my part. Past Chantrigne we descended into the Varenne valley, climbed out of it again, then a long descent into the Mayenne valley. We crossed that river in Ambrieres les Vallees, then climbed back onto the plateau to head for Gorron. Decorated bicycles marked the course here. Once suspects that more than one local cyclist has successfully completed PBP, hence the community's touch and the tribute. That community sense continued along the route, and certainly reached its peak in La Tanniere, but more about that on the return trip. Soon after we reached Fougeres [Km 310 @ 20:30], but not after quite a stretch of city cycling.
Time for a sit-down meal. The sit-down was the easy part, after all we had practiced this for more than 300 km. Putting that food down the hatch was more difficult. The body seemed to refuse the food. I couldn't help but think about those poor geese in the Dordogne, the ones that are force-fed in order to produce foie gras. While I did not have to do that, I did some force- feeding on myself. Drink the thin potage slowly, eat the haricots verts, pomme de terre et un peu de viande, replenish the liquids. It worked. Prepared for the night, put on reflective vest, dressed warm and then tackled the route to Tintineac. It was good going. Dark yes, but smooth roads made the ride go easy. Rode most of this section alone. I was playing with the thought of pushing on to Loudeac, another 85 km beyond Tintineac. The thought of arriving at a very crowded control at 4 in the morning did not have any appeal. Some call it the "Hell of Loudeac", others refer to it as the "Battle of Loudeac." The first day had been challenging enough for me. Not that is was a battle or hell, but as they say in life 'one picks one's battles', the same applies to PBP. For me Loudeac was not one of them. While I did not design a minute-by- mile plan for PBP 2007, I more or less used 2003 as my default strategy. Finish before midnight at Tintineac, take a shower and short sleep, then continue riding into the dawn of France. Arrived close to midnight in Tintineac [Km 366 @ 23:49]. Yes, I did enjoy the hot shower and the sleep.
Day 2: Wednesday August 23: Tintineac - Brest- Carhaix (334 km)
1  Tintineac  Km  00  (Km 365)  85 km
2. Loudeac    Km  85  (Km 450)  76 km
3. Carhaix    Km 161  (Km 526)  89 km
4. Brest      Km 250  (Km 615)  84 km
5. Carhaix    Km 334  (Km 699)
Tintineac - La Baussaine - Becherel - Merdreac - Quedillac - La Prevostaie - Le Parson - St. Meen-le-Grand - Loscouet sur Meu - Illifaut - Meneac - La Trinite Porhoet - Plumieux - La Cheze - Loudeac - Treve - Grace-Uzel - Les Aunecades - Merleac - La Porte aux Moines - St. Martin les Pres - Corlay - St Nicholas de Pelem - Plouvenez-Quintin - Lustruyen - St. Lubin - Kerdouc'h - Mael-Carhaix - L'Enseigne - La Croix Neuve - Carhaix-Plouguer - Poullaouen - Huelgoat - la Fueillee - Roc Trevezel - Ty Douar - Sizun - Dirinon - Loperhet - Plougastel-Daoulais - Pont Albert Louppe - Brest - Lavallot - Guipavais - Landerneau - Le Queff - Sizun - Ty Douar - Roc Trevezel - La Feuillee - Carhaix-Plouguer
After a 2-hour sleep I was out of there again, rested and refreshed. Left Tintineac in the dark. While it was drizzly, I soon stopped to take off my raincoat. I must say that despite the rain and cold, my Merino woollen shirt was a lifesaver during PBP. It kept me comfortably warm. The same for that piece of FFCT cloth, called multi-functional tubular wear with 14 (!) functions. Passed several riders in the dark, cycled with Patrick Chen from Ottawa for awhile. Passed many small towns, most of which felt empty, almost abandoned. I suspect that on account of the weather, the night shift of the cheering crowds had found better things to do. Couldn't blame them. After all what kind of folk would be out there cycling in this weather anyway? We of course, the PBP smitten ones. It was early morning when I arrived in Loudeac [Km 449.5 @ 06:26]. After breakfast I cycled on to Carhaix through tiny villages along hollow roads with some very scenic sections. Just before St. Martin les Pres, the 2003 outbound secret control, I saw Ken Bonner heading back to Loudeac. The 2007 secret control in Corlay mandated a brief stop. Not far from Carhaix I noted Eric Fergusson, who was also eastward bound. The weather got markedly better, even sunny. Before Carhaix I overtook Cor van Leeuwen (the Netherlands), whom I met during LEL 2005. Cor is the author of "De Randonneur," a great book with short stories (in Dutch) about his randonneur experiences. Very well done, and above all humorous. We chatted for awhile. Cor expressed an interest in riding the RM 1200 in 2008. Arrived in Carhaix-Plouger [Km 526 @ 11:06]. Feeding time again. Saw Mike P, who had decided to switch roles and as he wryly noted: "to join the ranks of the spectators." Considering the many abandons, I learnt that PBP 2007 was becoming quite the battlefield.
The road out of Carhaix is always a bit of challenge, but soon one is on a quiet country road, steadily climbing through a beautiful landscape covered in forests. After more climbing we arrived in Huelgoat, a small resort on an equally small lake. A secret hideout it seemed (Breton 'goat' = forest). The town has reinvented itself as a tourist town. It had a long history as a mining town. The lake was created as a water source for a few regional mining projects a few centuries ago, by diverting water via a flume quite a distance away. After Huelgoat we climbed a bit more, then the road leveled off. At La Feuillee we joined the main road to Brest. Here the real work was thought to begin: climbing Roc Trevezel. In reality it is almost a non-event, except for the landscape, the views and the wind. They were all remarkable. The exposed site at the Roc made us aware that there was still that stiff wind. It would be resisting us all the way to Brest. Even gravity had trouble with it for the descent was very slow. I had to peddle against the wind, which made it feel more going up than down hill. Past Sizun my hope to quickly arrive in Brest was challenged by even stronger winds. Wildly swinging transmission lines underscored this. Spring training in the Peace however paid its dividends now; I felt I could handle the wind and maintain a decent pace. Among the scores of riders returning from Brest, I noted Ross, who by now was some 50 km ahead of me. There was Jim Fiddler returning and another BC Randonneur, whom I did not recognize at the time. The route continued up and down, up and down, up and down, an almost eternal roller- coaster. Finally the long descent and there it was: Pont Albert Louppe running parallel to Le Pont de l'Iroise, the other bridge, that magnificent piece of architecture.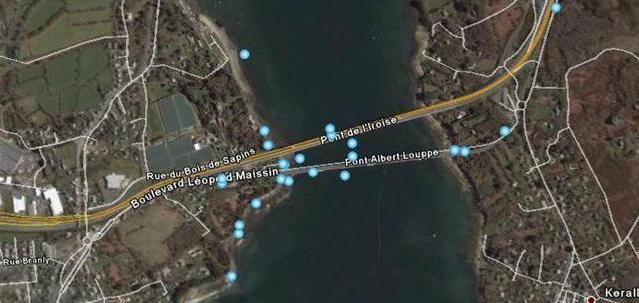 It marked the halfway point of PBP. Once across the bridge we climbed some more, after there were still 6 clicks to the control. We cycled along the beach of Brest, a Beach Boys's tune "Wouldn't it be nice" playing in my mind. Arrived at the control at Brest [Km 615 @ 16:25], the mid point amid cheers, applause and encouragement.
As always, Brest was an impressive control. It felt as if we had achieved a major dolmen, that prehistoric rock in the region. Then there was that one free beer and the-to-be-paid-for shower. Did those liquids ever taste and feel good! A good meal was next on my list. Eating is an absolute necessity on an event like this. While the meal took again too long; then again it was time well spent to refuel and recover. That ounce of prevention and recovery is definitely worth that pound of cure to be paid for a bonk, when it occurs. Better that extra ounce going uphill than dragging those pounds of bonk. When I finally got on the bicycle again for the second half, more applause and encouragement. More than once I experienced this heartfelt generosity and this element of respect. Here it struck me that PBP is much larger life, much older that history, and bigger than the region.
The exit from Brest follows a long road, a slow challenge since most of it is uphill. Once in the country side I cycled at a good pace through Lavallot and Guipavas, suburbs of Brest. At Landerneau we cycled along the estuary, turned right to cross it and went uphil again. I figured that this must have been hill # 193, although it was not marked. Past Le Queff, then Sizun, where a lot of riders stopped for supper. Since my Brest meal was already well on its way to decomposition, I continued. After all, I didn't like the idea of cycling up the Roc on a full stomach. Compared to 2003 that climb now seemed somewhat arduous, probably due to an uncooperative wind. Finally, there it was: Carrefour 764/785 and the Roc's summit. Most riders stopped to prepare for the upcoming chill, downhill and darkness. For some reason dusk seemed to last longer than in 2003. The downhill was sure a blast as we passed the Huelgoat turnoff to Carhaix. Meanwhile on my left I noted ominously looking clouds approaching from the north; another collision with moisture, another shower of the free kind, albeit involuntary. Arrived in Carhaix-Plouger [Km 699 @ 22:03] in the early part of the evening. Despite that hour, I decided to sleep for a few hours. Partly because I could use the rest, partly because my metabolism and pace drop at night. The dorm was near empty, which made for a quiet sleep.
Day 3: Thursday August 23: Carhaix - Mortagne au Perche ( 385 km)
1. Carhaix         Km  00  (Km  699)  76 km
2. Loudeac         Km  76  (Km  775)  85 km
3. Tintineac       Km 161  (Km  860)  57 km
4. Fougeres        Km 218  (Km  917)  86 km
5. Vilaines        Km 304  (Km 1003)  81 km
6. Mortagne-au-P.  Km 385  (Km 1085)
Carhaix-Plouguer - La Croix Neuve - L'Enseigne - Mael-Carhaiz - Kerdouc'h - Sain Lubin - Lustryen - Plouvenez -Quintin - St Nicholas de Pelem - Corlay - St Martin des Pres - La Porte aux Moines - Merleac - le Aunecades - Grace-Uzel - Treve - Loudeac-- La Cheze - - Plumieux - La Trinite Porhoet - Meneac - Illifaut Loscouet sur Meu St. Meen-le-Grand - - Le Parson -- La Prevostaie - Quedillac - Merdreac - Becherel - La Baussaine - Tintineac - Dinge - Feins - Sens de Bretagne - Vieux Vy sur Cuesnon - St Hilaire de Landes - St Sauveur des Landes - Romagne - Bliche - Fougeres - Laignelet - Le Loroux - St Ellier du Maine - La Tanniere - St Berthevin-la Tanniere - Levare - Herce - Gorron - Ambrieres les Vallees - Chantrigne - Lassay les Chateaux -Charchigne - Le Ribay - Hardanges - Croix Barbe - Loupfougeres - Villaines la Juhel - Averton - St Paul le Gaulthier - Le Gue-Ory - Souge le Ganelon - Fresnay sur Sarthe - La Hutte - St. Remy du Val - Mamers - Sure - la Gravelles - St Jouin de Blavou - Parfondeval - Mortagne-au-Perche
While the Carhaix sleep break was brief, I felt quite refreshed. There was more of that when I stepped outside: chilly, damp and dark. It looked like it had rained again- after all what was new? It did not take long before I was in the countryside cycling along narrow rolling roads, canopied with trees. These provided protection from the elements. I soon warmed up and had to stop to dress down, partially that is. Came upon and stayed briefly with a small group of rather happy riders. They were trying to get themselves organized, obviously their drill sergeant was missing. Since their pace was so much slower than what I wanted to do, I picked up my speed. No-one followed. By now I generated enough body-heat to fend off the chill of the steady rain. The skies had opened again, the rain returned in bouts. Yet, the rain, the darkness, and the narrow road had a very special atmosphere. For a while I wondered why. It reminded me of my youth in the rural Netherlands. I often cycled in windy, wet and dark conditions. I did not seem to mind now. It was one of the better and memorable parts of night riding.
Can't recall exactly where, but in one of the towns along the route, a café was still open around 2:30 in the morning serving PBP riders. As I passed, it looked fairly quiet, so I hopped off the bicycle, found myself a bar stool and ordered a 'grand café au lait' for body and soul. Both bartenders, who didn't seem quite organized, were processing my order and few others. Suddenly some 20 riders entered, sending the place in a tailspin. Almost bewildering. I just sat there, observed the scene, one worthy to be retold, which is what I am doing. For a moment one of the bartenders had this panic-stricken 'deer-in-the-headlight' look in his eyes. What had hit the place. Delegation did not seem to be a strong point in terms of management style. They recovered and hit their stride. Orders moved back and forth, so did staff, dirty dishes, and supplies of cups, saucers, glasses, cutlery, and food. Yet, the place had character and that's what counted. It buzzed. Some riders, edgy, pushy and in a hurry, others patiently and politely waiting, some so relaxed that they might have stayed longer had their companions not urged them on. Despite the pressures, every order got filled, including mine. It worked. Ca va bien n'est-ce pas! More evidence of 'savoir (sur)vivre'. The stop was worth every second of it; the service much appreciated. So I hopped on the bicycle again and continued, buoyed by the experience. On the way I passed several slower moving groups of riders. Well before dawn I arrived in Loudeac [Km 773 @ 4:40].
Here everything looked wet; everything felt wet; yes, and everything was wet. Dark, desolate and dreary best describes the outdoor scene. Nothing more can or should be said about it. Parked the bicycle, got the card stamped, then sat down for a hot meal. 't Was cosy warm and relaxed inside, definitely a place to hang out for awhile. Judging by the nodding heads, many cyclists responded to the call. Met up with Karen, who was wondering where Bob was. Merely 45 minutes later I headed for Tintineac through the same small villages as on the way out. Near Illifaut we were detoured, led off the beaten track into a small park for a second secret control, the same one as four years ago. I did not spend much time here. Soon I hoisted myself in the wet saddle. Passed through 'Loscouet sur Meu, St. Meen le Grand, Le Parson, Le Prevostaie, Quedillac, Merdreac, Becherel and La Baussaine', places with names which if properly sequenced could form the lyrics for that perfect rap song supporting a perfect cadence; then again in that sequence, they could also be the perfect recipe for getting lost. Without getting rapped or lost, I made it to Tintineac [Km 860 @ 10:31] for another stamp and feed. Sat down with Ray and Leif. Ray unfortunately suffered from Schermer's neck, an affliction that makes the head go limp. Arrgh! The section from Tintineac to Fougeres left few memories. Have to ride that section again, if alone to create them. At daylight the weather was looking up, I thought. Cycling at a good speed I caught up with Keith and Darren just before Fougeres. We tore (legally) around some rond-points, and went down a steep and narrow road. Stopped briefly to take pictures of Keith and Darren, barreling down the hill.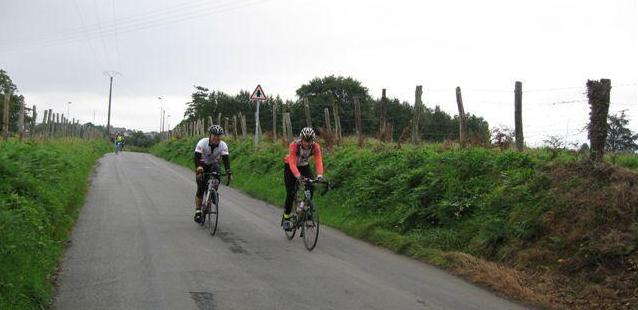 Continued down hill, did a few sharp turns, crossed a small river, climbed yet another hill before the control, which I am sure the organizers placed there to ensure that we would have an appetite upon arrival. With those bonuses and challenges we made it to Fougeres [Km 917 @ 13:48].
After the lunch break onward to the next control through a quite landscape to Villaines. Cycled with a group of French riders for while. It was not long before we arrived at La Tanniere, one of those absolutely must stop places along the route. It is here that Paul and Jeannine Rogue have set up a concession, where PBP participants can enjoy a crepe, a drink and encouraging words from the many villagers. They gathered here - as they have done so many times in the past - to show support for the riders. By the way, Paul was actually in the event himself, so family, friends and neighbours pitched in. A real community effort. The only price, a picture postcard from our area. Admittedly, I did not stop in 2003, but did send a postcard to express my appreciation about a year later. Yes, the card was on display. This time, I stopped, ate, drank and sent a card. Soon after I was on the road again, I noted another roadside stand: a table with three kids and one of their parents offering water, coffee and cookies for a small donation. I had to stop to appreciate their support. Well fed and emotionally buoyed by the experience, I continued across the Alps Mancelles.
Close to Ambrieres a group of fast riders overtook me, I latched on with some trepidation. Their road discipline left much to be desired. While the descent into Ambrieres is both exciting and scenic, it has to be done cautiously. Exciting in the sense that there are a few hairpins to negotiate, which I'd describe as hee-haw moments. There were riders who ignored the blind left hand corners of those hairpins, going full speed downhill across the center-line. Lucky for them no oncoming cars. Scenic in the sense that we descend the plateau down into the Mayenne valley. Along the waterfront, a sharp left hand corner, across the bridge, and then a sharp right and uphill once more. The speed gone, we found ourselves climbing. People encouraging us. A group of four kids stuck out their hands, trying to 'high five' us. I responded in kind and counted out aloud: un, deux, trois, quatre; then repeated it in English: one, two, three, four. A nearby mom smiled, obviously enjoying the scene. So did I. On the way up I noted Jim Fiddler, who had briefly stopped. Soon he passed me, most likely not realizing that I was on my way up as well. He speeded down the Varenne valley toward Lassey les Chateaux. I tried to catch up. Initially, no success. I thought I had wings, but it look like Jim was on fire and had more wings. Meanwhile the plan to ride my own pace apparently went right out of my panniers, I gave chase and finally caught up. Together we arrived in Villaines la Juhel [Km 1004@19:12].
Here, the festive atmosphere was still in the air. Curious spectators watching us. Supporters and fans encouraging us with bon route and bravo. Those incredible volunteers going the extra kilometer beyond 1227, sparing absolutely nothing to help us. After three days, the announcers were still going full bore, enthusiastically entertaining and informing the crowds. I wondered if they actually had gone to sleep? Most riders however were in a much quieter mood, knowing full well that the last night loomed. This is the night where the real challenges lie ahead: sleep deprivation, time pressures, more than 1,000 kms of fatigue in the body, yet that final goal - Guyancourt, still 200 km away --- to make it before the cut-off. While I went for food, Jim took his machine for a tire check. After finishing my meal, no sign of Jim, nor his bicycle, so it was off to Mortagne-au-Perche, taking advantage of as much daylight as possible.
As I passed through the many small towns, the ride seemed easy. Assisted by a slight tail wind I cruised along quite nicely. To the north the clouds returned, more moisture on the way. As darkness fell, my pace dropped. There were not many riders on the road. Where were they? There were few signs along the road. Where were they? And, there were few trees along the road. Where were they? Especially now that I needed these sentinels to guide me in the darkness across the wide open plain. The last two hours felt like cycling in a void. No landmark, no beacon anywhere. My sense of place was rapidly dissolving. My sense of time vanishing into that infamous black hole. My bicycle lights provided no more than tunnel vision into a dark eternity. Wondered if that was my destination? Did Mortagne still exist? If so, where was it? Finally, there it was: Mortagne [Km 1084 @00:16]. Pulled just after mid night. My sense of place and time had returned. Eternity had ended, but the rain was back again: for many riders that other eternity.
Day 4: Friday August 23: Mortagne au Perche - Guyancourt (142 km)
1. Mortagne    Km 00   (Km 1085)  74 km
2. Dreux       Km 74   (Km 1159)  68 km
3. Guyancourt  Km 141  (Km 1227)  Finish!!!
Mortagne-au-Perche - St Mard de Reno Longny-au-Perche - Marchainville - la Ferte Vidame - Lamblore - La Mancelliere - La Mancelliere-Montmureau - Brezolles - Laons - Allainville - Vernouillet - Cimetiere de Vernouillet - Pres Vernouillet Mairie - Dreux - St. Gemme-Moronval - - Luray - Mezieres-en-Drouais - Marsanceaux - Germainville - Broue - Becheret -Boutigny -Prouaix - Bouchemont - Allemant -Conde sur Vesgre - Gambais - Cote de Gambais -Gambaiseuil - Montfort l'Amaury - Bazoches sur Guyonne - Les Mousseaux - Jouars -Ergal -Elancourt -Trappes - Montigny le Bretonneaux - Guyancourt
For Mortagne I had planned for a sit-down meal and that classic 'head-down-on-the-table' snooze, so characteristic for PBP riders at this stage. It was not to be. Someone cranked up the music, which was amplified in 3-D. So much for my winky plan. It was so loudly thwarted. I needed some sleep, so I got up and went 'linea recta', in non-Latin: 'as the crow flies' to the building next door. For a few Euros I got a cot for a few hours. Merci, non, mais, I don't want a shower - I am/was wet enough - probably needed one, though. That sleep made a big difference. When I got outside again, it still rained. Everywhere puddles, more puddles. Everything was colder now, damper and wetter. It must have been a bit after 2:20, when darkness swallowed me again. At Longny au Perche the route deviated from the one in 2003. Not that I noted or remembered much of it. There were still not many cyclists around, which made me wonder at times whether I was on the right route. Didn't have much sense of where I was going, except that it was mostly uphill. My pace was faster than many a cyclist ahead, so whenever red taillights came in sight, those were good signs and causes for sighs of relief. Those sparse fleches along the road did the same.
The climbs were countless and endless, they kept on coming, and we did. Quite the roller coaster. Passed a few riders, met and struck up a conversation with a British rider. This took the mind of a dark and grim night. A small peleton formed behind us just outside Marchainville. As the road snaked through the night up yet another hill, we rode side by side until in one of those inside sloping corners - suddenly and without warning - the British rider went down. The road was very slick. Luckily, no damage or injury. A bit further riders stopped. Trouble in the night? They had safety concerns. It seemed that a wire had been strung across the road; the earlier fall was blamed on an oil slick. Pranks? Hard to believe. As the riders were chatting, I spotted Jeff Mudrakoff. We decided to move on, carefully riding two abreast, using our headlamps to spot danger. These incidents combined with fatigue had everyone on edge. That soon changed and as we relaxed we increased the pace quite a bit. We signaled for others to take the lead, but no takers. Let the crazy Canucks do it. So we continued at the front to la Ferte Vidame. Here the forest made way for the wide open fields of the Paris Basin. Dense clouds delayed dawn. A little after 7:00 we entered Dreux [Km 1,159 @ 7:15]. Sigi Palme exited for his final push to Paris.
After leaving the control we crossed N12 overpass and connected with the route Ross and I had explored a week earlier. Flying down the same hill and hairpin again -- hee-haw!! then back in the country throght St. Gemme de Moronval.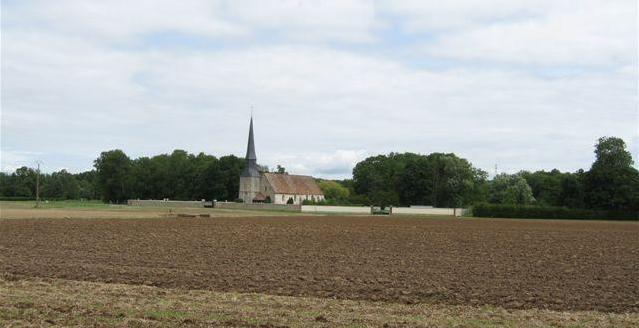 The route was fully 'fleched' now, which made route finding effortless. Through small towns we rode to Conde and we merged with the outbound route. In the Bois de Rambouillet I struggled up a few steep slopes, passed Montfort, Bazoches and Les Mousseaux and continued uneventful until past Jouars. Here an impatient bus driver almost caused major trouble. Unwilling to practice the virtue of patience, he decided to pass a large group of riders full speed on the down hill. Luckily, an oncoming car veered onto a side road, thus avoiding a major catastrophe. This was the only act of driver stupidity I noted during PBP. As we got closer to the finish, some cyclists started to race and took unnecessary risks in suburban traffic to make it quicker to the finish. What difference does it make? Finally there it was: the Rond Point des Saules and 'le Gymnase' in Guyancourt [Km 1227 @ 11:42]. Fini! Done! After parking the bicycle, getting my card swiped for a final time, I handed in the brevet card with all the required stamps and times. We were back where we started: 78:32 after the airhorn sounded. Spend some time chatting, then enjoyed a meal (again). After that headed back to the motel for a four hour nap. As we left the Gymnase I noted a group of French randonneurs ready to return home. Just the way they moved, they radiated that special spirit, embodying what PBP was all about. After the snooze, we went for supper and reminisced about PBP 2007 past.

Post Script on PBP 2007: The Quantitative and Qualitative Analyses
Comparing PBP 2007 with 2003 left me with a few observations. First I slept about 6 hours, as little or as much depending on how one looks at it. My three sleep breaks straddled the midnights, depending on when I arrived at the control. The nights themselves seemed longer, certainly darker. While there were some slow sections, I did not experience any low points like in 2003. Food wise, I ate mainly at the controls, although I could have eaten more on the road while cycling. For me there is still room for fine tuning in this department. Clothing wise I cycled mainly in tights. Cold and wet conditions were therefore less of an issue. The long sleeved Merino wool jersey, even when wet kept me comfortably warm. That multi-functional tubular wear kept the neck and head warm. Under my helmet I wore the FFCT cycling cap, which diverted the rain and dripping 'head' waters. It also shielded my eyes from the headlights of oncoming cars. I used the rain jacket/pants quite a bit, although under drizzly conditions the wool jersey shirt was sufficient to keep me warm, even while wet. I wore heavy woollen socks - not the most elegant summer wear -- but they did the trick of keeping my feet warm. Equipment wise, I used the same bicycle as 4 years ago, equipped with 700 x 23C tires at 115 psi (Hutchinson Fusion on the rear; Stelvio on the front). Not a single flat. Fenders and two panniers stuffed with the necessities of life. I used a helmet lamp and two Cateye EL 530 lights. These worked fine most the time, although under dark and cloudy conditions they created a bit of a light tunnel effect (Note: not the light at the end of the tunnel effect). Physically, I suffered no ill effects from the ride; no tingling hands or saddle sores.
Table 1 displays my 2003 and 2007 arrival times. It also shows the 2007 closing times and the 2007 time buffer at each of the controls. My 2007 arrival times are remarkably close to those from 2003. The biggest difference occurred when I hit Mortagne-au-Perche on the way back. I was about 3 hours faster. In 2003 I encountered a near meltdown, which was more due to nutrition management, or lack thereof in the previous hours, than any road or weather conditions. The increased buffer gave a chance to 'enjoy' almost two hours of sleep at Mortagne. Overall, I was nearly one hour faster than 2003.
Table 1: Comparing Arrival Times 2003 and 2007 *
Control     Distance   Arrival   Arrival     Closing    Buffer
              2007      2003      2007        2007       2007**

St. Quentin  Start     05:00   21/8 05:10   21/8 05:00   0:10**
Mortagne     Km  140  ~12:00   21/8 11:06   21/8 13:30   2:34
Villaines    Km  222   15:29   21/8 15:32   21/8 18:30   3:08
Fougeres     Km  310   20:30   21/8 20:28   21/8 23:50   3:32
Tintineac    Km  365   23:58s  21/8 23:49s  22/8 03:10   3:31
Loudeac      Km  450   06:21   22/8 06:26   22/8  8:15   1:59
Carhaix      Km  526   11:06   22/8 11:07   22/8 12:55   1:58
Brest        Km  615   16:41   22/8 16:25   22/8 18:30   2:15
Carhaix      Km  699   21:47s  22/8 22:03s  23/8 01:05   3:12
Loudeac      Km  775   04:31   23/8 04:40   23/8 07:05   2:35
Tintineac    Km  860   10:45   23/8 10:31   23/8 13:50   3:29
Fougeres     Km  917   14:00   23/8 13:48   23/8 18:10   4:32
Villaines    Km 1003   19:29   23/8 19:12   24/8 01:10   6:08
Mortagne     Km 1085   03:30s  24/8 00:36s  24/8 07:00   6:34
Nogent (2003)Km 1168   09:07    -     -     2003 12:30   3:23 (2003)
Dreux  (2007)Km 1159     -     24/8 07:15   24/5 12:10   5:05
St. Quentin  Km 1227   12:28   24/8 11:42   24/8 17:00   5:28

Total time: 78:32           s - Sleep break
* With thanks to Bill Lindsay, Hudson Hope, B.C. and John Bates BC Randonneurs for tracking my times
** Buffer adjusted in all cases for the 10 minute start delay.
Figure 1 shows my 2007 progress against the time windows - opening and closing times - for both the 84 and 90 groups. This displays 'where' I was relative to the closing time of the controls. The buffer is based on arrival times. At each control I consumed - read: not wasted - a bit of the buffer. I purposely did not hurry through most controls. For me the sit-down meals provided both nutrition and recovery. When I arrived at Tintineac, I had about 3.5 hours in hand, which enabled me to take the first 2-hour sleep. As I returned to the road, my buffer continued to hover around 2 hours at Loudeac, Carhaix and Brest. Despite a slow return climb up the Roc, the buffer was 3:12 in Carhaix. This allowed for a second 2-hour sleep. There was a slight dip in the buffer by the time Loudeac came in sight. After that the buffer increased substantially. A third sleep break in Mortagne was more than sufficient to maintain a generous buffer by the time I rolled into the Stade de Droits de l'Homme. Of course, the increased buffer is partially due to the relaxed speed limits in the second half of PBP.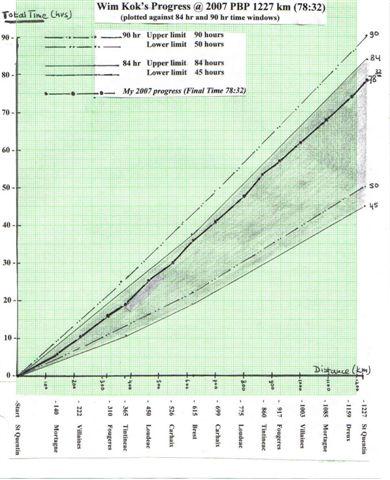 After having completed PBP twice now, the obvious questions must be asked. What were my experiences, and would I do it again? Most of my experiences have been recounted in the preceding. At this point I would certainly like to go back for a third time, simply to experience it again. There is however also another curiosity, which I am not sure can be satisfied by riding PBP as a brevet. This is the need to get a better feel for the villages, le pays and la region, the people and their traditions. What is that make them tick so passionately about PBP, so much that they'll stay up all hours of the night to help us and to be part of this. It must the most basic in all of us: humanity. That's one part. The other one is the question about their deep attachment to PBP. This can only be found in the history of PBP, recounted in the many writing on this topic.
One piece that can shed a bit of light is a book I came across recently. Listening to CBC's 'Dispatches' I heard Rick McInnes Rae interview Graham Robb about his latest book: "The Discovery of France: Historical Geography from the Revolution to the First World War." In it Robb explores why "France is not Paris and Paris not France." Since that interview I acquired this delightful book. In the chapter: "journey to the centre of France" he writes that on September 6, 1891 thousands of people watched more than two hundred cyclists depart in the first PBP. In Normandy villagers had set up tables with food for the passing cyclists, as is still the case. The region of course has also been the cradle for cycling, including many of the great Tour de France winners such as Anquetil, Bobet, Cornet, Hinault, Petit Breton, Pottier and Pelissier. Many of the villages and towns have cycling clubs involved in racing and velo-tourism. One can't help but think that the bicycle and cycling is deeply ingrained in the regional identity. "La bicyclette, c'est nous," could be the rallying cry. But let's not get carried by regionalism, this imagined community on wheels that goes well beyond France during PBP and the months leading up to it.
Incidentally, Robb is an academic and a cyclist. To do the research for his book he spent four years in libraries, and get this -- he cycled more than 14,000 miles, or 22,500 km in the saddle through France, for
"[C]ycling not only makes it possible to conduct exhaustive research into local produce, it also creates an enormous appetite for information. Certain configurations of field, road, weather and smell imprint themselves on the cycling brain with inexplicable clarity and return sometimes years later to pose their nebulous questions. A bicycle unrolls a 360-degree panorama of the land, allows the rider to register its gradual changes in gear ratios and muscle tension, and makes it hard to miss a single inch of it, from the tyre-lacerating suburbs of Paris to the Mistral blasted plains of the Provence. The itinerary of a cyclist recreates, as if by chance, much older journeys: trans-humane trails, Gallo-Roman trade routes, pilgrim paths, river confluences that have disappeared in industrial wastelands, valleys and ridge roads, that used to be busy with pedlars and migrants. Cycling also makes conversations easy and inevitable - with children, nomads, people who are lost, local amateurs, and of course dogs, whose behaviour collectively characterizes the outlook of certain regions as clearly as human behaviour once did." (Robb, 2007:xvi).
What more can be added to this quote, which so succinctly captures it all. Cycling indeed reveals much about the world around us, its past hidden for many, yet so explicitly exposed in many of the elements of the very landscape we cycled through during PBP. The route by the way is plastered with religious symbols as Robb explained, so freely appropriated by many. Most obvious are the places we cycled through with names such as Saint Jouin de Blavou, Saint Paul le Gaulthier, St. Hilaire, St Berthevin, St Gemme de Moronval, just to name a few. While these are the saints of the past, honored in statues, crosses and names, every PBP creates a new generation of saints. They may remain nameless, without statues or other symbols. To me they are the volunteers who run PBP, put in countless hours, forego sleep to contribute to the passion. I will not forget the kids, the retired, too many to name. They should include St. Jeanine and St Paul in Tannierre for that wonderful service along the road, so should others for the same. Then therre are the saints, the ones on wheels, the cyclists with whom I cycled, sharing the PBP experience as well the insights in life, the gratitude and let's not ignore that either, the pain and suffering before, during and after PBP in that greater ride, the brevet of life. Last but not least I must and do recognize my partner in life: Driekje who has earned her sainthood long ago by sharing the ride of life with me. For her this story. Thanks to all of you. Enough said.
* * * * *
© Copyright 2008, E.W. (Wim) Kok