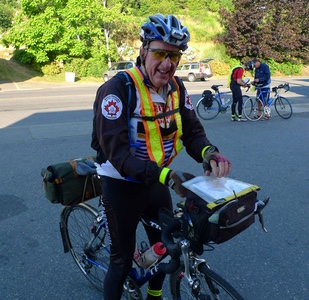 Remembering Dave Gillanders
Member #815 Dr. David Gillanders dies at 90
by Manfred Kuchenmuller
Our long-time friend and fellow randonneur Dr. Dave Gillanders passed away in his sleep on the morning of June 9th, 2022 in his 91st year. Dave began his randonneur cycling adventures in his '70s after a long career as a GP in Powell River and Vancouver and as an ENT specialist in Vancouver where he practiced into his early '80s. His daughter Meghan Lahti informed me that her dad delivered most of the children born in Powell River during his time there between 1958 and 1966 when he looked for bigger challenges and went back to school in Vancouver to pursue his ENT specialty. She said that her dad always challenged himself in work and recreation. As a young GP in Powell River he took up golf, fishing, skiing, tennis, bridge, to which he added cycling in early 2000.
David took up cycling on the heels of his young son-in-law Paul Lahti who was an avid cyclist and racer. David cycled across Canada with his wife Barbara supporting him and then with Paul decided that it would be fun and challenging to ride PBP. He joined the Vancouver Velo Vets and BC Randonneurs and from then on he became an committed and undaunted cyclist. Throughout his cycling career David was supported by his wife Barbara, who accompanied him on all his ultras, who also on occasion cooked after ride dinners for us, and by Meghan and Paul. David completed eight Super-Rondonneur series between 2003 and 2011 and ten Fleche events in that time, most often as a member of the Travelling Willoughbys, Fleche team. That was not all, as David was still doing Locums in the early 2000s and still focused on completing an ultra-distance Randonneur event.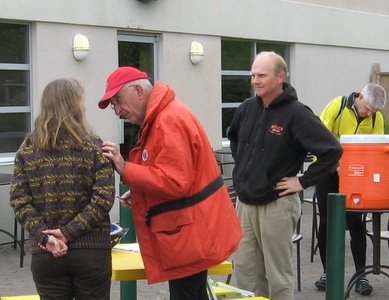 I once asked David about the challenge of practicing his ENT specialty well past normal retirement age and he said give me a patient with an ENT problem and I can tell you right away what is wrong with him/her. That was Dr. Dave, brilliant in his profession and always self- assured. While he no longer needed advice in his profession because he always knew what to do, his professional knowledge did not always help him ride thoughtfully. Dave was a very strong rider who followed his belief that "I can do this". Those of us who rode with Dave and enjoyed his company often had to work hard to contain him and stop him from taking off in the wrong direction or getting lost in the middle of the night, as happened from time to time to the dismay of his fellow riders, or making sure that he ate, drank and got enough sleep to keep him on his bike. Top of the list of people Dave would listen to was Deirdre, the one person whose advice and support he accepted without question. Planning for the longer rides was not Dave's forte and consequently the ultra events typically eluded him.
David attempted the 2003, 2007 PBPs with Paul but fell short because of his sleep and food deprived state or just his confidence in his ability to finish without food or sleep. In 2007 David decided he did not need a rest stop in Ludiac on the return to Paris and instead left Paul, carried on and later in an overtired and exhausted state went to sleep at the side of the road. Paul came by his sleeping body lying next to his bike and unable to wake him let the air out of his bike tires to make sure that he did not carry on unless he was able to reinflate them - which he was unable to do. Dave's last attempt to finish a PBP was in 2011 after completing a 1000 Km brevet in 2009 and the Van Isle 1200 Km brevet 2010 which he completed with Bob Koen. For the record book, Dave is the oldest BC Randonneur, at age 79, to complete a 1200 Km brevet. Dave's determination to complete a PBP stayed with him until 2011 when he asked Bob Koen to help him stay on track. Unfortunately, Dave withdrew because of stomach problems.
Some of us stayed connected to Dave and Barbara after his retirement from cycling and carry wonderful memories of our times together. Dave was a good friend, who cherished our company and when all was said and done, appreciated (in his own way) the support and help that his fellow riders offered him.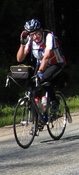 ---
Go to: Dave's Rider/Volunteer Stats (Database)


June 22, 2022