Highway to Hell
Vancouver Island Spring 400
Ride Date: May 7, 2022
by Murray Tough
The inauspicious title conjured up more fear and dread than the event waiver. But I signed up anyway. What could possibly go wrong? The highway miles promised easy grades and fast cycling. And there were enough off-highway segments to keep the ride interesting.
It's a cool crisp start. There is frost on the rooftops and ground fog in the valleys. I have on all my layers and my warm gloves. I have hand warmers in my gloves and toe warmers in my shoes. Even with all that, my fingers are a little cold at the start.
Our journey isn't just highway and traffic, we meander through farmland and enjoy some breathtaking views along the coast.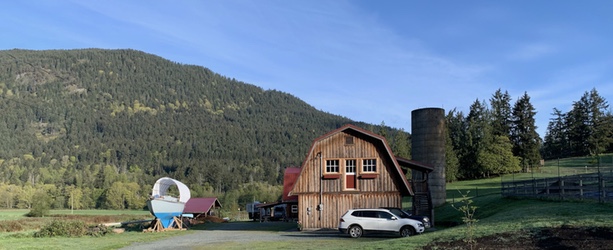 Note: The photos below are all from Murray's ride,
but are not in sync with the text.
I stop for a sandwich in Parksville. As I ride north from there, I start thinking about how long it will be until I reach this point on the return journey. That's not helping; I turn my attention to the journey and the towns and villages ahead. Qualicum Beach is close, then Bowser, then... then the rain starts. Just drizzle at first then a little more and then, then it's time to put on a rain jacket. Just in time, as I descend a long hill, it starts hailing. The hail hurts my face so I tuck my head. The hail enters the vents on my helmet and hurts my head but it's better than my face. I could slow down, but I don't.
The rain and hail deliver a good soaking but they don't last long. I contemplate taking off my jacket but I am looking ahead at another fearsome cloud. I pedal towards the turnaround in Comox and hope for it to blow over. Eventually I get too hot and the jacket comes off. Which means that the rain arrives again, of course.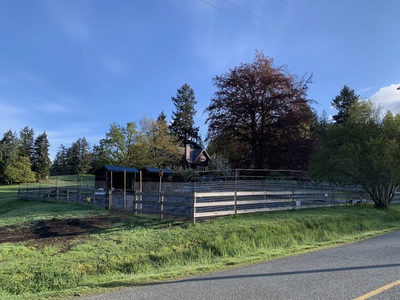 Duncan
At the control in Comox, I treat myself to a chocolate croissant at Timmies. Then with my bottles filled, I head home. My hope was that I could do the event in under 20 hours. I had arrived at the first control (100 km) with time to spare. I was now leaving the second control (200 km) on time but with nothing to spare. If the second half of the event was any slower than the first half, I was not going to make it. I needed a negative split on a very long ride.
On the way north, there had been a bit of wind but it was mostly a cross wind. Now going south, I realize that I had been battling into some headwinds because southbound progress was much faster.
As before I started counting off the communities in my mind. Royston, Union Bay, Buckley Bay, Fanny Bay, Bowser... they seem to be going by faster than before. The climbs are not as big as I had imagined they would be, except for NW Bay Road. Somehow those hills were bigger and longer than I remembered. Could my legs be getting tired? I still have more than 100k to go.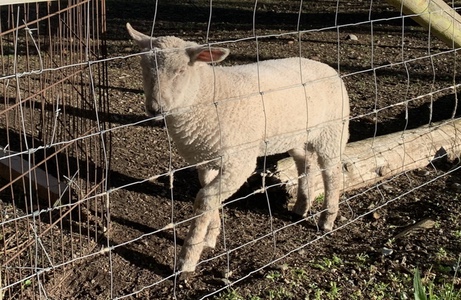 A quick stop to fill my bottles at the Nanoose Bay control and then I am back on the road. I'm on a mission. Darkness descends as I cycle through Nanaimo. By the time I get to the end of the E&N Trail, I can no longer read my control card. It turns out that this was not the right place to go from memory. The end of the E&N is, for me, confusing in daylight. At night I am instantly lost. Fortunately, I realize this and stop to get my bearings before cycling miles off course.
Cedar Road is quiet. It's a pleasant ride in darkness. My shadow on the roadside hedges dances along beside me. We don't talk... much. We just ride together in contented silence.
I'm back on the highway for a few kilometers then exit at Smiley Road so that I can descend into Chemainus on Henry Road. 40k to go. Then my worst nightmare happens. A flat, at the end of a long ride, on the highway, in total darkness. Well, in truth, it is my second worst nightmare... it isn't raining. My luck isn't all bad, I am close to a commercial building with bright lights and a relatively clean concrete pad to work on. The building even shelters me from the gentle, but very cold, breeze. I'm not particularly fast but I get the flat repaired and continue on.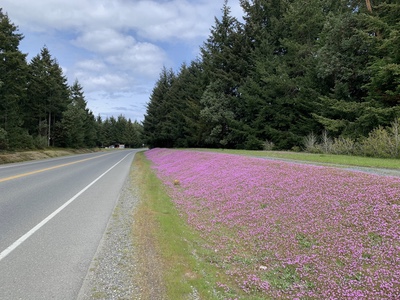 Parksville
I can still make it in the 20 hours that I was hoping for but I am going to have to push it. So I do and I am pleased to find that I can. Through Chemainus and back onto the highway. 30k to go. I'm starting to think about how good the final descent from Cobble Hill to Mill Bay is going to be. And then it happens again. Flat number two. I'm in total darkness, ahead is nothing but more darkness, behind is the Chevron at Mount Sicker Road. It's closed but it has bright lights. Reluctantly I walk my bike back to the Chevron. I won't make 20 hours but I can still finish. All I need to do is fix the flat.
That proved to be my undoing... again (see A Ferry Sails Through 600). I used up every patch I had before accepting that my ride was over. By now it is 3:00 AM. I tried calling taxis but get no answer. I call a fellow rider to see if he is finished but get no answer. I try hitchhiking but everyone changes lanes rather than stop. The only option left is to call home and ask Kathy to come and get me.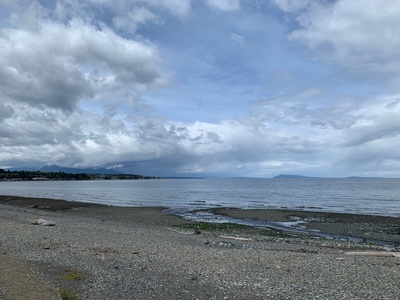 Qualicum Beach
I return to the gas station to wait. It's cold now. There isn't much wind to speak of but the tiny bit of air movement is cooling me rapidly. I stand under a light. A wall blocks the breeze and the light gives off a feeble warmth. I still have half a sandwich and some other snacks on my bike. I had debated whether or not I needed to fill my bottles at the last control. Now I'm glad I did. I eat, I hydrate, I put on my rain pants to help trap the heat. I have a pair of hand warmers in my bag so I put those in my hat to try to warm me up. I have toe warmers that I think about putting under my arms but the thought of exposing that much flesh to put them in place is unbearable. I am starting to shiver by the time my lovely, long-suffering rescuer arrives.
All was not lost. It was my first time getting (almost) to the end of a 400k while still feeling good. It was my first time getting (almost) to the end of a 400k without feeling sick or hungry or thirsty. A lot of things had to come together to make that happen. I had to get my hydration strategy right, I had to get my feeding strategy right and I had to build up the stamina (more mental than physical) to keep a steady pace for (almost) the entire ride. I'm frustrated with my tire troubles and the DNF but otherwise happy with the ride.
Highway to Hell indeed.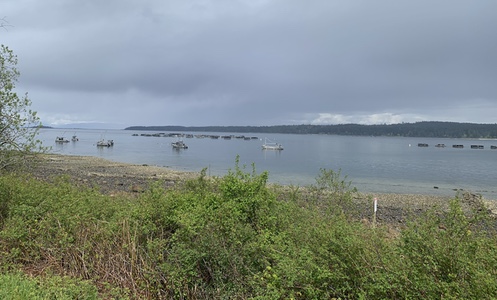 Union Bay
Epilogue
I took my recalcitrant wheel to my bike shop. They struggled with it as much as I did and concluded that Shimano rims and Continental tires were a bad combination. It's a conclusion that I am unhappy with. I rarely get flats with those tires but not being able to fix them on the road is clearly not useful. Another chapter to this story must still be written.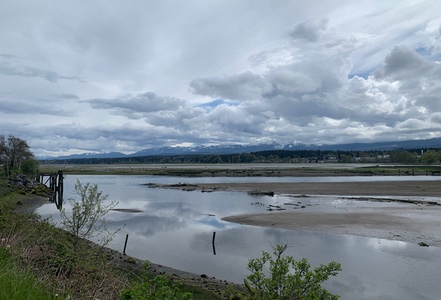 Comox
---
Go to: Results
Go to: Event Page (Database)

May 19, 2022