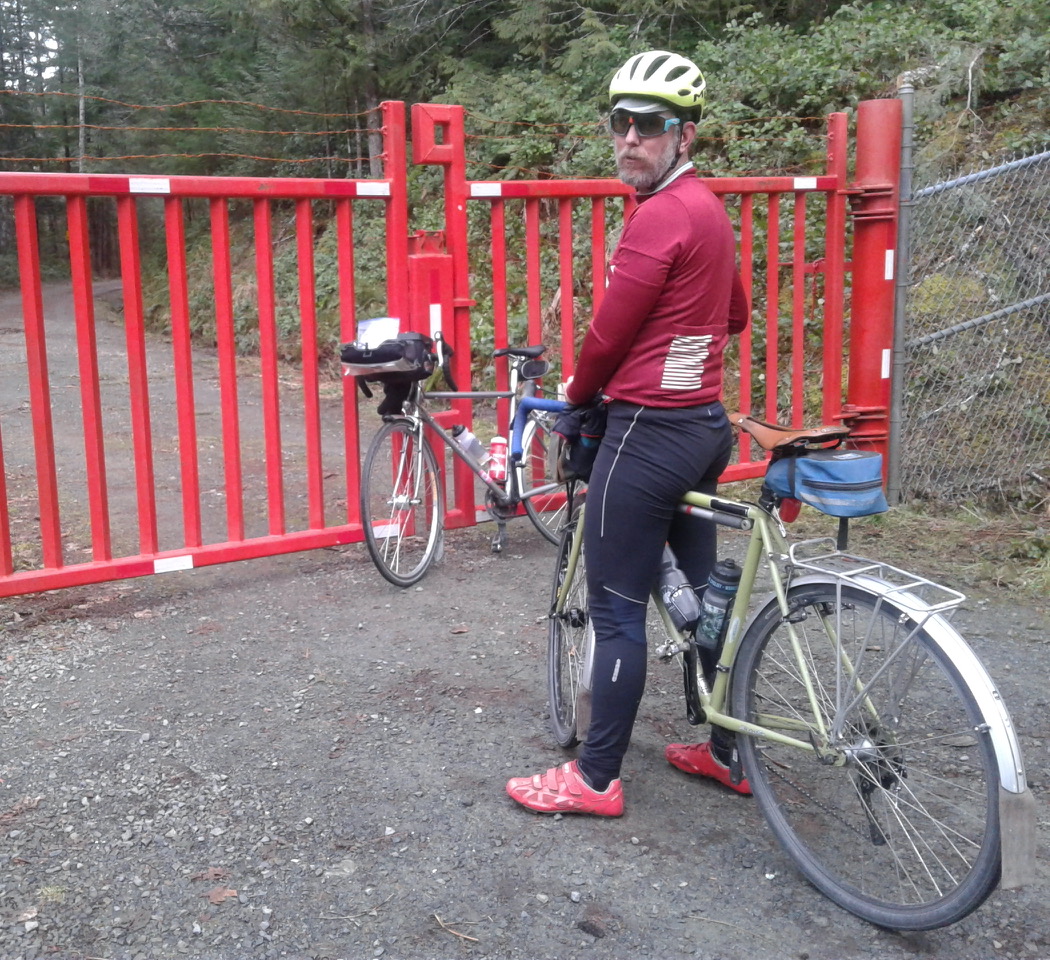 Announcing the "Pathways to Paradise" 200
Vancouver Island Spring Series 200 - Register Now!
Ride Date: April 2, 2022
by Holland Gidney & Michael Tilitsk, Ride Organizers
The Vancouver Island Spring 200 on Saturday, April 2, features a brand-new route called "Pathways to Paradise" that celebrates Greater Victoria's extensive network of bike paths! (Preview available at: https://ridewithgps.com/routes/38565966)
The brevet starts at Windsor Park in Oak Bay and immediately beelines to Esquimalt to get on the E&N Rail Trail. Riders will take this paved flat bike path to where it intersects the Galloping Goose and then follow the Goose all the way to the red gate in Leechtown (pictured) that marks the end of the trail. Here, riders will turn around and retrace their steps before spending a bit of time on Sooke River Road and Sooke Road where they can refill their water and pick up snacks at a variety of options.
The route then returns to the Goose and follows it as far as its intersection with the Lochside Trail. Riders will follow the Lochside Trail all the way to that trail's terminus near the Swartz Bay ferry terminal. Here, riders will jump onto Land's End Road, then Chalet Road for a bit, before taking West Saanich Road all the way into Brentwood Bay.
From Brentwood Bay, riders will follow Wallace Drive then hop on the Interurban Rail Trail and eventually Interurban Road to return to the Galloping Goose. This time riders will only be on the Goose for a short spell, heading west to pick up the E&N Rail Trail to take them back into Victoria to ride the final kilometres to the finish in Oak Bay.
Note: This route is 45% unpaved so riders should expect it to be slightly slower than if it was entirely paved but we expect you'll make up some time because the navigation is very straightforward and the route itself is quite flat :)
Please sign up by 9pm on April 1 at: https://database.randonneurs.bc.ca/event/5154 .
---
Go to: Pathways to Paradise Event Page Page (Database)
-

March 27, 2022