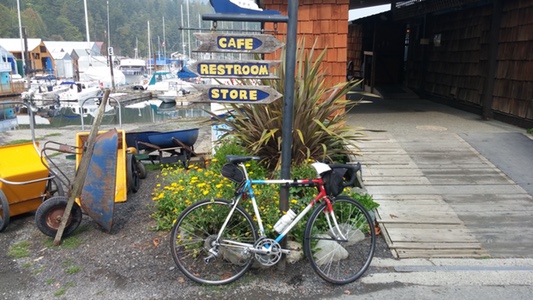 Nanaimo Cowichan
Permanent #86, 203 km
Ride date: September 16, 2020
by Barry Monaghan
This is message from Barry following up, after his ride. He agreed to let me share this as a newsletter submission. EF.
---
Really enjoyed this one just for the scenery alone even with the murky skies.
The traffic was ridiculously light except for the highway so overall the ride was very peaceful.
Saw some deer, and I even saw a wolf early in the ride just a few feet away from me.
We looked at each other for a moment but he showed no interest and I just kept rolling along.
Yes I talked to him.
Just a note for anyone who may do this ride is that the Glenora store is currently closed for renovations but I was able to refill my bottles there. Really nice fellow.
Some construction work is occurring on Chemanis Road, near the roundabout, but the section that badly needs to be resurfaced still hasn't been done. Very bumpy!
At Genoa Bay control there are public washrooms available just opposite the cafe.
In the washrooms classical music was being played, something I've never heard before!
Was able to get the 8 pm ferry back with time to spare and spent most of the 1h,40 min looking out into the darkness.
One thing about doing these hit and run rides on VI is that it makes a really long day.
I was up at 2:45 am to make sure I got on the first ferry out of HSB at 6:30 and finally hit the pillow at about 11:30 pm so I won't be doing these too often.
Onto the next ride.
---
Go to: Permanent Results
Go to: Route Page (Database)
September 18, 2020