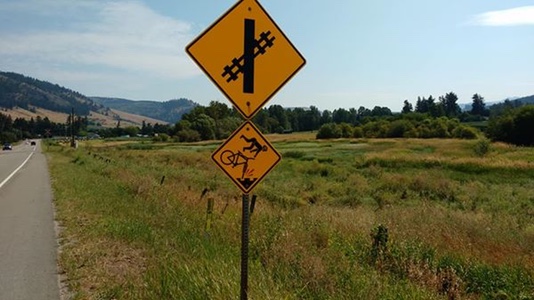 Mabel Lake 400
Southern Interior Summer 400
Ride Date: August 2, 2020
by Bob Goodison

I knew. I knew it would be hot. Environment Canada was had been posting heat warnings all week. I knew that I don't handle heat well- (a bit of an understatement). But, I thought that if I planned my ride, rode my plan, and paid attention to my body I would be fine. How little I knew.
The day started out well, with no wind and the temperature around 15 C for the first couple of hours. I forced myself to make no attempt at speed, and all was good. I even had a bit of a tailwind from Falkland to the turnaround. I was eating and drinking lots, in anticipation of it being more difficult to do so later. Two water bottles on the bike were supplemented by a pair of 1 litre collapsible bottles in the Carradice. (Note- bottles in the Carradice stay MUCH cooler). I had planned to use the coin-op water dispenser in Lavington on the way out and back, knowing that there were also machines in Enderby and Salmon Arm. Good deal, fill all my bottles and soak my bandanna for a Loonie. All was good.
I had a lovely ride out towards Mabel Lake, marveling at what a pleasant road it is to ride. At the turnaround control (oops- mistake on the route sheet- it's 700 m beyond where it should be), I still felt good. The temperature had crept gradually up, and apparently I had been having a tailwind, because as soon as I started back, the headwind hit me in the face. All was not good. It is so amazing how quickly one can go from:

to

My energy level, and therefore my speed, were gone. Mild nausea, minor cramping, and a headache signalled the need for even more fluids and electrolytes. I also needed food but my stomach didn't want any. I stopped in Lavington to refill my water, then in Lumby for a Coke and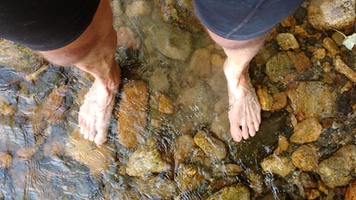 an ice cream bar. That made me feel better, if only for a half hour. Then I remembered the Fortune Creek rest area, just north of Armstrong. Knowing that was coming up was quite a boost. I took off my shoes and waded in the cold creek until my feet ached. Then I sat at a shady picnic table and had some food and a can of cold shot coffee. One more soak down in the cold water and I was underway, feeling, well, if not great, at least better. That lasted until Enderby, where I found more ice cream.
The climb up Hwy 97B from Enderby was an ordeal that required 3 stops to regroup and get my heart rate down, but as I approached Salmon Arm it was starting to get cooler. (oops, another route sheet error- the Gulf/Macs is now Shell/Circle K) Finally the sun went down, and things started to improve. I couldn't eat, but sucking on gummies helped. Finally over Jade Mountain, I saw a vending machine at the car wash (everything else was closed), and got another coke, which saw me through to the end.
The last time I rode this route, the last half of the ride was cold and very, very wet. I can do cold and wet. If I get cold, I can just dial up the speed until I start to put out enough body heat. This kind of heat is not something I am equipped to deal with. I will be watching the forecast very carefully as the 600 approaches. If there is no rain (please be rain!) in the forecast, I think a night start is in order. (oops, another route sheet error- the Gulf/Macs is now Shell/Circle K).

---
Go to: Results
Go to: Photos
Go to: Event Page (Database)

August 4, 2020