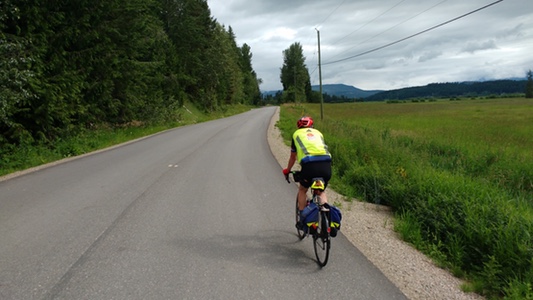 Mabel in the Middle 200
Ride date: July 4, 2020
by Bob Goodison

In a normal year, the Interior 200 runs near the end of April and has 15-20 riders. This is not a normal year. Thanks to an amazing effort by Colin, Cheryl, and the rest of the executive team, we were finally able to run it on July 4. No pub finish, limited numbers, experienced riders only, pre entry only, etc. The uncertainty of whether we would be ready to run it may have kept some riders away, but 3 die-hard randonneurs- Barry Chase, Wim Kok, and I gave it a go.

The weather has been like everything else this year. The beautiful forecast deteriorated as the weekend approached. We started in cool but dry weather, which soon turned to a light drizzle, but not enough to need rain gear. That stopped after an hour or two, and we enjoyed a mix of sun and cloud for the rest of the day, with highs in the mid 20s. Perfect.

I had been a little concerned about Schoolhouse Road, which has about 1 km of gravel because it has been raining so much, and it was VERY soft when I rode the route in May. No problem- hardpacked, and smoother than a lot of the pavement. About that- just past the Ashton Creek Store, there was a sign: Paving next 19 km. They had not started yet, and apparently someone decided that if they were going to repave, there was no point in filling potholes. WOW. Among the worst I've ever seen, but with relatively light traffic, it was possible to miss them all.

I did the whole ride without any convenience store stops- 2 bottles on the bike, plus a couple of 1 litre collapsible bottles in the rackpack was enough, and I had packed lots of food. It would have been nice to stop for a chocolate milk or a coke when I started to fade, but I decided it was probably better to reduce contact whenever possible. I might consider digging out my Camelback for the 300.

This may not be the way we want to run, but it works.
---
Go to: Results
Go to: Event Page (Database)

July 6, 2020