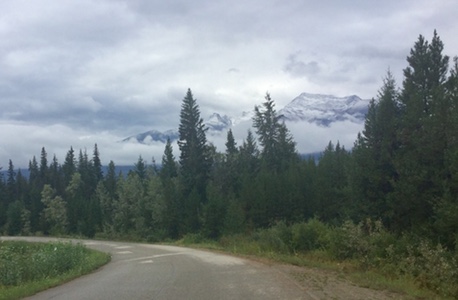 Loopy Interior 1000 - Mike's Story
"Loopy Interior, Tried and True", September 1-4, 2018
by Mike Hagen
Overall, I had a relatively easy ride. I'm guessing I got the most sleep of all the finishers. I would have liked to leave a little earlier and avoid more night riding, but it was fine.
One challenge I had to deal with was saddle sores. I'd developed a dozy during the Ashcroft 600 and wasn't completely healed. But wearing two pairs of shorts, liberal doses of Noxema, and a cut-down Scholl's insole duct taped to the right side of my saddle did the trick.
Then there was Highway 16, Prince George to McBride. 200 km. No services (except Purden Lake Resort. Great berry pies but sooo slooow . . . so same thing). The occasional car. Very lonely road. Drenching rain, bitter cold, howling wind. Thunder and lightning. No shelter. Sodden, shivering, and shaking.
Here's the Randonneuring thing: every so often one finds oneself in a "difficult" place. And It could be a moment of great clarity. You suddenly realize, "Uh oh, this might not end well." That's when the ragged face you see in the mirror pops up and says, "This is insane. Why are we here? What's the point?" And, sarcastically, "Are we having fun yet?" How does one respond? Put on the wolffish grin, and say, "Yeah! Bring it on!"?
There have been a few times over the years, maybe two or three, maybe more, when the thought has flashed (however briefly) through my mind that, if something goes wrong now I am totally hooped.
Highway 16, between Sugarbowl and West Twin was like that. In the end, the sun came out and, once again, I got away with it. Some future time, maybe not so lucky. Anything can happen to anyone. I hope everyone is packing emergency gear and being prepared. It's not something to take lightly.
---
Go to: Results (event page)


September 5, 2018