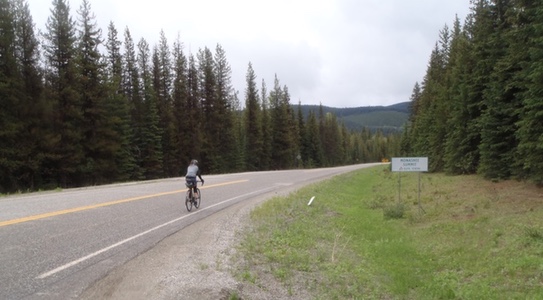 Monashee 600
Organizer's Report
Ride date: June 9-10, 2018
by Bob Goodison
Environment Canada issued a special weather alert. I forwarded it to all riders who were planning to ride the Monashee 600.

The field thinned dramatically. But, as they say, when the going gets tough, the stupid get going. Nigel, Jacquetta and I set off from Vernon in a light drizzle at 05:00. Nigel was planning to ride through, and was packing less stuff than I normally would for a 200 km. That was the last we saw of Nigel, although we did get reports of his progress from varied sources.

Riding up the valley towards Lumby I would have sworn I was back in Scotland at LEL- green, treeless hills with the tops hidden by low cloud. Even a badger crossing sign- but no badger. So far the weather was cooperating, with calm winds ad a little intermittent drizzle. A great descent to Cherryville for a quick stop at the store before starting the long climb up the Monashee pass. The mosquitoes at the summit rest area were voracious, so we didn't dawdle there. Another fun descent to the valley bottom left us with one more stiff climb and descent before the first ferry. I calculated that we had a remote chance of making the 11:45 if we pushed the pace a bit. Hopes were diminishing as we started meeting cars coming off the ferry and we still had a couple of km to go, but we made it by the skin of our teeth, fairly flying down that hill to the terminal. Just barely unclipped and the ferry was underway. About this time I realized my rear brake was becoming increasingly useless. Hydraulics are fine when they work, but when they don't out in the field, you're kind of hooped. Nice and warm, it was time to shed some layers, including the rain pants.

We had been counting on the Fauquier store, but it was closed. There were people sitting outside it having lunch who told us they had just bought the store and it was closed for renovations. Fortunately, they had some bottled water they were able to sell us, and we had enough food to get us to Nakusp. Shortly after Fauquier, the rain started. By the time we got to Nakusp, we were cold, wet and behind schedule. I decided on the Save-On for our control, and we went foraging. Jacquetta found some hot chicken pies which we ate while standing as close to the chicken roaster as possible to get some heat from it. Put my shoe covers on with some adhesive toe warmers inside. On the road again as quickly as possible to try to catch the 5:30 ferry. Still raining. In 2009, Ken and I had caught the 3:30, while Ian and Ryan had gotten on the 2:30, so I figured, Nigel being Nigel, he would have been on the 2:30. We tried. We really did. Seeing that ferry about 20 feet out from the dock as it sailed away was so disappointing. I briefly wondered if I could have gotten enough speed and bunny hopped onto it, but would more likely have wound up on somebody's Youtube Fail video. So, an hour wasted, to say nothing of the energy expended in the attempt. Fortunately, the rain had slowed to a drizzle, and the mosquitoes were not as plentiful as at the summit. We heard from the ferry crew that Nigel had been on the 4:30, and was so cold that they had taken him into the crew area and given him tea. They also let us in there- there was a heater!!- and gave us water. Wonderful people.

Lots more climbing and descending (again, in the rain), took us toward Revelstoke. I had brought both rain pants and rain legs, and had put on the rain legs when it started again on the way to Nakusp. On the long descent into Revelstoke it became obvious they were not enough. Tim Hortons chili was calling, so we went there for out control. Nigel had been there, according to the staff. I put my rain pants back on, and phoned the motel to let them know we would be very late. I also stole a Province newspaper to crumple and stuff in our shoes to absorb some of the water- thanks, Sarah Chaplin. We were off- sort of. At the first traffic light I said SHIT! I didn't put my rain legs in my Carradice! I told Jacquetta to go ahead, and turned around. They had closed. There were puddles where we had sat, but no rain legs visible through the window. Check the Carradice again. And again. A helpful person got the attention of the staff and let me in to look. No luck. I gave up and left. Halfway across the bridge out of town, I had a realization, stuffed my hand down my pants to confirm that I was too stupid to live, and found my rain legs. Still pouring rain, and the temperature down to 6 degrees. Sprinting to catch Jacquetta, I had a hallucination that the road closure barricades were coming down as I approached them.

We got to the motel just after 1 am and agreed to set our alarms for 5am. Hanging up my stuff to "dry" I was shocked by the weight of the soggy garments, and happy that I had a complete fresh kit (2 layers of wool!) for tomorrow- I guess really, later this morning. Still Raining. By the time we got rolling we were in a time deficit situation, so no time to stop for breakfast at the truck stop across the highway. That bit us in the ass, and we were both fading badly by Salmon Arm. A&W had what we needed. I had a big plate of bacon, eggs, sausages, toast and hash browns, and got breakfast sandwich and second hash brown to take for later. The second hash brown never made it to my handlebar bag. It had finally stopped raining!There were no really big hills in the next section, but the little ones just kept coming, and we remained just barely ahead of the time cutoff. I phoned Susan from the White Lake control while Jacquetta went ahead, and learned that Nigel had stayed in Sicamous as well, and also that Sorrento was experiencing ferocious west winds. Oh, joy. Headwinds it was. Coming around the rock bluff at Cruikshank point it nearly stopped me in my tracks. Down to 10 kmh. About 10 minutes in the bank. How are we going to do this? We needed more water, so I sent Jacquetta ahead while I stopped in Chase to fill up bottles and made like a Tour de France domestique. Another call to Susan- Nigel had controlled at Dallas at 11:00 am, not as far ahead as he should have been , and was now riding up Barnhartvale in a snowstorm. Sort of made me feel better, knowing it really was this hard and I was not just being a princess. I told Jacquetta that the wind often changes speed, direction or both at Pritchard, so we might have a chance. On the other hand, changing didn't necessarily mean getting better. But, get better it did, and soon we were cruising at 20' then 23, then 25. By the time we hit Dallas it was calm and we had 45 minutes in the bank, and devastated their supply of sugary baked goods.

Because I had to be at work at 5:30 Monday, I left Jacquetta behind. I said "You have 7 hours to do 100 km. Ride like you have less than 7 hours." Who puts a 9% climb 500 km into a 600? Oh, right. I had a moment of panic when I got to Blackwell Road and was smacked in the face with a headwind, but then it was gone. Winds were the story of the last 100 km, but fortunately they were mostly in our favour, and by the finish we had both put a good amount of time in the bank. The rain had one last go at Jacquetta, but I stayed ahead of it.

It was a good ride for wildlife viewing- lots of deer, a bear, eagles, and turkey vultures. Nigel saw a moose, and Jacquetta saw a wolf. All along the route the wildflowers were spectacular.
This is a beautiful ride, one of my favourites, but I will not run it as a brevet again. I am a stronger than average climber, and as a result have rarely had to worry about time cutoffs. Now, I have seen it from the other side. The amount of climbing on this route can easily put riders in a time crunch, and missing one or both ferries can be disastrous.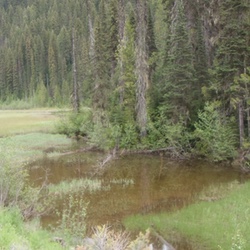 ---
Go to: Results
Go to: Photos (25 Images, flickr)
Go to: View in Database


June 13, 2018