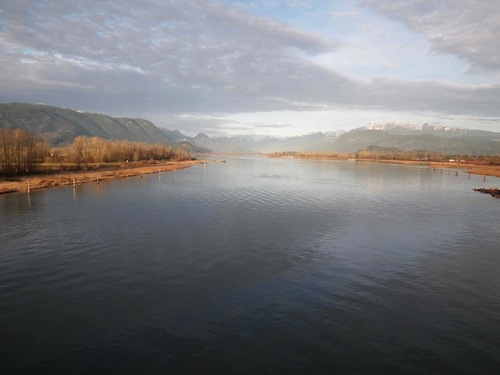 Looking at up Pitt River from the Pitt River Bridge.
Photos: Dug
NorSquatch 206
Permanent #77 Report
by Dug Andrusiek

Once one sets a goal, he sometimes finds himself doing odd things to achieve that goal. This is what I was thinking as I was riding down Lonsdale Ave at 6:20 am on Sunday Dec 5. There was frost on the ground and the temperature was a very chilly -3 degrees. Probably a better day to go x-country skiing, but I had committed to getting a year rounder award this year, and I had to do a brevet in December. Fortunately, it wasn't raining, and the day looked as if it would be clear and dry and… cold.

So, at 6:40 I found myself pushing off from Lonsdale Quay to complete the NorSquatch 200 km Permanent #77; essentially a Northshore start version of Eric's Saquatch 200 route.

I learned a number of things on this permanent. First, things are much more difficult in the winter and the cold. At the start of the ride, I found myself riding tentatively because of fear of black ice. Second, I discovered that the Sumas Prairie wind blows hard in the winter as well as in the summer. Much of the ride east of Haszic to Harrison Mill's was into a cold headwind of at least 20 km. The mind plays funning tricks on you when you are struggling against an invisible foe, and for much of this time I kept thinking, it might be a good idea to turn around and abandon the effort. Even at 10km from Harrison Mill's I heard the same voice in my head. Fortunately, I ignored it.

The entire ride was not a struggle. Once I got turned around and heading downwind, I found I was able to ride faster than 12 km/h. And the views throughout the day were beautiful. Nothing like a clear day with fresh snow on the mountains to remind you of how beautiful the lower mainland is.

And I must add that the shorter days do have the added benefit of allowing you to enjoy both a sunrise and sunset on the same 200 km. Now that isn't something that you could possibly do in June.

Perhaps the best thing about having finished this permanent early in the month is that I can now spend the next 7 weeks thinking about how important that year rounder award really is.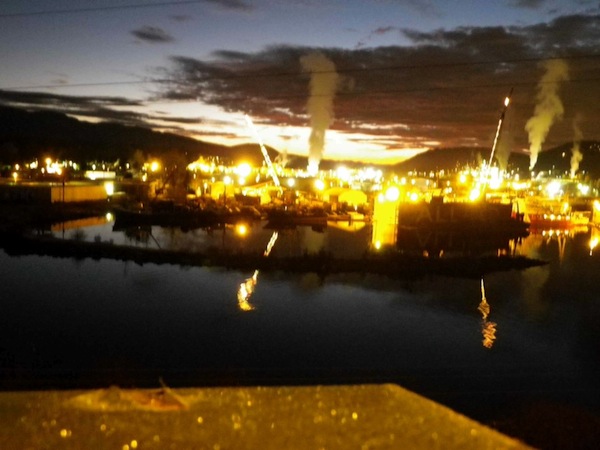 Sunrise off the Ironworker's Memorial Bridge.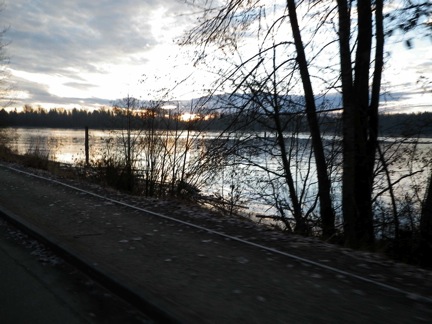 View of the Pitt River along Argue Street, PoCo.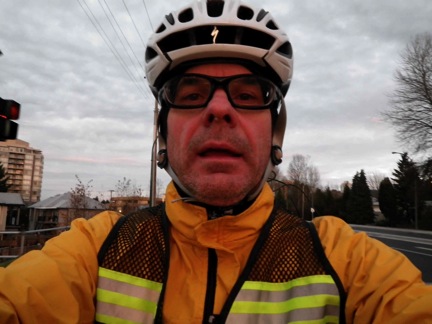 Self-portrait displaying the misery of a winter 200 km permanent.

---
Ride date: December 5, 2010
Go to: Permanent Results

December 12, 2010