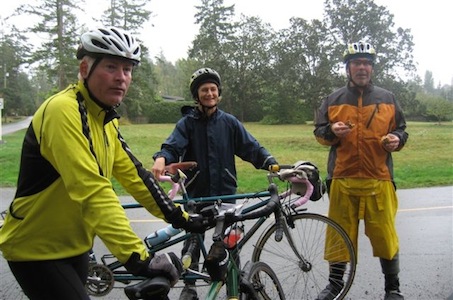 Fall IsleLander Organizer's Report
by Jim Runkel

The Fall Ise-Lander 200 on Vancouver Island was a great success this past Sunday. 9 riders set out from Cook Street Village, under cool dark skies with rain falling hard. Included in this group were some veteran Randonneurs as well as 3 brand new members doing their very first 200 km ride. Conditions were far from idea. Philip and I closed the Start Control at 8 am and jumped in the car and headed to the first Control, just past Sooke. The rain was coming down very hard at times and the temperature stayed around 11C. Much of this first section of the ride was on the unpaved section of the Galloping Goose Trail. At the first control, the riders arrived wet but in good spirits and in great time. Conditions on the Goose were not ideal but reported to be manageable. After seeing 8 riders off we waited for the last, a first time rider, Lorraine. Just before the control closed, we received the call that she would not make it, and was turning back in Sooke (56 kms done!). We found her in Sooke, put her bike on the rack and drove her home...warm and safe, and still positive about the experience, Lorraine will be back I am sure on a sunnier day! Great first try in very bad conditions.

After dropping off Lorraine we headed back to Cook Street Village to wait. Another call came in and this one was from Mike and Brynne Croy...they would not be able to finish due to technical challenges associated with tubes, flats, and wrong valves...

We were fortunate to have our lovely family running a secret control in North Saanich. They waited for the first rider to come through...he blew right by and did not stop...but then realizing his error turned back and was met with the smiles of Lorena Lennox, Brigitte and Joel Runkel...and high quality baked goods courtesy of Kelsey Lennox. All remaining riders made the Secret and the cookies and muffins were eaten with great joy! At the finish, Philip and I waited...the riders began to arrive...the rain had stopped. 6 came in, including John a new Randonneur riding with Tandem cyclists Cecilia and Mikael. Victoria by herself now, arrived last, completing her first 200 successfully. We saw some great examples of the "true Randonneurs spirit" today when the more experienced riders helped the newer riders get through some the tougher sections. It was a great experience being a co-organizer of this event, one that I will be happy to repeat. Great job done today by all riders under adverse conditions. Thank you to Rock Beach Grill on West Coast Rd for hosting our first Control. The owners are happy to help our club out. They offer great breakfasts and friendly service. The Moka House in Cook Street Village was also kind enough to allow us to set up and stay for many hours at the start and finish.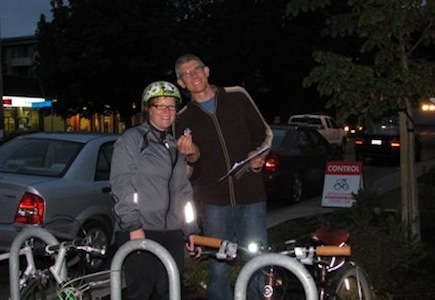 ---
September 12, 2010