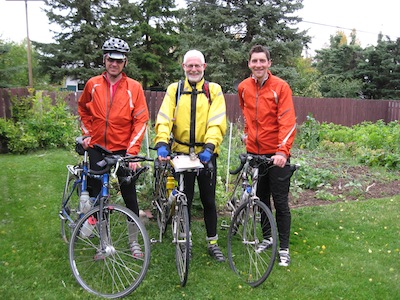 Erik, Wim and Jay at the finish
(Click)
Quiche Brevet
by E.W. (Wim) Kok, Peace Region Brevet Organizer
We had the Quiche Brevet on Saturday under cool conditions. We were very lucky in the afternoon as we dodged hail, rain and thunderstorms. Erik Snucins and I finished with a time of 10:47.
We had a crowd for this ride: 4 people for the 200 (two non-randonneurs who are exploring the scene) and one for the 99+ km ride. The non-randonneur 200 km riders were Jay Morrison and Dan Webster both from the Fort St. John Blizzard Cycling Club. The 99+ km rider was Lindsay Towns.
That concludes the 2010 season for the Peace region brevets. Now getting ready for the 2011 season.
---
Go to: Results
September 6, 2010