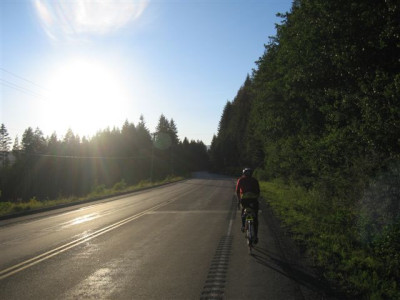 H &T 1000
by Jim Runkel
It all started on a Sunday morning at 3 am. Ken, Yutaka, Philip and I set out on the Tortoise and Hare 1000. As the route stated, it was basically and Vancouver Island End to End journey. Ken stayed and chatted with us until the Malahat and then he and Yutaka were gone, not to be seen again until they were returning from Port Hardy.
The route to Campbell River took us up and over the Malahat ( small hill compared to what was coming!). As we crested the summit of "the hat" dawn broke and the day got brighter. A quick stop at Tim Horton's in Duncan and we were off to Nanaimo.
We kept our breaks as short as possible trying to make time. The sun shone brightly as we left Nanaimo, but it was from here onward that a head/side wind dogged us for the rest of the day. According to Ken, when we chatted outside of Port Hardy, this was one of the worst head winds he had felt. And it was. The white caps and waves at Qualicum told the story as did the flags flying stiff in the wind. A head wind saps life out of you. It also cost us time as the pace was slower than anticipated. But despite the wind, we were in good spirits, feeling strong. Our goal of WOSS by midnight was now a dream because of the slower pace caused by the head wind. We arrived in Campbell River, and fuelled up for the ride into the unknown.
The story of the ride is really about the section from Campbell River to Port Hardy and back. If you can imagine a remote section of road then this would be it. You leave Campbell River and head toward Sayward Junction and there is nothing...not a house, not a light...just you and the transport trucks passing you. A climb from sea level up to 310M then down to the control at Sayward Junction starts this section. We arrived within the control times but found the store was closed. At this point I will mention that nutrition is one of the biggest issues on this section, with big distances between possible food and then given the late hours most are closed.
After Sayward Junction another significant climb is faced. And this one keeps going up and down until you peak at 460m then down to Woss at 200M. Cold faced us on this section with the temperature dropping to near 0 and the wind kept blowing. We arrived at 220 am, a full 23 hours and 20 mins after leaving (400 kms done!). Our motel room provided much needed rest and warmth. I had packed some "hiking" dehydrated food that we could just add water to and go, as we would leave before any stores were open. As I said, depending on timing there is NO available food to buy until Port Hardy.
We were on the road and feeling good, heading to Port Hardy. Sun started the day, but soon faded to cloud and light rain. It was great to see Ken, who had pushed through to Port Hardy in one go the night before and now was 50 kms from Port Hardy on his return trip. We would meet Yutaka about 10 kms out of Port Hardy a little while later.
A word on the road conditions at this point. From Campbell River to Woss, wide paved shoulders are great to cycle on but the 200 km round trip from Woss to Port Hardy and back is on roads with no appreciable shoulder. I was actually impressed by MOST logging trucks who gave us a good margin when passing. I was not so happy with some the idiot transport driver, in particular one Purolator truck that basically drover us off into the soft shoulder...
Back to the trip...We arrived in Port Hardy with only 2 black bears sited. Eating options on limited and so we made the best of what was available, and a choice of some peanut M&Ms was made by me....the significance which you soon find out.
So off back home we headed feeling great to be half done. And having the wind behind us was great. Portable good food was hard to find, so I placed 3 small bags of peanut M&Ms into my Bento box and ate them on the return trip. It was around the 550 mark that the rain came in earnest. My raingear (gortex jacket, downpour helmet cap, shoe covers, showers pass tights, and gortex overmitts) kept me unexpectedly comfortable and the rain did not bother us as we moved on toward the control in Woss. We aimed for and made it by 7pm feeling great that only 135 kms remained until "civilization" We intended to make a quick turnaround. And we were on track gathering supplies from the store for the all night ride ahead. The rain kept pouring and the temperature was down to 8. It was now, out of nowhere, that my stomach decided to rebel. The M&M decided they did not want to play nicely with the other kids swimming in the blue gatorade pool. I threw up...Ok I thought, maybe that was it...lets go....so we did. Heading out of Woss in the pouring rain, with the above described climb ahead, I got about 10 minutes from Woss when the rest of my stomach contents emptied on the side of the highway...at this point, my awesome friend Philip, who was fine and I decided it was time to stop. Not knowing what was next....did I have food poisoning, a bug of some sort???, and absolutely nothing between Woss and Campbell River but lots of climbing we headed back to Woss.
I called my wife, emotionally overwhelmed, and crying like baby....it was over for us...and so suddenly. I suppose if I were feeling sick on the way down from Port Hardy and then got worse in Woss, it would have been less of a shock but to arrive feeling positive and strong, and be packing up, basically ready to go and be hit broadside by this was even worse.
So calls were made to Ken, the motel in Campbell River, and a friend...Lionel...who "rescued" us the next morning. And even more upsetting was that I woke up feeling great, the sun was shining...a great day for a bike ride home.
It was the control at Sayward Junction that made any recovery and continuation impossible. If I could have slept a few hours, eaten and recovered, we could have made Campbell River by morning, but at this point, Sayward Junction was impossible.
The the Hare and Tortoise 1000 became the Heartache and Tears 600....
------------------------------------------
Postscript:
Two funny "bear" stories:
So Philip had a slow leak in his front tire. Just outside of Port Hardy on the way home, we decided to stop and fix this. We stop and a minute later, 10 feet down the road on the opposite side, a black bear pops its head out of the brush, takes one look (and smell) at us and turned tail and ran into the bush as fast as it could. 30 minutes later, I needed to adjust my front derailleur. We stop and I look across the road and looking back at us is another black bear...we decide to move on, and so did the bear...
We guess, the site of two large creatures, both smelling like dirty merino wool sheep but looking oddly different, did not appeal to the bears appetite!~
5 bears were sited, most within 10 feet of us....
---
Go to: Ultra Results
Go to: Photos
Go to: Diablo's Triple 1000s mini-series Home
June 17, 2010